Students Named "207s Best" in the Area of Academic Achievement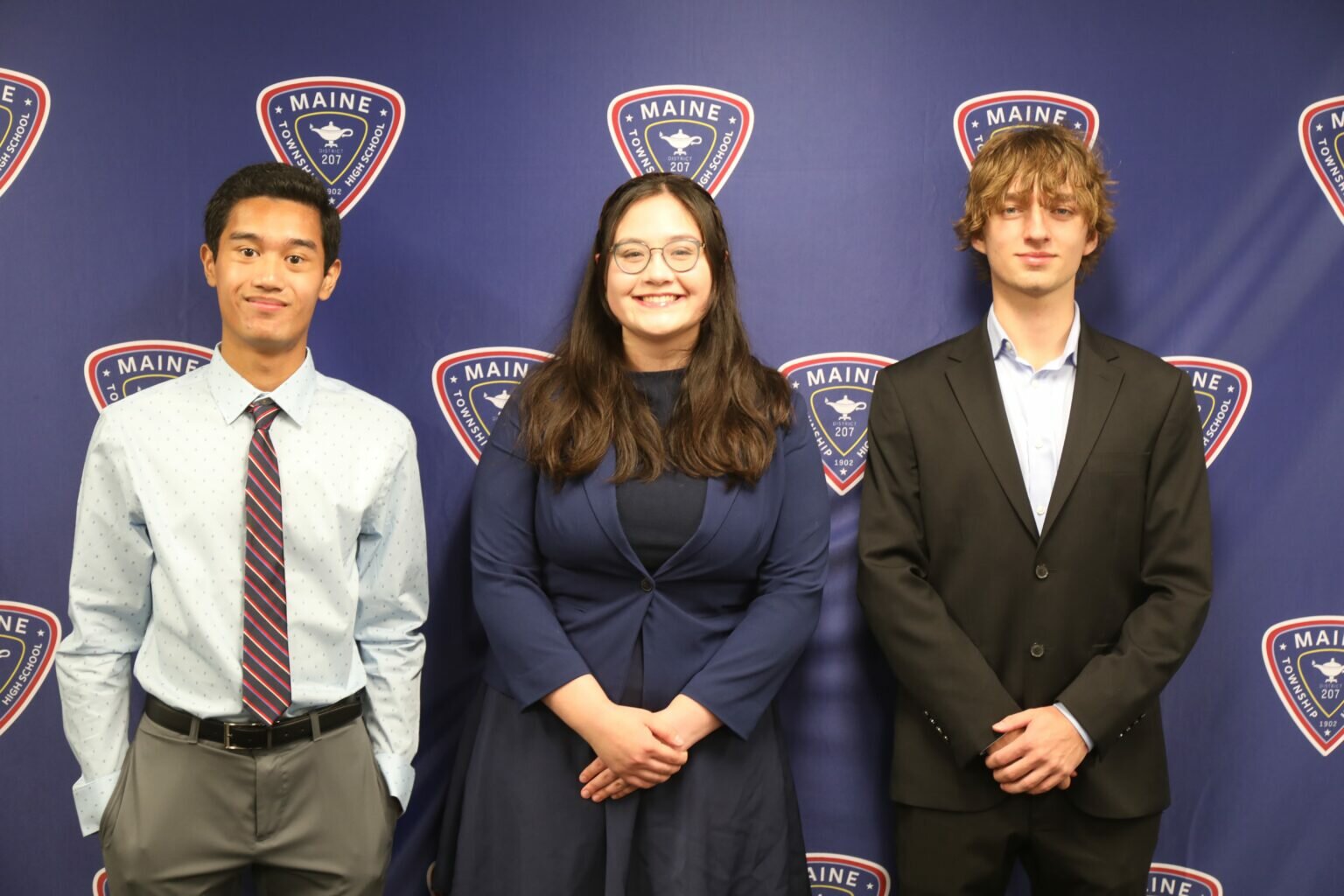 The Maine Township High School District 207 Board of Education honored three students at its recent meeting naming each student "207's Best" in the area of Academic Achievement. The students recognized were Evelyn Alsop from Maine East (center), Aaron Grata from Maine West (left) and Oliver Marszalek from Maine South (right).
The following information was written about each student as part of the nomination by the school principal – Dr. Melissa Pikul at Maine East, Dr. Eileen McMahon at Maine West and Drs. Steven Isoye and Mike Pressler at Maine South.
EVELYN ALSOP
It is a pleasure to share with you Maine East's 207's Best for Academic Achievement: Evelyn Alsop. What a privilege to kick off the 23-24 school year with an honoree like Evelyn. Her down to earth positivity just barely masks the overwhelming intelligence you detect within minutes of meeting Evelyn. As I was getting to know Evelyn, I could not help but think that she would actually fit multiple categories of 207s Best as she is an active participant in our school community and excels at everything she does.
Evelyn has exactly the profile you'd expect of an outstanding student and then some. She challenges herself with our most rigorous courses and has earned near perfect scores on 10 AP exams not to mention her nearly 4.8 GPA. While this is impressive, her teacher's report that there is much more than academic prowess in Evelyn's classroom contributions. Commentary on her integrity and willingness to help others was constant. Evelyn reported that she was not always a stellar student. When I asked her secret to success in high school she shared that she really found her place at Maine East and became more confident in her skills as she became more confident in herself.
Evelyn shared with me that AP Chemistry was one of her all time favorite classes and plans to pursue further study of the subject in college. This past summer Evelyn was selected to participate in a highly selective science program sponsored by MIT and hosted at Purdue. She studied pathogens' influence on fungi among the top 36 chemistry students in the world through software and laboratory experimentation. This program was a highlight but just one of many leadership opportunities Evelyn has participated in throughout high school. She is a participant in our gifted Lyceum program, the captain of our debate team and a leader in our Principal's advisory council. Evelyn also participates in band, math team, Chem Plus and National Honor Society.
Mr. Reus, Evelyn's Lyceum sponsor shared, "It's been a delight to work with Evelyn. Over the last year she has spearheaded the work that we have done in the Lyceum program to help Fill A Heart For Kids, an organization that provides support to homeless and foster youth. Her maturity and poise showed through as she took the lead in reaching out to the organization and worked with them to see how we could contribute to their ongoing projects. She organized several fundraisers last year and helped to raise over $1000. Her inclusive and collaborative leadership style kept all the Lyceum students engaged and created a sense of joy as they met their goals and exceeded their targets. I'm excited that I get to work with Evelyn again this year and see her grow her skills and her capacity for service."
Mrs. Etzweiler, Evelyn's AP Chemistry teacher shared, "Evelyn is an amazing science scholar; she was able to master AP chemistry as a sophomore, taking it as her first chemistry class. Evelyn quickly became a mentor to her cooperative learning groups during classes: she could be heard tutoring her peers on mathematical procedures as well as on the connections she made within and about the models in the activities. Evelyn's maturity shone during these activities because she knew that achieving the goals of the activity meant that her group needed to work together. To meet that end, no matter what role she was assigned, she encouraged her team to share their ideas and participate in the activity to the best of their abilities.Evelyn was an outstanding class leader both in the lab and lecture environments. Students who were unsure of a step in a lab procedure would stop by Evelyn's station and double check that they were doing the right thing. During class lectures, Evelyn volunteered to answer questions even though she wasn't 100% sure she was right. She was willing to take risks, and did not shy away from modifying her understanding as she dove deeper into the concepts. Evelyn's intelligence and grit paid off on her AP Chemistry exam score; she earned a 5. Evelyn has shown her keen interest in chemistry through her involvement in our Chem Plus club for the last two years. Chem Plus is an extracurricular club for students who wish to dive deeper into chemical concepts and build enthusiasm for it in younger students. Evelyn and her Chem Plus partner researched the redox reactions involved in the Blue Bottle demonstration, and presented it in a skit format to our local junior high school students in a few weeks. Even two years after taking chemistry, Evelyn has been an active teaching assistant in both regular Chemistry 102 classes and Accelerated Chemistry classes. She does this voluntarily; during her "free" half periods, she comes to my class (and Mrs. Klein's class last year) and mentors students on everything from lab activities to conceptual understanding."
Senor Cintado, Evelyn's Spanish teacher, "Evelyn is a born linguist with an incredible ability to absorb, process and make her own languages. I had the privilege of teaching her for a year and a half, having skipped a semester to challenge herself in a more rigorous course. She is responsible, polite , thoughtful and mature. One of the best students I have had the privilege to teach in my career. She earned a 5 in the AP Language and Culture test this past month of May."
Mr. Dobner, one of Evelyn's math teachers, shared, "Evelyn truly is one of our school's top students, possessing a brilliant mind, an enthusiastic love of learning, and a commitment to excellence. Evelyn has challenged herself by taking the most rigorous courses our school offers and has thrived academically throughout. It's been a joy to watch Evelyn grow and mature into a phenomenal student and become an impressive, tenacious problem solver.
What's more, Evelyn is an absolute delight to have in class. She is personable, mature, and wise beyond her years. She regularly participates in discussions and enriches the learning environment with her insightful questions and comments. I know Evelyn's classmates also greatly appreciate her as she works well with others and truly is a catalyst in helping her instructional group learn challenging material.
Evelyn is also to be commended for her impressive time management skills as she balances a very demanding course-load with numerous extracurricular activities.
Evelyn's exemplary scholarship, impeccable character, and service to others make her stand out from the crowd. She truly deserves to be recognized as one of 207's Best."
Mr. Beckwith, Evelyn's band teacher shared, "It has been a joy to have Evelyn in our band program for these past four years. She has become a confident leader and has led the Blue Regiment last year and this year as a drum major. Her musicianship skills are at an extremely high level, demonstrated by her placement in the Illinois Music Education Association District 7 Honor Band for two years. She has also performed successfully in the Variety Show and Musical pit orchestras.
Her tenacity in her pursuit of music is matched in several other areas. She has been successful on the debate team, scholastic bowl, and math team. All of this is in addition to her tremendous academic successes. Her musicianship is matched by her care for her fellow band students and teachers. She is respected and trusted by her peers and we are so thrilled to see her receive this award."
Naturally, Evelyn has her eye on some highly competitive college programs in hopes of becoming a materials engineer. Just as her teachers shared, Evelyn was patient in helping me understand the work of a materials engineer and I have no doubt that her successful path will pave her future. I speak for so many at Maine East when I say we are thrilled to have nine more months with Evelyn before she leaves us for much bigger and better adventures!
AARON GRATA
Like every senior, I suppose, Aaron Grata remembers what it was like to begin high school on a screen instead of in a classroom. The shyness he describes, the lack of confidence, the hesitation to challenge himself: these are no longer visible in the Aaron who is leaving high school with an astonishing legacy of problem solving, kindness, and exploration. As we returned to in-person learning during his freshman year, Aaron realized that he needed to challenge himself in different ways than he ever had before. "It's not about how smart you are," he told me, "or what you're born with. It's about staying curious, putting yourself out there, and staying open to new things."
Aaron's quest to expand his boundaries has been ongoing since freshman year, notably in Math Team, where he relished learning outside of class, pushing himself without fear, and studying his role models to see how they challenged obstacles with curiosity and creativity. He decided to try tennis for the first time last year, opening himself up to learning from both victory and defeat. He threw himself into Warrior Strings, Warriors Got Talent, and the musicals, because he saw the chance to improve his performance skills and self-confidence. He developed profoundly important friendships, learned how to give and take support from his peers, and fostered a community of support and togetherness among friends who challenged each other to manage their time well, get enough sleep, and cope with stress. Together they transformed the isolation imposed on them at the beginning of high school into a community that could be a case study in leadership and culture. Aaron pushes himself, but it's never really about Aaron. It's about this beautiful group of young people who have become experts in helping one another.
Virtually every teacher who shared accolades about Aaron used the word "kind" at some point. Usually, it was one of the first words.
Melina Engels, who taught Aaron as a junior in AP Biology, said "Aaron stands out as one of the brightest and kindest students I've ever had the pleasure of working with. Aaron took AP Bio as a junior and seriously dominated the class, earning a 5 on the notoriously challenging AP exam. Aaron demonstrated a determination to learn, a genuine curiosity about the world around him, and a sincere desire to help and teach other students. I affectionately nicknamed him "Professor Aaron" because he frequently surpassed my own ability to explain intricate and abstract concepts to his peers – all while displaying patience and genuine kindness. He is seriously deserving of this award."
Paul Depcik, Aaron's Math Analysis Accel teacher, said, "Aaron is one of the most thoughtful problem solvers I have had the pleasure to work with. He is very caring when working with other students without the slightest hint of pretension. He is always very respectful in the way he asks for clarification and when giving aid to others – hands down one of the nicest students I have known."
It would be easy to fill this doc with superlatives from science and math teachers, who shared enthusiastically. His infectious positivity and intellectual curiosity transcends discipline, however.
Maggie Weaver, who taught him in Accelerated Spanish 3, said, "Aaron is a kind, friendly, thoughtful and considerate young man. Although we were masked the year I had him in class, I could tell that he always came to class with a smile. Academically, Aaron was extremely hard working and was the best at asking deep, well thought out questions. He excelled in ways no one else in the room did and he never stopped in his quest to learn more about the Spanish language. To say I enjoyed having him in class is an understatement. He is so deserving of this award!"
His Health and Wellness teacher, Mr. Trella, called Aaron "a light that brightens the room. He is always kind, courteous, and looking to help others in any way he can. I am confident that he has a great future ahead of him because of these genuine qualities. I am thankful to have had him as my student."
Ms. Valdez, his Warrior Strings director, also called him a light: "His peers respect him and admire his talents. It is no surprise that he is being recognized for his academic achievements; his work ethic and dedication is to be commended. I am excited to see what his senior year has in store for him and thankful for the light he brings to the Symphony Orchestra and Warrior Strings."
Everywhere he has gone at Maine West, Aaron has made a difference. Characteristically, he wants to continue to do exactly that beyond our campus. He has been touched by a beloved family member's battle with cancer, and he would like to help others in their fight. Radiology is currently an interest, and he would love to spend the next four years studying Biomedical Engineering. I am here to join the chorus of Maine West teachers who have been lucky to know him in expressing our confidence that he will make a tremendous contribution wherever he goes. Thank you, Aaron, for brightening our school when we needed you.
OLIVER MARSZALEK
We are both pleased to have Oliver Marszalek here for the September 207's Best. Oliver is a senior and based on everything we have learned about him, he definitely deserves this recognition in the category of academic achievement. We are impressed how Oliver has taken advantage of the tremendous course offerings at Maine South and excelled in everything has endeavored. Oliver said that he thrives on the challenges of academics and enjoys learning. Oliver will have completed 13 AP classes, 11 accelerated, and 1 college class.
Oliver has a competitive spirit. He has participated in Mock Trial since his sophomore year and won state in 2023. He is a member of Mathletes, starting since his sophomore year. He won 2nd place in three regional competitions and qualified for state. He has been a member of the winning Constitution team since his sophomore year. Oliver also competes in tennis. He has been on the JV team as a freshman, and a varsity player since his sophomore year.
Oliver is active with many of our service and volunteer groups. From his sophomore year to now, he has been a contributing member of Hawk links. This is where he helps new immigrant transfer students get acclimated to the school. He does this because of his own experience as a new immigrant. From his junior year to now, he is a member of Hawk PRIDE. This is where he helps freshmen understand the five competencies of our school and how to implement them in their daily lives. He also serves as a peer tutor, predominantly in Math. Aside from school, he volunteers for Feed My Starving Children, helps with tennis lessons for children that are beginning the sport, and has a paid internship at the biggest Polish venue in the country, the Copernicus Center.
Margaret Wolf, Oliver's German teacher says, "Oliver is a true leader who uses his knowledge and abilities for the benefit of others and the classroom environment. In his mixed-level German language class, Oliver takes the initiative to further support and work with classmates who are struggling with concepts. Oliver does so in a non-judgemental and inclusive manner which allows others to experience success and learn."
Vickie O'Malley, Math Team Coach says. "Oliver was the only sophomore on the math team two years ago. He was really busy at the time, but decided that he would try it out anyway. I would put together a packet of material, find him at the end of his math class, and give it to him to work on. He always worked diligently to learn the topics, asked questions when needed, and sometimes asked for more problems so that he could practice even more. His individual scores at the meets were great, sometimes higher than the combined score of one of the other grade level teams of three, showing a true academic ability to learn and perform a challenging level of math. Through working with him, I saw his love of math and problem solving shine. Oliver continues on the math team today and remains one of our top scorers at meets. We are privileged and glad to have him on the team."
Jeff Downing had Oliver in his AP Physics 1 class as a sophomore and now again in AP Physics C as a senior. He said, "he was one of my Science award recipients as a sophomore because of his outstanding achievement. Oliver works very hard to understand the material and his level of achievement is one of the best in the senior class. In addition, he is a great addition to my class given his willingness to give his insightful scientific opinions. On many occasions Oliver will be the only person with the correct answer. And he has an innate ability to explain things to his peers at a level that benefits the whole class. Oliver has impressed me with his character and demonstrates Hawk Pride on a daily basis. I believe he will be very successful at the next level."
Don McArthur in Social Studies said, "Oliver is detail-oriented and highly analytical. Whether in Mock Trial or in History, Oliver always is on top of reading material, aware of facts and details, and able to compile and assemble them into new understandings. He asks thoughtful and strong questions, and – as a competitive witness in Mock Trial – is pretty challenging on cross-examination. It's been a pleasure working with Oliver over the years and seeing his mind work in such diverse settings."
Darcie Schanou in English said, "Oliver is an absolute delight to have in class. He is curious, thoughtful, and genuinely interested in learning. I couldn't think of a better student for this award!"
Elizabeth Ball in Math said, "I had the pleasure of teaching BC Calculus to Oliver last year. Oliver loves mathematics and appreciates that mathematics is used to explain the ever changing world around us. Oliver was a top student in a class with many strong students. He asked thoughtful questions as he processed the new material. He relished the more challenging problems and frequently shared his solutions with his partners or with the class. Often his solution was novel and he gave the class something to ponder. Oliver learns quickly. He is a fast processor and is quickly able to apply material he learned. He constantly makes connections. Oliver is also exceptionally patient. He was an appropriate partner with all the students in the class, able to meet them where they were in their mathematical understanding. He is an excellent communicator and can explain a concept in multiple ways. Oliver is an active member of the Math Team. In addition to knowing Oliver as a mathematics student, I have had the opportunity to work with Oliver as a Hawk PRIDE peer mentor/leader for the last two years. Oliver attended all meetings and went to the advisory prepared and ready to lead. His open, unassuming attitude allows him to connect with the 9th graders. Oliver leads by example: he does his best always and expects others to do the same. His can-do attitude is contagious and influential."
Leah Politi with the Constitution Team said, "In the short time that I've gotten to see Oliver in action on the Constitution team, he has already stood out as a leader amongst his peers. Oliver is confident and composed while speaking in front of an audience, diligent in his preparation, and encouraging to his teammates. His teammates echoed this, writing that his abilities to disagree respectfully and bring levity to their meetings were crucial to his unit's success. Congratulations, Oliver!"
Johanna Abend in English said, "Oliver is one of the most impressive students I have ever encountered in my twenty-six years of teaching. I had the pleasure of teaching him twice in English 1 Accelerated and again in English 3 AP. In those two courses, Oliver was a standout student and a witty, pleasant classmate. While he is a naturally strong student, Oliver's respect for education and his incredible work ethic have been the foundation for his continued success. I am so proud of Oliver for all that he has achieved, and I am thrilled that he has been awarded this distinction as one of District 207's Best."
Cris Villalobos, his counselor, sums it up by saying, "What strikes me most about Oliver is his passion for learning. Since the day I met him during his freshman year, his goal was to succeed at the highest academic level and experience the best of high school. He wants to make his father proud, and I believe he is a great example and very deserving of this honor!"
Next year, Oliver is looking to attend college, looking specifically to attend one of the top 20 universities. His interest is in mathematics and economics. He is also interested in the possibility of developing a business in the future.