CLASS OF 2022 – ROAD TO GRADUATION
This Road to Graduation presentation was shared with seniors during their Advisory period and contains all the necessary information and links for Class of 2022 senior events.

CLASS OF 2022 – SENIOR MAILING
The Class of 2022 Senior Mailing contains important information about graduation, senior honors, and all other senior events. Please read through the Parent Letter carefully, mark your calendars, and return the **Commencement Agreement Form and **Senior Send Off Form by the due date.
**These documents are read only. To fill out and send these documents go to File ==> Make a Copy and name the copy with your student's name. When you have completed the documents please share with [email protected]
MORE INFORMATION COMING SOON!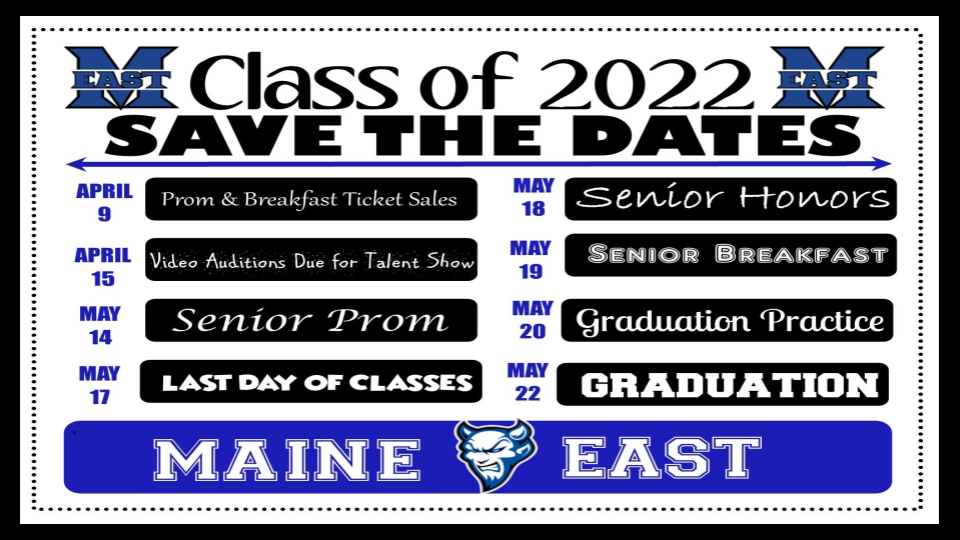 IMPORTANT DATES FOR THE FIRST WEEK OF SCHOOL – 2021-2022
District 207's expectation for the 2021-2022 year is that the school will be open five days a week; students will be learning in person on campus.
Monday
August 16, 2021
Tuesday
August 17, 2021
Wednesday
August 18, 2021
Thursday
August 19, 2021
Friday
August 20, 2021
Orientation Day
12th Graders (Full Day)
11th Graders (Full Day)
Orientation Day
10th Graders
Full Day
Orientation Day
9th Graders
Full Day
Odd Block Day
All Students
Full Day
Even Block Day
All Students
Full Day
Additional information about the orientation days will arrive in August. A link to the 21-22 school calendar can be found at https://maine207.org/wp-content/uploads/2018/06/2021-222SchoolCalFinal.pdf