November 12, 2019
Share this Story
November 2019 Post
New for Parents:
Are you searching for information on the website? Do you have questions about the Parent Portal or Infinite Campus and don't know who to ask? If so, please submit your questions on the form below, and we will respond directly back to you via email. We will also post all questions and answers (no names) in each new posting of the Principal's blog to help other parents who may be having the same problem. You may submit a question in a language other than English, but please indicate which language you are using on the form.
Parent Technology Questions Form
District 207's Best for November – Fine Arts
On behalf of the faculty and staff of Maine East High School, I am pleased to name Kevin O. as one of "District 207's Best" for his outstanding achievement in the Fine Arts.
Ed Eubank, Fine Arts Department Chair, summed up in his nomination of Kevin why he is so deserving of recognition:
Kevin is now a 3-time selection to the ILMEA District 7 Honor Band on Bassoon, and has also earned a seat in the Chicago Youth Symphony Orchestra – both significant achievements in the Chicagoland area with so many outstanding student musicians. A Blue Regiment Drum Major, Kevin also plays in Wind Ensemble and Jazz Band and is a member of Chamber Choir and Audacity in Blue. He was in the first group of student leaders for All in Choir and played a lead role last year in NEWSIES. He is also a gifted keyboard player who has been named to two Illinois Theatre Festival All-State Pit Orchestras on Piano/Keyboard. He is the leader of the V-Show Pit Combo and is always ready and eager to support other students' show acts. In short, Kevin is a musician's musician.
Indeed, while tonight is about Fine Arts achievement, Kevin clearly represents excellence in all facets of his life at Maine East. We are extremely proud of his growth as a musician and as a person and equally grateful for his selfless service to his fellow students and the culture and life of our school. We are happy to salute Kevin O. as one of "207's Best"!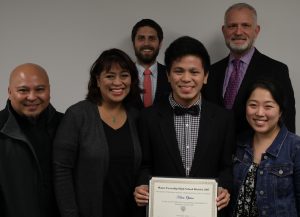 ME Cares Fundraising Auction
In an effort to teach our students about community, charity, and gratitude, Maine East High School sponsors ME CARES, a club dedicated to researching, publicizing, and supporting an annual charitable cause as a school. This year our students decided to raise funds for The Ocean Cleanup Project which has designed a natural solution to dispose of the tons of plastic found in our oceans each year. So far this school year, a dedicated group of student volunteers have been planning a wide variety of fundraising events to raise awareness.
Our fourth annual auction is live now and linked here. We are still adding items, but the ME Cares auction site is filling nicely with items from Judy Tyler, Greg Lundberg, and Nora Cunningham. It also includes student parking passes, tasty treats, and some modeling cameos by Dr. Pressler and Senor Cintado. Bidding begins on Friday 11/29 and ends on Friday 12/6. ME CARES' important work can only continue with the generous support of local donors and auction customers who believe in our work. If you have any further questions or would like to contact us about donations, please contact club sponsor, Rachel Samlan, at 847-692-8305 or at [email protected]
Take a minute to see what's up for auction this year!. Bidding starts on 11/29 and ends December 6th. ME Cares Auction
Garba Night
The Maine East South Asian Student Association hosted its first Garba Dance Night on Friday, November 1st. Students were excited to showcase their cultural heritage with guests and staff during this fun and colorful dance. Everyone enjoyed the regional dances, treats, and lively music of this new event!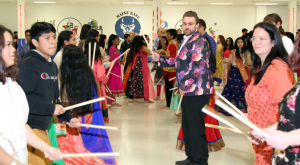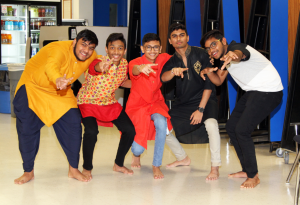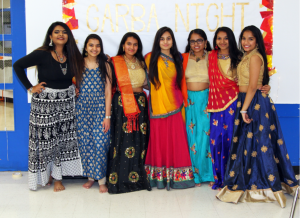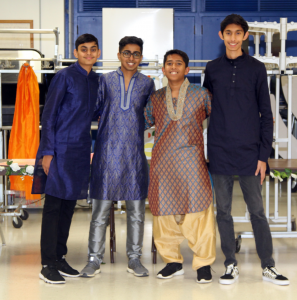 Athletics
CONGRATULATIONS to Alyssa Valle and Erik Osorio-Cruz on qualifying for the IHSA Sectional Cross Country Meet. Alyssa even ran most of the race with only 1 shoe on!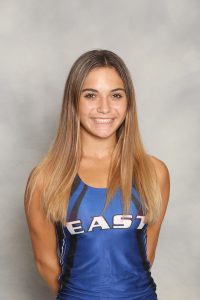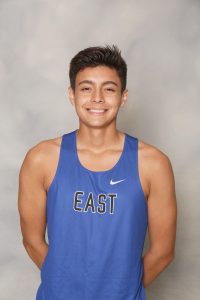 On October 3rd, 32 of our student-athletes participated in the Central Suburban League Leadership Conference. Our students got to hear from two keynote speakers: award winning sportswriter and author Melissa Isaacson as well as former NFL player Blaise Winter. In addition to the speakers, the student-athletes were also a part of a myriad of workshops and team building activities.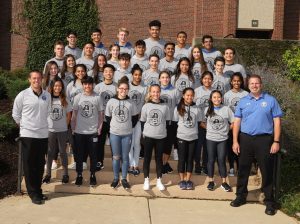 Social Science
On Friday, October 11 nearly 100 students and several staff members were able to attend an event at the Pickwick Theater in honor of former Secretary of State Hillary Rodham Clinton. A former student at Maine East High School, Secretary Clinton was in Park Ridge for the showing of a film produced by the Park Ridge Historical Society about her years growing up here. Her friends and classmates were interviewed by Maine East and South students in the film. Secretary Clinton's many achievements were highlighted including her nomination as the first female presidential candidate in United States history by either major political party. After the film, Secretary Clinton was interviewed by two current students, one of which was sophomore Dallal H. from Maine East. Secretary Clinton emphasized the importance of information literacy and developing a thoughtful process in analyzing news and other information for their level of truth and evidentiary support. She also ended the question and answer session with a message about the value of childhood friends who will support you and give you trustworthy guidance through all of life's ups and downs.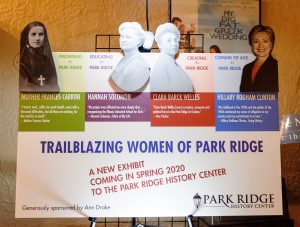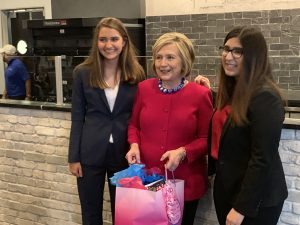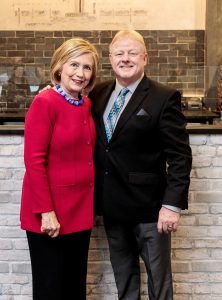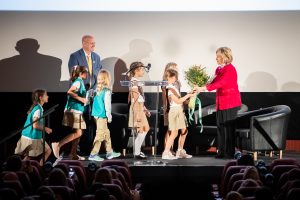 Maine East Gamer's Guild
Maine East has their first Esports team. Esports has been in existence since 1972 with a surge to professional gaming with spectators in the early 2000's. It's estimated that in 2019, the total audience of esports is 454 million viewers and that revenues are over US$1 billion. Esports teams started at the college level in 2009 and in 2017 it moved to the high school level. At the high school level teams compete in four games: League of Legends, Rocket League, Super Smash Brothers Ultimate, and Overwatch. Much of the competition is done virtually.
The purpose of an Esports team is to provide an opportunity and environment in which students can learn and participate in gaming in a safe environment. Students learn valuable skills such as communication, problem solving, working in groups and logical thinking. These skills & strategies can be applied to multiple aspects of a students life. The Maine East Esports teams participates in casual, interscholastic tournaments, and more intensive, collegiate tournaments. The team meets weekly to work on skills and strategies. The Varsity team competes for — recognition, goals, scholarships. Currently, Maine East has 25 members as part of the club, with a varsity teams consisting of eight students. The first inaugural meet is against Maine West on November 6th.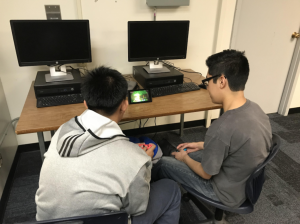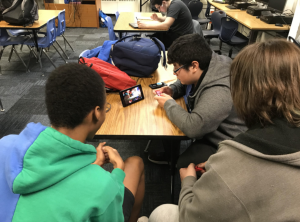 Students are playing against each other in Super Smash Brothers Ultimate to prepare for their matches in the Northern Suburban Fall Esports League.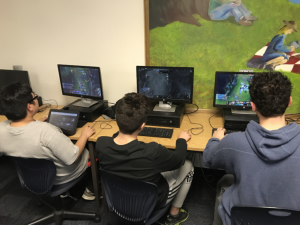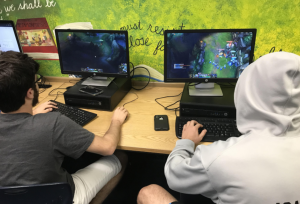 Students scrimmage against each other in League of Legends to prepare for their matches in the Northern Suburban Fall Esports League.
World Languages
On Tuesday, October 22, the World Language Department inducted students into the various language honoraries. Maine East inducted a total of 52 members to the French, German, Italian, and Spanish Honor Societies. We also honored four students who study two languages concurrently. We hope that the honored students continue their language studies and use their skills and abilities both personally and professionally. Congratulations to all honorees! (pictured below)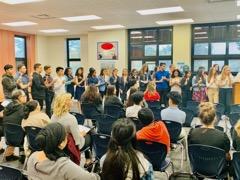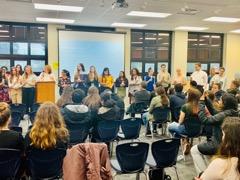 Italian 3 Accelerated student, Alex L, brings her language learning to life by publishing an article in "Fra Noi", Italian-American magazine, and teaching our class about her travels to Italy! Check out her article and the link to her youtube video! So proud of Alex! BRAVISSIMA!! (pictured below)
Alex's article in FRA NOI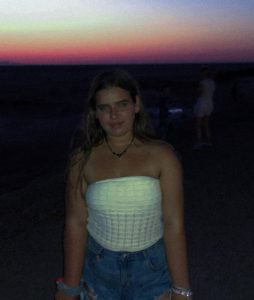 Speech and Debate
The National Speech and Debate Association (NSDA) has recognized Maine East debate team captain Parth S. as an Academic All American. This award recognizes a student's long track record of participation and success in debate while maintaining strong academic credentials. Over the course of his four years, Parth has competed in over 200 debate rounds and won awards at national competitions throughout Illinois, Iowa, and Michigan.