October 9, 2018
Share this Story
News and Events – October 9th
Please see the Maine East School Calendar for information regarding all activities and events.
District 207's Best
"District 207's Best" is a student-recognition program instituted by the District 207 Board of Education. Each month one senior at Maine East, Maine South, and Maine West is recognized in a given area by the Board of Education at its regular meeting. This month, the Board recognized a senior in the area of Academic Achievement.
On behalf of the faculty and staff of Maine East High School, we are pleased to announce Richa S. as one of "District 207's Best" for her outstanding academic achievement. Richa is an intelligent, self-disciplined, hard-working student who has made a positive impact on our school through the example she sets for others based on her tremendous work ethic and achievement. We are proud of her and confident that a bright future lies ahead. On behalf of the faculty and staff at East, we wish Richa all the best in her future endeavors – truly, she is one of 207's Best!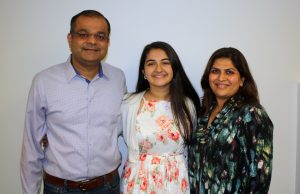 Richa and her parents at the October Board Meeting where she was recognized as "District 207's Best for Academic Achievement"
National Merit Commended Students
About 1.5 million high school students take the PSAT each year, and approximately 50,000, or 3.3%, qualify as Commended Scholars This year, Maine East had 3 students qualify as NMSC Commended Scholars, and we are extremely proud of their accomplishment!
Pictured below with Dr. Pressler are Nichole K., Richa S., and Evan W.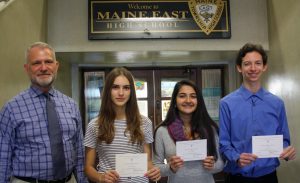 Spotlight on Clubs and Activities
We strongly encourage Maine East students to take advantage of all the academic, athletic, and extra-curricular opportunities that East has to offer. Please see the document below for a complete list of clubs and activities which are available for students. Enjoy being a Blue Demon!
Robotics Club
Returning seniors and juniors are working hard to get ready for the VEX competition this year, called Turning Point. The students need to construct a robot that can shoot targets at various heights, as well as pick up and drop items in specific locations. Returning junior Manav T. can be seen below jokingly tinkering with the claw mechanism he has been working hard on. Meanwhile, Cassidy H. is working on the drive mechanism for the robot. The team has decided to go with tank treads this year because they want their robot to score additional points by parking itself on top of an obstacle at the end of the match.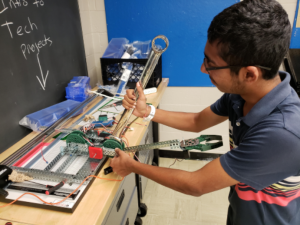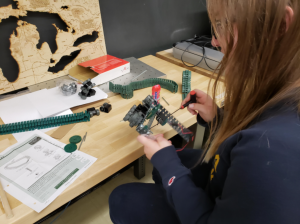 This year we have 12 new members who want to design their own robot for the Turning Point competition. The new members have limited experience building and programming so they are learning what it takes by building robots from kits made by mBlock. These kits are an excellent entry point for new members, allowing them to learn the basics without being overwhelmed by all the parts available to them with VEX. Thanks to a generous donation from Exxon Mobil, Jan Wieczorek, Maine East teacher and Robotics Club sponsor, was able to purchase mBot robot building kits for new members. "Having three kits also allows students to work in smaller groups to really get involved in the experience of building and coding robots. In the past it has been hard getting everyone involved, but this year the student engineers leave with smiles on their faces."
Maine East was able to purchase these robot kits because of a generous donation from the Exxon Mobil Educational Alliance Program, in conjunction with our local Exxon Mobil station at 8575 W. Dempster. We are very grateful for Exxon Mobil's continued support, and for their commitment to enhancing educational opportunities for our students.
Pictured below: Junior Muhammad M. is tinkering with the mBot Ultimate, freshman Om P. learning to code his newly built mBot Ranger.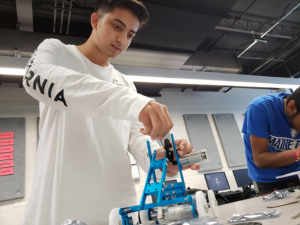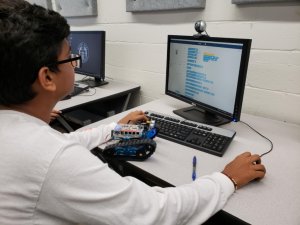 German Club and Spanish Club
The German and Spanish Clubs at Maine East High School welcome any and all students who express interest in learning about German and Hispanic cultures. The first and foremost goal of the clubs is to promote German and Hispanic cultural awareness by providing educational, cultural, and recreational opportunities to members to enjoy. Another goal is to meet and plan for our annual field trips. We need your support to make these clubs work and be fun! Come join us!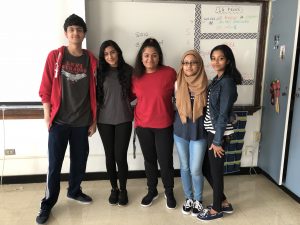 Spanish Club officers: Aryan M., Leah M., Chami P., Umama A., Nina I., and Rose M. (not pictured)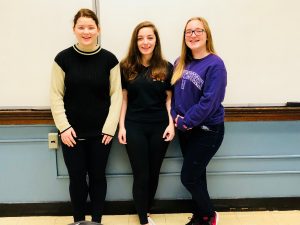 German Club officers: Paulina G., Ona L. and Cassidy H.
German Club Volunteers at Oktoberfest
The German Club sponsor and some of its members, volunteered at Oktoberfest at Hodges Park in Park Ridge in order to help promote and celebrate the German language and culture.
(1)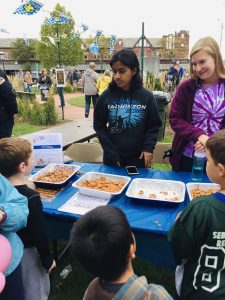 (2)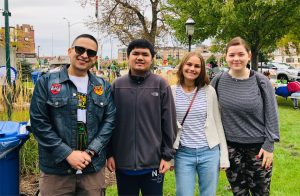 (3)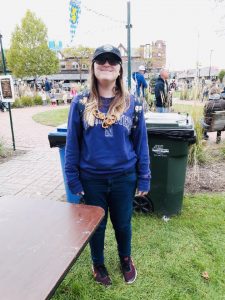 Picture #1: Navya P.
Picture #2: Sponsor Mr. Illescas, Joaquin S., German exchange student Charlotte G., and student host Paulina G.
Picture #3: Cassidy H.
Maine East Preschool Program
We believe children learn best through play. Our play-based, child centered program reflects how children learn and develop a multitude of skills. The program provides the preschool child with a great deal of individual attention, various stimulating materials, and exciting activities through experiences and friendship. A curriculum that balances academics with play activities helps children develop problem solving skills, social awareness, and other cognitive abilities, with the ultimate goal of becoming Kindergarten-ready. If you would like more information about Maine East's Preschool Program, please check the preschool website, or contact Michelle Meyer at [email protected]
The preschool students enjoy a wide variety of activities during the day, and even participated in Pajama Day during Homecoming Week (below right)