June 4, 2019
Share this Story
June 2019
District 207's Best for May – Achievement in Extracurricular Activities – Marcin Nieradka
From all accounts, Marcin Nieradka is a class act as an athlete, a musical performer, a scholar, and most importantly as a human being. His positive attitude, maturity, and eagerness to help others make him role model on how to find success in many different "areas" of our school. We are proud of his accomplishments and have no doubt that Maine East is a better place for all of his contributions. On behalf of the faculty and staff at East, we wish him all the best in his future endeavors – truly, he is one of 207's Best!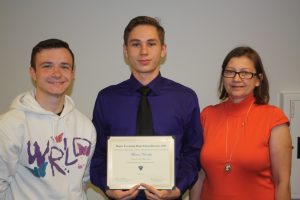 District 207's Outstanding Parent Award – Eric Flood
On behalf of the faculty and staff of Maine East, it gives me great pleasure to recognize Eric Flood for his support not only of his daughter, Abby, but also countless other Maine East students over the past six years. Clearly, he has played a significant role in helping Abby become the scholar, athlete, and – most importantly – the human being she is today. Abby has done much to distinguish herself over these past four years, and will undoubtedly do much to make our world the best possible place it can be through her service to others. We wish Abby, her sister, and both of her parents the best of luck in their future endeavors!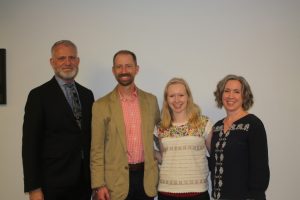 Fashion Show
Maine East has a robust fashion program with a curriculum designed to give students a comprehensive study of the fashion industry. Students are taught design skills as well as clothing construction techniques. Students also explore and learn about industry careers and opportunities.This year Maine East hosted its first ever fashion runway show. This event provided an authentic learning experience for our next generation of fashion industry professionals!
There were two separate judging events for this competition; fashion construction and overall runway presence. A panel of professional judges made up of university fashion professors, local designers, and FCS teachers assessed students in each category. The show was made up of specific acts such as formal wear, outerwear, casuals and preschool client design.
Preschool client design was a special project where advanced fashion classes were tasked to design for a very special client to simulate what it might be like to be an actual fashion designer. The goal was to meet the needs and wants of their client….but…in this case the client was 3-5 years old. We collaborated with the Maine East Preschool program and each designer was paired with a child. To see the entire fashion show, please click here.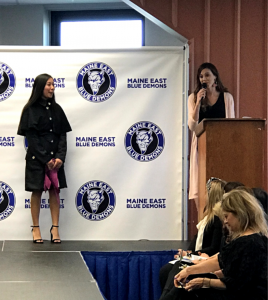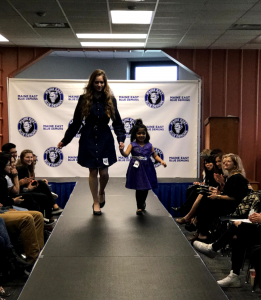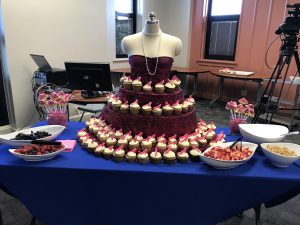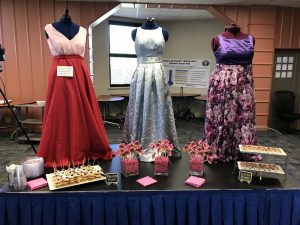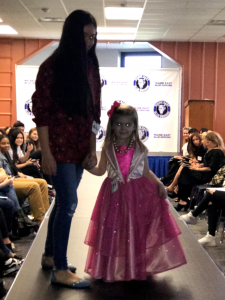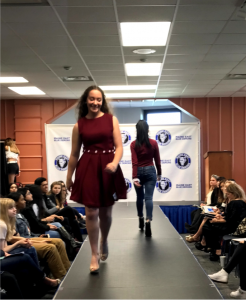 Chicago Metro History Fair
Every year Maine East participates in the The Chicago Metro History Fair. This is a project-based inquiry program that challenges students to become historians by actually doing history. The finished product is a museum exhibit in which students highlight primary sources and how they fit into a larger argument about an historical development. This year, Maine East had four students, Kylin Adap, Vanessa Balseca, Joseph Monterrosa and Stephanie Rodriguez work on a project about the Chicano movement in the Chicagoland area that has qualified for Illinois History Day competition in Springfield, IL. In putting together their project the students did a lot of independent research; which included visiting the National Museum of Mexican Art in the Pilsen neighborhood of Chicago. In advancing, the students first had to compete first at the local level against almost 30 other exhibits. After this, they moved to the Regional at Niles North High School again facing stiff competition from 15 other high schools. They, along with one other group from Maine East, advanced to the City-wide Finals which were held at the Chicago History Museum. After each round this group of students was able to take the feedback from the judges and make specific changes to their project. It was very impressive to see them keep making alterations that drastically improved their project. The ability to get feedback and use it effectively to improve one's work is something many students struggle with so it has been very impressive to see this group excel in this area.
At the city-wide finals on April 10, they competed against students from the entire Chicago area. Their project was impressive enough that they were 1 of only 34 projects selected from the Chicagoland area to participate in Illinois History Day, held in Springfield on May 2. This is a major accomplishment and one that does not happen every year. As part of the competition they will be traveling down to Springfield to present their project and talk about their process with a group of highly qualified judges. They will also get to visit the Lincoln historical sights and presidential library, a unique experience for any budding historian. It takes a lot of hard work and dedication to qualify for this event so please congratulate Kylin, Vanessa, Joseph and Stephanie if you see them out and about in the community!