Department Chair
Edward Eubank
847-692-8500
Administrative Assistant
Lisa Disparte
847-692-8500
Happening Now: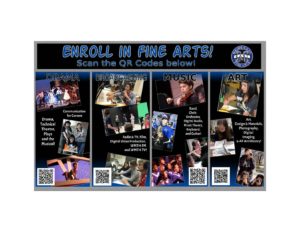 As you are preparing to register for classes for the 2021-2022 school year, please explore these elective course options and the incredible opportunities available to you in Fine Arts at Maine East:
V-Show 20-21!
With our current pause in activities, we are planning to finish filming early second semester. We'll let everyone know as soon as our final edits are done so you will know how you can view this year's V-Show!
Department Information
Maine Township High School District 207 is proud to offer a wide range of classes to support students' growth in a range of creative and artistic endeavors. These learning experiences strengthen students' passions as well as provide authentic opportunities to build and share a range of skills, from those that appear in front of audiences, such as concerts and play productions to the artist-apprentice studios of our art classes preparing work for exhibitions and portfolios. These exciting, hands-on classroom environments result in students who use and develop their creative minds across a broad curriculum encompassing Music, Visual Arts, Broadcasting, Video and Radio Production, Drama and Theater.
FOLLOW US ON:
Department Links
ACTIVITIES
Tri-M Music Honor Society
Faculty Email Contact