Students Honored for Academic Achievement by the Board of Education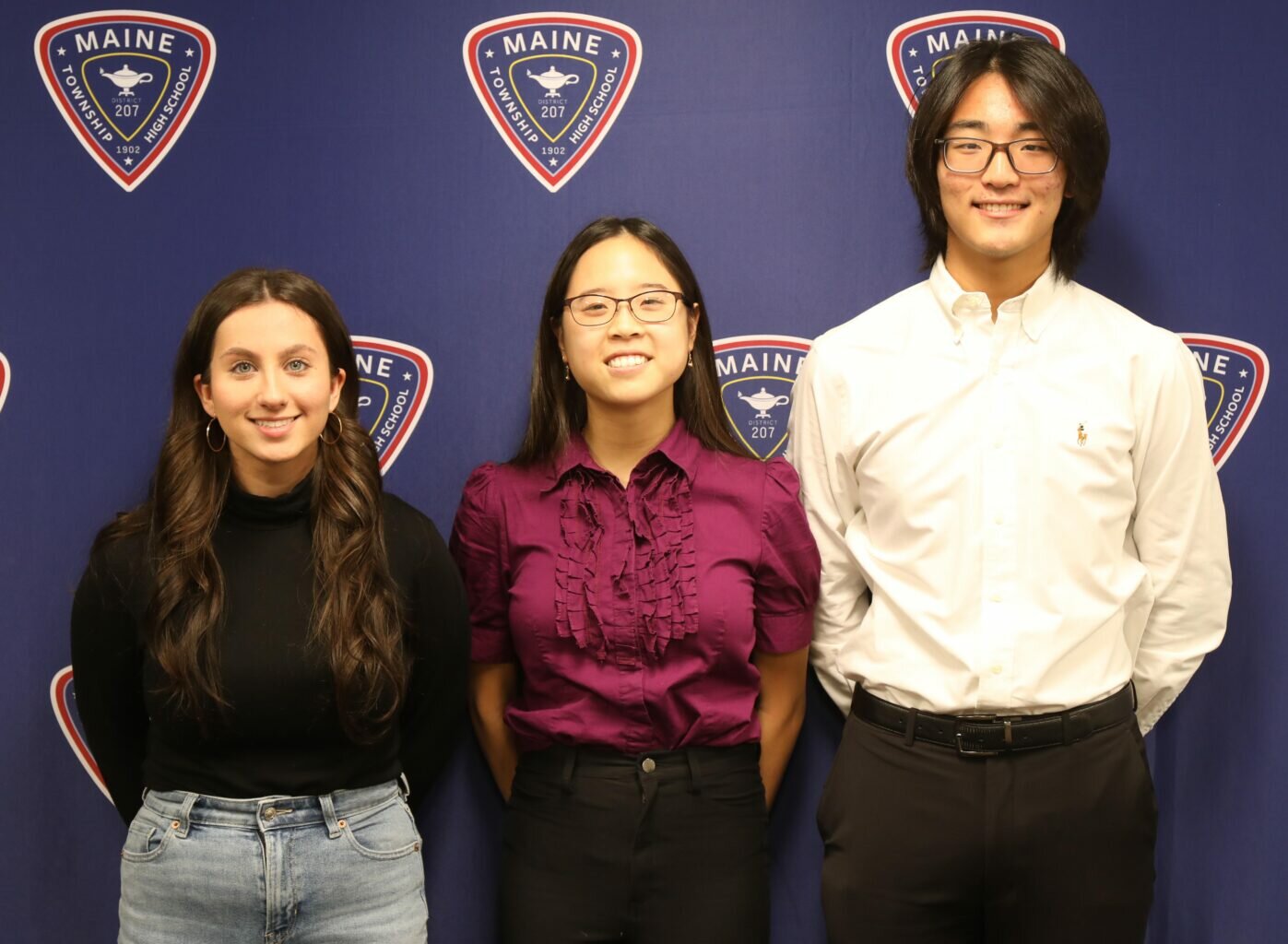 The Maine Township High School District 207 Board of Education honored three students at its recent meeting by naming each student "207's Best" in the area of academics. The students recognized were Sabrina Bukvarevic from Maine West (left), Kyungsoo Chon from Maine South (right) and Sarah Phan from Maine East (center).
SABRINA BUKVAREVIC
Nomination written by Principal Dr. Eileen McMahon
We know that the blessings of academic ability and life wisdom are not necessarily conferred in equal measure, but I am pleased and proud to say that both are abundant in Sabrina Bukvarevic. She is here tonight as Maine West's honoree for 207's Best for Academic Achievement because she is hardworking and brilliant, but what I want you to know about her, and what her teachers want you to know about her, is that she is also very, very wise.
When we met, Sabrina didn't talk at all about grades or achievement, but she was super reflective about learning. At Maine West she learned that she is ready to take on leadership. "I always knew how to take charge," she explained, "but here I learned how to collaborate, how to learn from our diversity, how to communicate and learn from multiple perspectives so that we can all make an impact together." She consciously explored who she is, trying new clubs and classes and shifting friend groups, finding what she loves. She loves math, but also discovered a love for reading and writing, and wants to find ways to incorporate the two. She will head down a path of studying economics, resolved not to leave her love of the humanities behind. "I am determined to incorporate my passions into my work."
Sabrina's distinction as a reader is most impressive when you consider that she began her educational career in English Language Learning (ELL) classes. Some of her memories of those formative experiences returned to her as she reflected on her journey as a learner. She realized how crucial those lessons were to her development as a reader and thinker. Her home language is Bosnian, and she recalls picking up a book in first grade and not being able to read it. In ELL classes for a few years, she remembers learning things that she only now realizes were essential to her love of reading. She remembers reading Rainbow Magic books with her mom and sister, and graduating to Magic Treehouse books. A classmate told her, "You can't read that book! That's too old for us," and Sabrina thought, "I'll prove you wrong!" She was off to the races.
Now, with no time in her schedule to fit it in, Sabrina is teaching herself Statistics. She uses Khan Academy and her friends' notes to keep up with the AP Statistics class here at West, somehow finding the time among her actual AP classes, an internship with the Chamber of Commerce, and leadership roles in National Honor Society (President), the Westerner (Editor-in-Chief), Pi Sigma Pi (Vice President), DECA (leadership team), and Model UN (Communications Director). She has played Golf for 4 years, is on the Principal's Leadership Team, and is a member of the Science, Math (Mu Alpha Theta), English, Spanish, and Music (Tri-M) Honor Societies. Last year she was a section leader in Marching Band and team captain on Mock Trial, but she had to sacrifice these in order to make the most of her other activities, not to just be in them but to engage meaningfully and make an impact. In this she displays the wisdom that balances her prodigious academic ability.
Sabrina's teachers share my assessment of her estimable qualities. Mr. Sumida expressed full confidence in her skills and habits as a learner. He said, "Sabrina is a conscientious student who is willing to provide whatever it takes to get the job done. She isn't afraid to shift gears when an approach doesn't work for her, and she isn't afraid of hard work. She is comfortable speaking up when she needs assistance, something that students of her caliber often find challenging. I have no doubt that there isn't a barrier that can keep Sabrina from reaching her goals."
Mr. Ruder enthused about Sabrina's professionalism, class, and talent in AP Language with him as a junior, but remembers her especially fondly from the state journalism tournament, in which Sabrina took 3rd place in feature writing. "She is a talented and brilliant writer and student who will make Maine West and District 207 proud," he said.
Mrs. Mazanowski praised Sabrina's efforts as a leader and standout in DECA. After their competition was canceled during Sabrina's ninth grade year, she emerged from the pandemic more determined than ever and took 1st in the state in tenth grade, advancing to nationals. This year, she designed and executed a pop-up thrift shop to raise over $800 for Disabled American Veterans for their competition project that will be judged in March.
Mr. Gerstmayr called Sabrina, "the complete package: incredibly high achieving academically, well-rounded with activities and talents, and a kind, compassionate, respectful young woman… She has the ability to have people around her feel welcome and cared for. While we miss her sitting in the front row of the Wind Ensemble, I hope she knows how proud we are of her and how much we miss her daily company. We also know that she is on the path to great things and wish her nothing but the best in her endeavors."
Mr. Fleming praised Sabrina's curiosity. "When I had Sabrina in class as a freshman, she was mature beyond her years. She was already an independent learner and was fully in control of her own learning process. She always asked the type of questions that as a teacher, you just smile and are so glad that a student asked. They were always very in-depth questions about language and language structure that dealt with complex concepts. In addition to being a high-level learner, Sabrina was also a fantastic group member, always plugged into her group members, talking, asking questions, participating, and valuing each person," he said.
In our conversation together before winter break, I asked Sabrina one of my harder questions. She can handle it, I figured. Actually, she schooled me. "What do you want me to make sure people know about you, as I write this presentation?" I asked. She took a minute to think, and then said, "I am a girl who has never backed down, but has found a way to use the things I love to get out of dark places and grow. As a friend, as a family member, as a learner, I've grown. I'm proud of myself for that." And so she should be, because if she knows as a young person how to use love to find light in darkness and joy in pain, she has wisdom far beyond what we, or the lucky university that welcomes her next year, can teach her.
KYUNGSOO CHON
Nomination written by Principal Dr. Ben Collins
Kyungsoo has been an incredible student for his entire time at Maine South. Always putting his own degree of personal pressure on his shoulders, he has built an impressive academic resume. He believes, "working hard isn't a means to success, working hard is the reward." He has taken our most challenging course offerings. When the majority of students take seven classes, Kyungsoo has instead taken eight classes because he has so many interests. He's been a four year member of the cross country team, a member of orchestra where he is an All-State Violinist. He's a National Merit Semifinalist. Kyungsoo is a member of HOSA which will also take him to the state competition. He's one of three co-presidents of Tri-M, our music honor society. Additionally, he's in Science NHS and NHS. Currently, he's volunteering at the Skokie Hospital to gain experience in the environment he ultimately wants to work in. When asked why he likes school, he said, "The classes you take and what you participate in help you meet people who are like minded and people you would not have normally met. I enjoyed cross country camp before freshman year. I was the most tired I had been in my entire life. It was good to have that camaraderie before the school year started."
Bob Tortorelli, Kyungsoo's Counselor, says, "Kyungsoo Chon is simply one the most outstanding students that I have had the pleasure of working with. His test scores and straight A record in his completion of our most challenging curriculum are most impressive but it does not indicate just how far above his peers that Kyungsoo typically performs. He has established himself as a member of an elite group that I consider among the very best that I have encountered. Kyungsoo is an extremely well-rounded student who enjoys learning across the curriculum and he makes it look easy, but the truth is that he works very hard. Kyungsoo has developed an intense work ethic that is now simply part of his routine. He is able to quickly connect previously learned material and to the current task at hand. He is a relentless problem solver of the most complex problems. Qualifying as a National Merit Semifinalist, scoring a 35 on his ACT, a 1540 on his SAT and earning a 5 on all eight of AP tests so far, does support just how intelligent Kyunsoo is, but I am just as impressed by the thirst for knowledge that he displays. He loves learning. Kyungsoo is a welcome addition to any collaborative learning environment that he is part of. He has a knack for recognizing what role the group needs him to play. He is comfortable leading, but also enjoys watching others shine as well. Kyungsoo does not need to be the center of attention but his peers are always interested in what he has to say."
Laura Kirshner, his English 2 Accelerated teacher, says, "Kyungsoo is a phenomenal student and person. It was such a blessing to have him in English 2 Accelerated during his sophomore year. Even though it was the pandemic year, I could always rely on him to be actively engaged and to encourage thoughtful participation and analysis in class activities through his contributions to the class. Over the course of the year, he proved himself to be the MVP (the Most Valuable Partner) for our daily warm up puzzles, seeing that he was on a winning team every single quarter. His intelligence, work ethic, humble nature, and endearing personality will serve him well in the future."
Darcie Schanou, Kyungsoo's AP Literature and Composition teacher says, "Kyungsoo brings insight and creativity to English class. Earlier this year he created an original musical composition on the violin to complement another student's performance of a soliloquy from Hamlet. He is a delight to have in class!"
Kyungsoo's Accelerated and AP Chemistry teacher and Cross Country and Track Coach, Greg Nordahl, says, "I can speak to Kyungsoo's character with confidence having coached him for four years and taught for two. He makes positive choices regarding his friends and activities. In four years, I have never had a reason to question Kyungsoo's integrity, character, or morality.
"Kyungsoo is extremely conscientious in attending to his academic responsibilities despite the heavy demands of being a cross country and track athlete. His work is consistently the best in the class of exceptionally talented students. He has a fluid, open mind and thoughtfully views ideas from multiple perspectives and judges things objectively.
"As Kyungsoo's cross country and track coach, I have spent much time with him personally. During his running career, Kyungsoo has had his setbacks and disappointments that came from injury or poor races, but he is resilient in his efforts to return and become better. This attitude is exemplary and has helped him develop into a good leader. He demonstrates outstanding sportsmanship to his teammates and rarely has ever missed a practice over the course of these past seven seasons. Kyungsoo demonstrates positive sportsmanship consistently and is always the first to support his teammates – from the slowest to the fastest."
Kyungsoo's Medical Terminology teacher, Heather Sinnott, says, "Kyungsoo is a hard-working, conscientious, polite, focused and mature student. I've enjoyed getting to know him as a student in my class as well as a member of HOSA Future Health Professionals. He will do great things in his future!"
Scott Tumilty, Kyungsoo's Total Body Conditioning teacher, says, "Kyungsoo is a very fine young man to have in class. He is very disciplined in class and has a high grade point. Kyungsoo is very kind to others in class, always offering to help spot other students. Kyungsoo has a very strong work ethic and is very productive in class each day with the volume of weight that he lifts. Kyungsoo had one of the top scores in our deadlift competition. Kyungsoo carries an upbeat attitude. He always asks questions in class and participates a lot in our discussions. Kyungsoo sets a positive example in class. After having Kyungsoo in strength training class on a daily basis, I can see why he does so well in class. I would like to commend him on his efforts and tell him to keep up the good work."
Matthew Nix, his Orchestra teacher says, "Kyungsoo has been a student of mine since he was a freshman. He is always genial, helpful, and oh-so-kind. How refreshing it is to be asked by a teenager, "Mr. Nix, how are you?"! As a musician, Kyungsoo is one of the hardest workers I've met in my last decade as a high school orchestra director. He is a consummate student in the way he takes constructive criticism and feedback – always with humility and with an eye towards the future. Just a few weeks ago, Kyungsoo was named an All-State violinist, the highest honor that the Illinois Music Education Association bestows upon students. He is more than deserving of this all-state experience! Overall, Kyungsoo is a bright spot in anyone's day, especially mine…anyone who crosses his path should consider themselves lucky!"
Kyungsoo's AP Calculus BC teacher, Beth Ann Ball, says, "Kyungsoo Chon is one of the top students I have ever taught at Maine South High School. He is naturally curious and his questions are at a degree higher than most of the students in the classroom. He likes mathematics and understands mathematics. Kyungsoo is an amazing student. He completes the assignments on time and asks deep questions about the solutions to the problems. Kyungsoo willingly shares his knowledge to his classmates without appearing boastful: he is humble and genuine. Kyungsoo has also won accolades for his ability to be an amazing Hawk PRIDE leader. Kyungsoo has built relationships with his freshmen for the past two years and these students look up to him. Who wouldn't? An amazing student, exceptional at both the violin and piano, cross country runner, and all around good guy. Kyungsoo is the person you want leading your team and the person on your team. He is exceptionally bright, tremendously dedicated, and exceptionally personable. Kyungsoo is Maine Township High School District 207's Best and I am glad he is being recognized."
Kyungsoo is considering a career in dentistry or orthopedics. He has applied to multiple schools and will have many offers to consider. We wish him all the best!
SARAH PHAN
Nomination written by Principal Dr. Melissa Pikul
Maine East High School is pleased to recognize Sarah Phan as one of "207's Best" in the area of academic achievement.
Learning about Sarah's academic path over the last four years is overwhelming. She has committed to rigor and excellence in ways beyond that of our highest achieving students. What's best though, is that Sarah talks about her academic endeavors with the same enthusiasm teenagers talk about most anything they love. Her passion and energy for learning are only overshadowed by her friendly and warm personality.
When Sarah reflects on her learning journey, she cannot remember a time when she didn't love exploring new ideas. She remembers doing Khan Academy for fun. She loved that math could be gamified and was motivated by the challenge of learning new concepts quickly. Sarah started meeting the challenge of the high school curriculum in middle school. She was ranked at the state level in the Honeywell Chemistry Challenge in both 7th and 8th grade. It's not common that a 9th grader comes to us with a "background in chemistry," but Sarah had just that. She entered Maine East ready for AP Calculus BC and AP Chemistry, a schedule that had never been taken by a 9th grader before. Sarah has gone on to excel in the most rigorous course offerings, never achieving less than a "5" on an AP exam.
Ms. Etzwiler, Sarah's Chemistry teacher, had much to share about her awesome experience with Sara. She said, "Sarah has contributed to the Chemistry department at Maine East since she walked through our doors her freshman year. Because of COVID, the AP exams were shortened and school went online; however, due to Sarah's leadership in the class, and the enthusiasm she spread to her peers, that class of AP Chemistry students were determined to make an excellent showing in their AP exam. We met every day on Zoom, and even put in extra hours to get in extra review. In such a dark period of time during the pandemic, I'd never seen such a remarkable attitude of perseverance and determination from a student like Sarah. Even though the AP Chemistry exam was shortened to test only units 1-7 that year, Sarah insisted that she learn the full curriculum, and she went on to complete the remaining units 8 & 9 on her own. Since then, Sarah has been an integral support for the AP Chemistry students who followed in her last 3 years of high school. Sarah has provided essential tutoring support to AP Chemistry students over the last 3 years, and done so with a gentle, purposeful manner. In addition, Sarah has volunteered to help me in preparing chemicals for laboratory activities for AP Chemistry class, as well as trialing new "beta" versions of labs that I needed to revise for future use. I will most certainly miss her impact in our department!"
Mr. Peters had a similar experience with Sarah. He said, "Sarah is a terrific student who has a genuine desire to learn and engage in academic discourse. Sarah demonstrates this on a daily basis by participating in class discussions and asking insightful and reflective questions, which show a critical and nuanced understanding of the concepts and topics being discussed in class. Sarah has elevated expectations of excellence in the classroom and helped create a culture of motivated and curious learners. It has been a real pleasure working with Sarah this year in AP United States Government & Politics."
You can imagine the energy that must be devoted to studying in Sarah's world, but what I found to be most intriguing about her is how she has infused her learning passion into extracurriculars. Sarah's extracurricular resume alone demonstrates that her love for learning is motivated by innovation and problem solving, well beyond GPA and test scores.
Sarah has been very involved with both Scholastic Bowl where she is the varsity captain and Math Team where she earned a spot as an oralist. The Scholastic Bowl's success at Nationals in Atlanta last summer was a memorable experience for Sarah as it was her first time on an airplane. She loved it! Sarah has found much success on the math team this year earning 1st place in every meet. She is currently ranked 6th in the state among the 54 school divisions! She also plays the violin and has been a member of Demon Strings and enjoys the community trips to share her music. She is also a member of astronomy club, Principal's advisory council, the Gifted Lyceum program and she is a Schuler Scholar.
In gathering teachers' feedback about Sarah, you'll notice the consistent references to her love of learning, and her helpful and bright personality.
Mr. Reuhs shared that Sarah is an incredible student – hardworking, reflective, and helpful. He said, "She is an even more incredible person. She balances commitments to extracurricular activities and her drive to use her strengths to help others is truly remarkable. After helping design a service plan to work with the organization Lemons of Love, Sarah has managed communication with them and helped organize two card drives and a fundraising campaign. Through it all, Sarah has maintained a positive, inclusive, and kind attitude. She's been a joy to work with, and I'll miss her dearly next year."
Mr. Schultz shared, "Sarah is unquestionably in the top 1% of students that I have taught in my 20-year high school teaching career. Her success in physics is remarkable and her questions showed an interest in learning, not just getting the grade. As the sponsor of the astronomy club, I can attest to Sarah's enthusiasm and commitment. Last year, she was one of a handful of students who helped complete construction of a radio telescope. She volunteered to learn how to use Python coding to analyze data that we began collecting with the scope. She also helped to plan and carry out a "star party" event in which we invited students and their families from the community. This year, Sarah is the President of the Astronomy Club."
Mr. Dobner shared, "Sarah is undoubtedly one of the strongest students in the senior class, possessing a brilliant mind, an enthusiastic love of learning, and an unwavering commitment to excellence. Most impressive, Sarah serves as Oralist for Math Team, a role that requires her to study topics in college level mathematics and present solutions verbally to judges. Last year, Sarah qualified as a State Finalist in Orals after she obtained a spectacular perfect presentation at Regionals. Past judges have commented on how impressed they were of Sarah's thorough analytic thinking, impressive problem-solving skills, and eloquent explanations, with one noting that, "she sounds like a college professor!" Sarah truly is a remarkable young lady."
Sarah's passion for learning extends into her humanities courses. Ms. Lee said, "Sarah is brilliant, thoughtful, and kind. All of her writing in class becomes an exemplar for other students. Her writing has both depth and breath, revealing her love of literature and her ability to see the complexities of the world. She helps those around her to become better writers and thinkers. Though she excels at everything, she is a curious and dedicated learner, who continues to strive for excellence. It has been a joy to have her in the class."
As Sarah's counselor, Mr. Ibrahimovic has had a front row seat in Sarah's spectacular high school journey. He said, "Sarah is one of the kindest and warmest individuals I have encountered during my time at Maine East. Her love for learning and knowledge is pure and focused on bettering herself as opposed to simply attaining a grade and status. Overall, she has taken the most rigorous set of courses that I have encountered in my 8 years at Maine East. She has exhausted the curriculum in every category to the point that she has to take concurrent enrollment math courses (linear algebra and discrete math) at Oakton during her senior year. I can't wait to watch Sarah's future success."
Believe it or not, Sarah does periodically find time for herself in which she enjoys experimenting in the kitchen with cooking and baking. She also loves to read for fun. Obviously, Sarah will be greatly missed by many at Maine East next year, but she surely will not be forgotten! Thank you, Sarah, for all that you have shared with us over the last four years!