Students Honored by Board of Education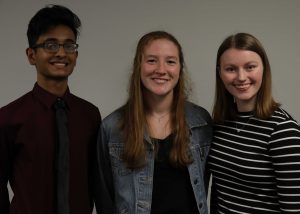 Krishi Rana (left), Greta Miller (middle) and Olivia Bitcon (right) were all honored at the Board meeting for their academic achievement.
Written by Hannah Pisani, Communications Department Intern
The most recent District 207 honorees for academic achievement have been chosen and named "207s Best" for the month of September. The three students, one from each school, were honored at the board meeting on September 3, 2019.
Maine West's honoree is Olivia Bitcon, a student who was recognized for her remarkable grades, ambitious class load and curiosity in the classroom. Ryan Klatt, a English teacher at Maine West, describes her academic approach as someone who "wants to dig in and participate in the work of analysis, and not just for a grade. She just wants to know." Bitcon is a part of Science Olympiad, Scholastic Bowl, COACH tutoring and the Explorers Program. In the Explorers Program, she goes to the FBI Field Office in Chicago to study the Bureau's operations.
Greta Miller was the honoree from Maine South. In addition to having the highest GPA in the senior class, she has taken on a rigorous class load since freshman year and is a member of National Honor Society and Science National Honors Society. Miller got a perfect score on the SAT math and will soon be applying to universities. She is looking to study in the STEM field, possibly engineering or computer science. Elizabeth Ball, her AP Calculus AB teacher, says this about Miller's achievements: "Greta is an optimistic, flexible, motivated, creative-thinking young lady. In the AP Calculus BC class Greta approached each new problem with her infinite can-do spirit. She is an innovative thinker and frequently uses a new path to solve a standard problem. Greta is curious about everything. Greta respects the learning process and challenges herself to learn more."
Krishi Rana from Maine East also received the recognition. Rana has consistently been a part of accelerated and AP classes and his weighted GPA places him at the top of his senior class. Outside of the classroom, Rana has taken part of the Varsity Scholastic Bowl, math teams, the Gifted Lyceum Program and he is the President of National Honor Society. The Gifted Lyceum Program Coordinator Judy Tyler, acknowledges that Rana "grasped information quickly, he was never intimidating to his cooperative group and he thoughtfully contemplated other's ideas." He is interested in working in the medical field and plans to receive a bachelor's degree in a scientific field in the future.