Students and Parents Can Access Information Like Class Schedule and Grades in Infinite Campus
The new Infinite Campus Student Portal and Parent Portal are available for the 2019-2020 school year. Students can access the Student Portal login page at http://bit.ly/207icstudentportal.
For students to login, enter your District 207 username and password. Your username is the part before "@s207.org" in your email address. The student password is the same password you use to log into your Chromebook and G Suite.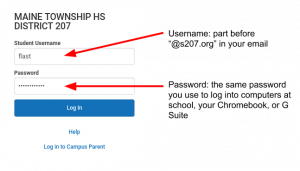 Parents can access the Parent Portal login page at http://bit.ly/207icparentportal
For parents to login, enter the username and password you used during the registration process.