Spring Musical - The Little Mermaid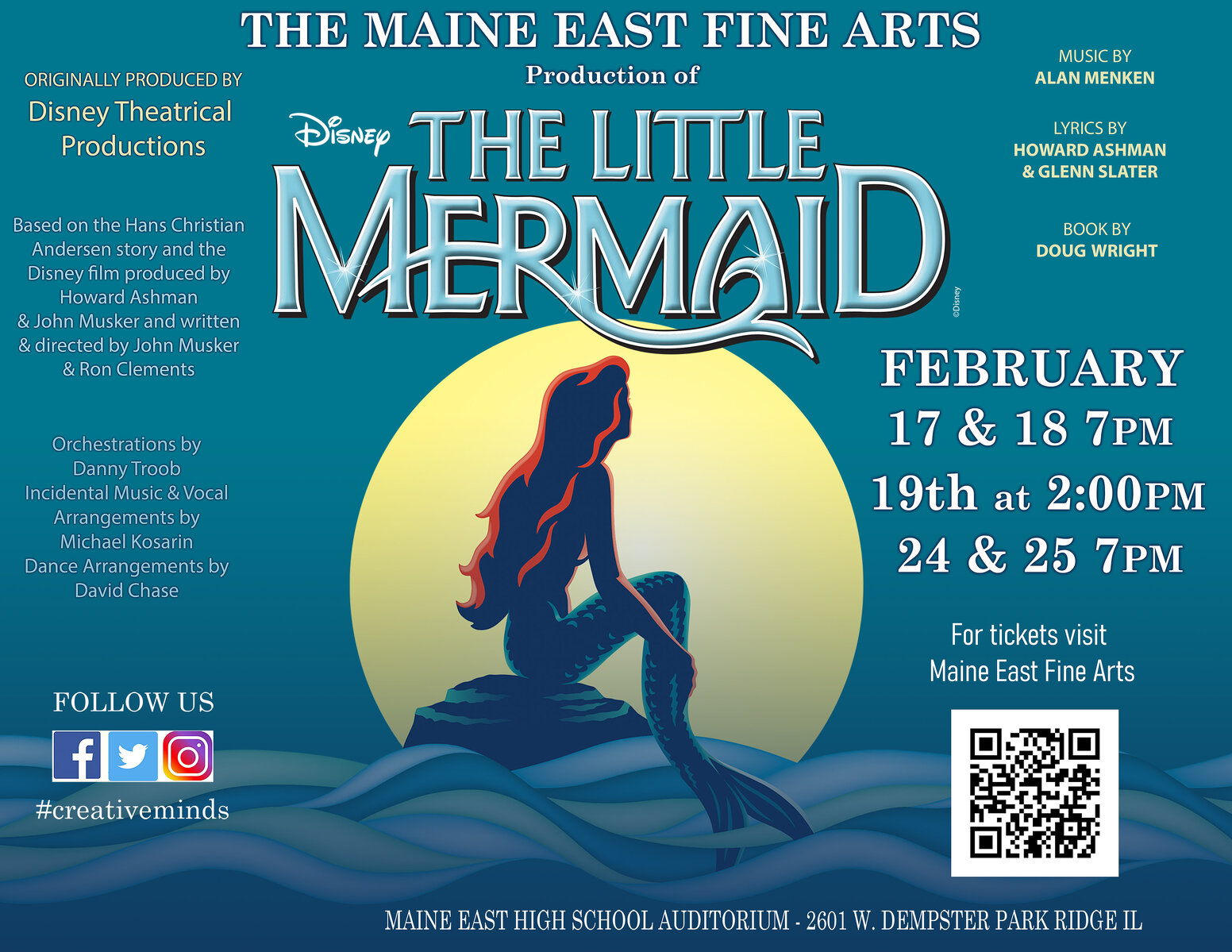 The Maine East High School Fine Arts Department is excited to present their winter musical "Disney's The Little Mermaid" with music by Alan Menken, lyrics by Howard Ashman and Glenn Slater, and book by Doug Wright. This musical, based on the Hans Christian Anderson story and the Disney film, will premiere on Friday, February 17 at 7 p.m. with shows Saturday, February 18 at 7 p.m., Sunday, February 19 at 2 p.m., Friday, February 24 at 7 p.m., and Saturday, February 25 at 7 p.m. Tickets may be purchased by visiting the Maine East website at https://www.showtix4u.com/event-details/69829 or at the door. Admission is $10.
The Little Mermaid is based on a fairy tale that follows the journey of a young mermaid who is willing to give up her life in the sea to gain a human soul. The 16-year-old mermaid Ariel is fascinated with life on land. On one of her visits to the surface, which are forbidden by her controlling father, King Triton, she falls for a human prince. Determined to be with her new love, Ariel makes a dangerous deal with the sea witch Ursula to become human for three days. But when plans go awry for the star-crossed lovers, the king must make the ultimate sacrifice for his daughter. The show is filled with brilliant sea creatures, fantastic music and beautiful underwater scenery.
A dedicated cast, crew and orchestra have spent the past months learning their parts and building complex characters and scenery. Technical Director, Jessica Mitilineous shared that "this show is different from any other show we have done because the scenery allows more student centered creativity. Students are designing elements of the under the sea world and contributing unique ideas and designs."
The sound crew is also excited to present their work, as 12th grader Arya Rimal shared: "I am excited to see younger audiences react to our musical. We have done more mature shows the past few years. We are happy to have kids come to see the magic of Disney come to life on stage."
This show is truly unique. Students are really excited to take on the underwater scenic challenges of the Little Mermaid. James Fleischel, 10th grade, shared: "We are working really hard to master our heely shoes to achieve the underwater swimming effect needed for The Little Mermaid. It is hard to learn how to balance and glide, but it will be worth the work when our audience sees us and it looks like we are fish swimming."
Students have worked in groups to create costumes, scenery, choreography and the singing and dancing elements. Michaelene Marchetta, 12th grade, is playing Ariel and shared that she can't wait to see all of the parts of the show come together. "The Little Mermaid was one of my favorite movies," said Michaelene. "The little girl who wanted to be a Disney princess is excited to become one!"
Andrew Beckwith, the Pit Orchestra director stated: "It has been so enjoyable to work on great music by Alan Menkin with our talented students. I can't wait to begin putting the production together on a larger scale and sharing it with our community."
Karen Hall, Director, shared: "Doing a Disney musical is always a joy and a challenge. I love watching our actors create such iconic characters. We are working hard to bring this magical world under the sea to life."
The Little Mermaid is a fantastic show for audiences of all ages and younger students are invited to purchase additional tickets for the "Under the Tea Party" on Sunday, February 19 at noon. Tea, sandwiches, snacks and dessert will be served. Crafts, character visits and autographs will be included. Additional tickets are needed to attend the 2 p.m. matinee performance that follows.
Additionally, Maine East will hold an Alumni Night on Saturday, February 18 at 5:30 p.m. Alumni are invited to share their favorite Maine East stories with our WMTH- TV and WMTH-90.5 FM radio station. Alumni are invited to participate in a building tour and connect with friends from high school. Admission is free to the Alumni Night event and all alumni in attendance are encouraged to stay for the show at 7 p.m.