Maine East Poet Advances to Finals of Competition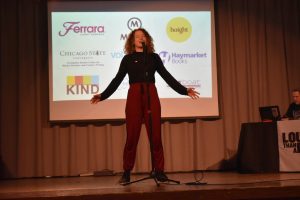 The Maine East poetry slam team took second place in the semifinals of Louder Than a Bomb, the Chicago Youth Poetry Festival and Ash Golebiewska advanced to individual finals and will compete this Friday at the Du Sable Museum as one of 12 poets left in the competition.
The Maine East poetry slam team advanced to the semifinals last week, the fifth year in a row the team has qualified for at least the
quarterfinals. Team members included Ne'Cole Grossley, Leah Mathew, Amanda Smith, Ash Golebiewska and Katie Gruss. They earned a perfect score in the quarterfinals.