Maine East and Maine South Both Earn Prestigious Award for Counseling Services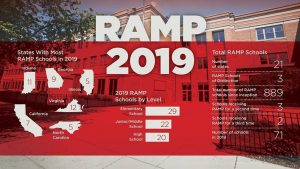 The American School Counselor Association (ASCA) honored both Maine East and Maine South as they were recognized as ASCA Model Programs abbreviated as RAMP.
The RAMP designation recognizes schools that are committed to delivering an exemplary comprehensive school counseling program. Honorees are awarded for aligning their program with the criteria in the ASCA National Model, a framework for a comprehensive, data-driven school counseling. This year, just 71 schools in the country earned the honor. Since the program's inception, there have been just 820 schools have been designated as RAMP recipients. Maine West earned the award in 2017.
At Maine East, the entire counseling department had a hand in the application process. At Maine South, counselors Tim Spiegel and Erin Sanchez were the leaders of the application process that involved the counseling department.
"This year's RAMP honorees have shown their commitment to students and the school counseling profession," said Jill Cook, ASCA assistant director. "These schools used data to drive their program development and implementation so all students can achieve success. The RAMP designation distinguishes these schools and encourages school counselors nationwide to strive for excellence."
Both schools will be honored at a recognition ceremony at ASCA's annual conference in Boston, Mass. on Monday, July 1, 2019.
For more information on the program, visit www.schoolcounselor.org/ramp.