Get your tickets for the Fall Play!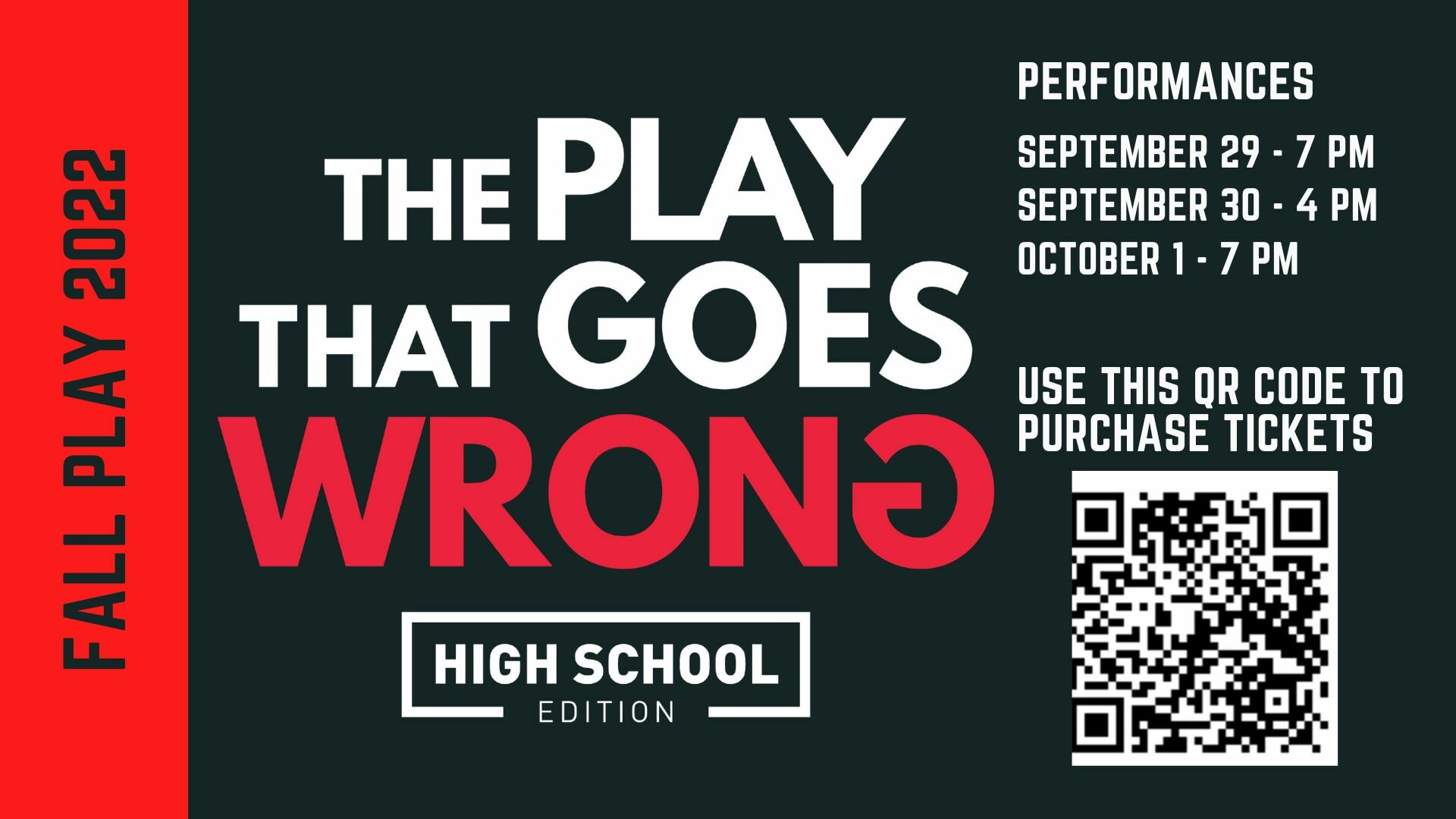 Get your tickets for the fall play, "The Play That Goes Wrong" by using the QR code in the poster. Performances will be on:
September 29 – 7PM
September 30 – 4 PM
October 1 – 7 PM
The story begins during opening night of the Cornley University Drama Society's newest production, "The Murder at Haversham Manor," where things are quickly going from bad to utterly disastrous. This 1920s whodunit has everything you never wanted in a show—an unconscious leading lady, a corpse that can't play dead, and actors who trip over everything (including their lines). Nevertheless, the accident-prone thespians battle against all odds to make it through to their final curtain call, with hilarious consequences! This comedy is a global phenomenon that's guaranteed to leave you aching with laughter!
Tickets are $7.00 for adults and $5.00 for students. Seating is general admission and tickets can be purchased at: https://bit.ly/eastplay22. The play is being directed by Karen Hall.
The cast includes Les Barrientos, Abraham Cruz, James Fleischel, Serenity Flores, Jackson Horvath, Isabella Iacob, Alonzo Larios, Michaelene Marchetta, Macy Monical, Riya Parekh, Elizabeth Planica, Maddi Riddle, Henry Sadler and Kyle Stavnem.
The crew includes Stage Manager Sabah Tariq; Assistant Stage Managers Sarah Faraj and Venti Golden; Assistant TD/Shift Manager Talia Lasky; Running Crew Noel Bressler, Adith Shinu, Melanie Martinez, Natalia "Gray" Szpiech, Patrice Beldia, Tracy Palasigue, Jared Perez, Mary Yalda, Orouba Kour; Assistant Lighting Designer Alan Benny; Light Board Op Tyler Swimmer; Master Electrician Manny Loeza; Spotlight Op Hailey Stearns; Light Crew Tyler Schwimmer, Alan Benny, Hailey Stearns, Maylene Adleman, Gabrielly Escobar, Nedim Tubic, Ekho Roderick; Props Masters Angel Martinez, Adriana Gray, Mia Gray; Props Crew Andrea Martinez, Jaiden Trayvilla, Azul Cruz, Meira Reid,Julia Majka, Daphne Villalon, Jackson Dadivas, Amber Tined, Medina Hanic, Angel Torres Alba; Sound Engineer Arya Rimal; Sound Crew Sarah Varghese, Gabriela Gierczynski, Gabriela Sobieraj, Alex Henrickson, Kaiya Jemison, Emma Vasquez, Sarah Oppong, Suri Ortegacruz, Jenny Montiel; Assistant Costumer Lucy Planica; Costume Crew Bobby Ivanova, Noura Kazzo, Olivia Burns, Asha Thomas, Madeline Henrickson and Karla Martinez.
The construction crew includes: Maylene Adleman, Mariia Bazarova, Patrice Beldia, Alan Benny, Noel Bressler, Tyler Brunger, Olivia Burns, Maryel Castillo, Azul Cruz, Jackson Dadivas, Johanna Edakara, Gabrielly Escobar, Sarah Faraj, Jonathan Garcia Hernandez, Nevaeh Geverola, Gabby Gierczynski, Janellekate Giray, Venti Golden, Elyami Gonzalez, Adriana Gray, Mia Gray, Jadon Gregorio, Rosalyn Haido, Medina Hanic, Alex Henrichsen, Madeline Henricksen, Emi Huynh, Bobby Ivanova, Kaiya Jemison, Tristan Jlian, Noura Kazzo, Orouba Kour, Rachel Kuruvilla, Talia Lasky, Bryan Liew, Manny Loeza, Julia Majka, Andrea Martinez, Angel Martinez, Karla Martinez, Melanie Martinez, Jennifer Montiel, Leshanna Morris, Chelsea Athena Naquila, Sarah Oppong, Suri Ortegacruz, Tracy Palasigue, Jared Perez, Lucy Planica, Jiya Ray, Meira Reid, Arya Rimal, Ekho Roderick, Tyler Schwimmer, Adith Shinu, Daniela Silvio, Gabby Sobieraj, Hailey Stearns, Natalia Szpiech, Sabah Tariq, Asha Thomas, Sean Thummachart, Amberashti Tinedm, Jaidenthan Trayvilla, Sarah Varghese, Emma Vasquez, Daphnezian Villalon and Mary Yalda.