District 207 Receives $30,000 Grant for Financial Literacy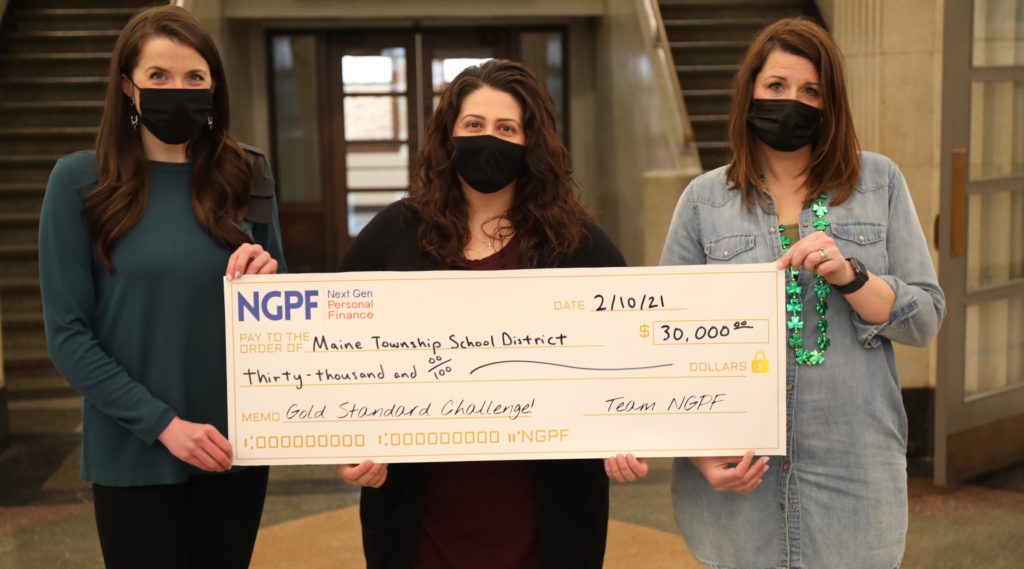 In order to help meet the District 207 vision and goals for its financial literacy offerings at Maine East, Maine South and Maine West high schools, the Career and Technical Education (CTE) department chairs applied for a grant through Next Gen Personal Finance. The purpose of this grant was to recognize and support schools that provide a financial literacy course as a graduation requirement. District 207 was awarded a $30,000 grant from the organization.
Pictured above are CTE Department Chairs Erica Tuke, Sabrina Benjamin and Samantha Archer.
"This course helps equip students with essential financial skills as they navigate college, technical school, military service or the workforce," says CTE Department Chair at Maine East Sabrina Benjamin.
There are many planned uses for the funding the district earned according to the department chairs.
"We hope to providing time for the CTE team to build the curriculum to align with vision of the course, as well as continue a deep connection with the Integrated Career Services department to identify mentors and guest speakers that would help provide a different perspective for our students that match their personal experiences and backgrounds," says CTE Department Chair at Maine West Samantha Archer.
"This grant could provide field trip opportunities to expose students to various careers connected to financial literacy, purchase resources and materials that support the curriculum, as well as provide teacher professional development," says CTE Department Chair at Maine South Erica Tuke.
The department chairs indicate that once the funding is earmarked, ultimately the grant will provide teachers with the resources needed to build out the district's vision of providing return on investment financial and career advisement to students. "As we continue to expand upon our certification and dual credit opportunities in CTE, we're also confident this course will enhance any career pathway a student chooses to pursue," says Benjamin.
Tim Ranzetta and Jessica Endlich founded Next Gen Personal Finance (NGPF) as a non-profit organization to partner with personal finance teachers in 2014. In addition to providing free curriculum and PD, NGPF issues various grants and sponsorships to schools, teachers, students, and like-minded organizations. As of 2020, NGPF's curriculum and professional development has extended to 43,000 middle and high school teachers reaching more than 2 million students. Learn more at https://www.ngpf.org/.