District 207 Board Honors Students for Academic Achievement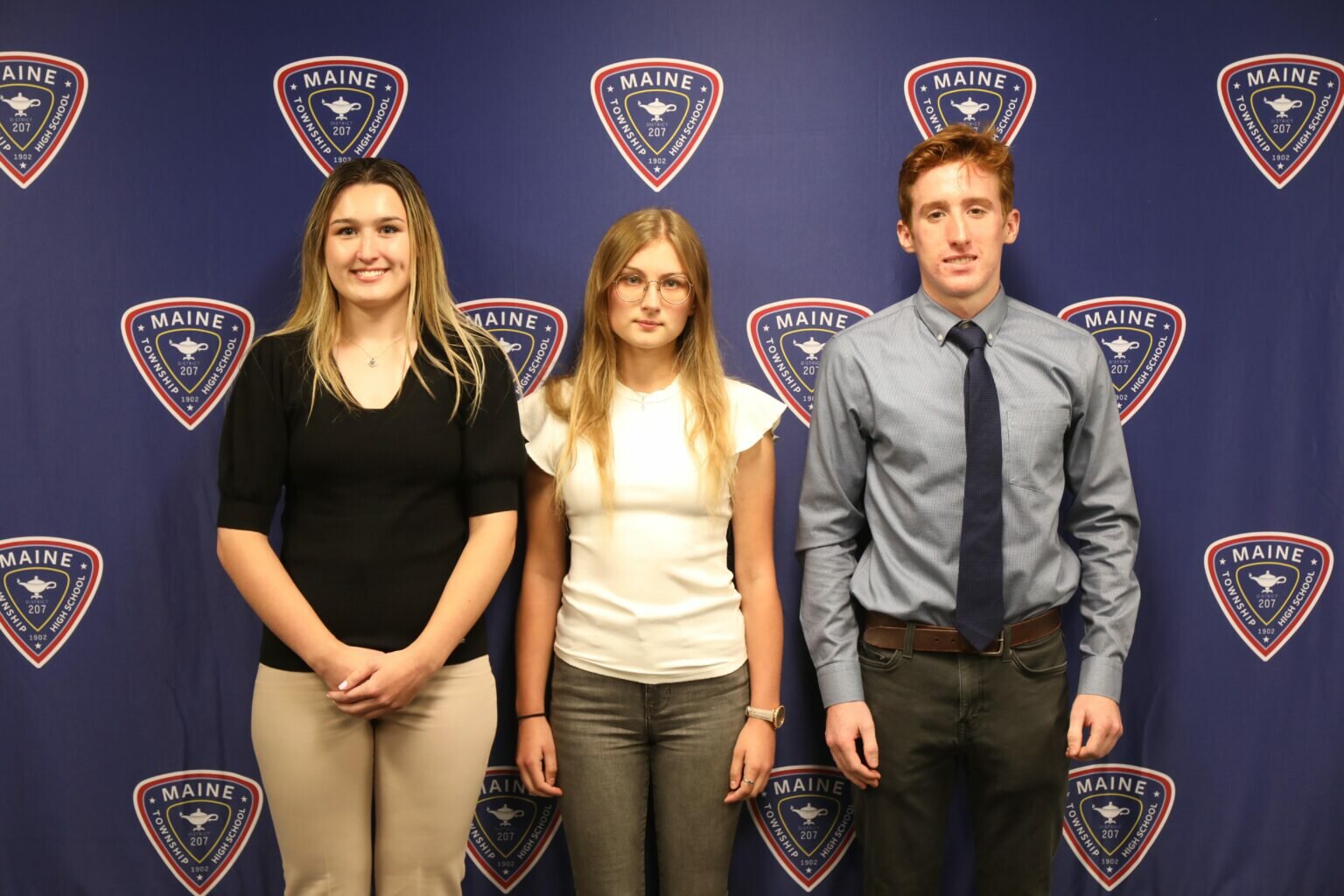 The Maine Township High School District 207 Board of Education honored three students at its recent meeting naming them "207's Best" in the area of Academic Achievement. The students recognized were Natalia Barna from Maine East (center), Andre Bochat from Maine South (right) and Mishelle Wiewiora from Maine West (left).
NATALIA BARNA
Natalia began high school mathematics at the most accelerated level for high achieving 9th grade students, but she felt she could do more so she self-taught herself the BC calculus concepts and ultimately earned a "4" on the AP exam. Similarly, Natalia felt she could stretch her skills in English during her 10th grade year, so while participating in English 2 accelerated, she concurrently prepared herself for the AP English Language and Composition AP exam, earning a "5." She followed that by completing AP Literature in 11th grade and also earned a "5" on that exam.
"Natalia is the most focused and driven student I have ever met," says English teacher David Hessert. "Her brilliance goes beyond test scores as she is an inveterate reader who loves to discuss the ideas encountered in literature."
Natalia is a member of Maine East's gifted Lyceum program and the director of the program Greg Reuhs says, "Natalia is an amazing and talented student that I've had the pleasure to work with in varying capacities over these four years."
Natalia also is a talented musician and fell in love with orchestra in middle school. She was accepted to participate in the Midwest Philharmonic Orchestra. She was recently approved to begin a Park Ridge chapter of the nonprofit, "Clean Up – Give Back." When she took an Entrepreneurship course at East, Natalia's project earned first place out of 40 teams in the country. Her project design regulated the water temperature of faucets.
ANDRE BOCHAT
In addition to his academic excellence, Andre has been a member of the cross country team, a member of the track team and the tennis team. He also participated in Class Council and will be a member of the Constitution Team this year. He is a member of French Club and French NHS, Junior Class Council, and the school's nationally ranked constitution team.
His course work is all AP classes he has not earned a B since 5th grade.
"I was lucky enough to teach Andre for two years in English class, and I can confidently state that Andre is truly one of District 207's best students," English 1 Accelerated and AP English Language and Composition teacher Johanna Abend says. "Andre achieves great academic success, but his vibrant personality and humble attitude highlight his strengths even further."
"Andre was student of the month and also received the AP Physics year end award in my class," says AP Physics teacher Kay Wagner. "He demonstrated grit, persistence and hard work in achieving the highest grade in my class. Andre was also unfailingly polite to me and his classmates, providing a great role model in class."
MISHELLE WIEWIORA
Mishelle has taken a rigorous academic caseload at Maine West and excelled in class throughout her years at the school. Apart from her flawless academic record, Mishelle has achieved distinction in numerous extracurricular activities, including on the tennis team.
She has logged more than 1,000 hours of community service in her three years at Maine West. She also is a member of Key Club and serves as President this year. She contributes to the Student Voice Committee and is a member of the Principal's Leadership Team, in addition to National Honor Society and nearly all the other honor societies at the school including math, science, English and social science. She was a COACH tutor and also tutors at the Des Plaines Public Library.
After 12 years of Polish school for four hours every Friday, she graduated last year and celebrated with the "Polish Prom."
"Mishelle is amazing," says social science teacher Rachel Hendrickson. "She is the most academically driven student I have ever encountered. She is so inquisitive and constantly trying to improve herself and seek excellence. She was always the highest achieving and hardest working student in the room."
"I met Mishelle on Zoom in the summer before the 2021-22 school year started," says social science teacher Bry Roemer. "From that moment on Zoom, I knew that Mishelle would stand out in the best way in my AP U.S. History class. In my career, I have never met a student with more time management skills, discipline, and work ethic. Her History Day presentation on Yellow Journalism was one of the best projects I have seen in years. The research, the graphic design, and the connections she made to today's media were far beyond high school scholarship."