District 207 Board Honors Students for Academic Achievement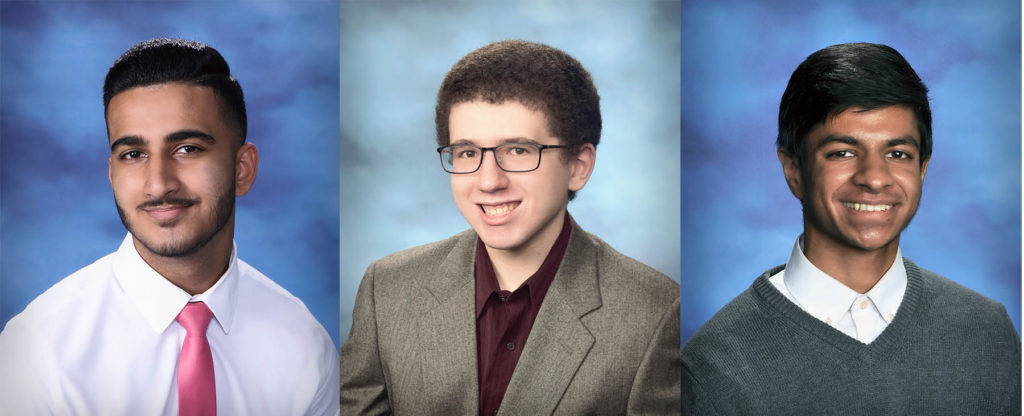 The District 207 Board of Education named three students as "207's Best" in the area of academic achievement during the February meeting. The students recognized at a recent meeting were Ozair Bashir from Maine West, Eric Biedke from Maine South and Ashutosh Kumar from Maine East.
OZAIR "OZZIE" BASHIR
Ozzie takes a rigorous course of study at Maine West and that has been a theme during his four years at the school. His current course load includes AP Calculus, AP Chemistry, AP Spanish and AP U.S. Government and Politics.
He is a senior leader, a Link Crew leader, an officer in the Principal's Leadership Team, a COACH tutor, and a member of the math, Spanish, science, English and national honor societies. He also is a volunteer at the Des Plaines Public Library.
He says he is so thankful for all of the positive relationships he has built during his time at the school and is looking at psychiatry as a career because he realizes people don't always have the ready access to the help they need.
"When Ozzie walks into a room he seems surrounded by an aura of positivity, a glowing sense of friendliness that's contagious," says his English teacher Charles Gray.
"Ozzie is one of the most kind and humble students I have had the pleasure to work with," says science teacher Aggie Piechocinski.
ERIC BIEDKE
Eric is one of the most impressive students at Maine South who is at the top of his class academically and has taken advantage of a wide-range of course offerings. He enjoys math, physics and band, among all of his classes. He is looking toward a career in astrophysics.
He has been a member of the band, where he plays trombone, as well as the astronomy club, math team, German club, Science National Honor Society, stage band for V-show and jazz band. Last year, he made the District VII band. He also is a member of the peer tutoring network, which offers online support for our students in a virtual format. In addition, he's an active member of his church where he has traveled to South Carolina, Tennessee, and upstate New York on mission trips.
"He is my only student to ever take the senior level class Space Science as a sophomore just for fun," says Bob Tortorelli, Eric's counselor "He is really a gifted problem solver who has a knack for thoroughly assessing a challenge before considering numerous avenues to the solution including the standard and the unconventional path."
"Eric is very intellectually curious," says Multivariable Calculus and Differential Equations teacher Peter Nilsen. "He always is interested in truly understanding the problem and not just getting the answer."
ASHUTOSH "ASH" KUMAR
Ash has been incredibly consistent in his academic performance at Maine East, having earned A's in every class he's taken over the past three and half years. He has consistently taken a challenging course load during his time at Maine East. He is currently enrolled in AP English Literature and Composition, AP Calculus BC, AP Physics C, AP Psychology, Design & Materials and Sociology. He is a PE leader, active in the Gifted Lyceum program and earned distinction as a National Merit Commended Scholar. He is also a member of National Honor Society, Rotary Interact, the track and field team, and he is a COACH program tutor. In the broader community, Ash is a volunteer at his local temple, and he is a paid accounting intern at Kumar and Associates, his family's accounting company.
"Ash is an extremely bright and talented individual," says math teacher Cassie Cowperthwaite. "In my math analysis class last year, he always was able to critically think through problems on his own."
"He is extremely bright, articulate, and mature," says economics teacher Snjezana Salamon. "He exudes calmness even under the most stressful conditions. I used to observe him during major unit tests and his concentration was impressive as nothing would ever throw him off. I would often joke with him that if he missed any questions on the test, I would have to check my key to make sure that my answers were correct.