COVID-19 Questions and Answers
What is the rule regarding masks at school?
Governor Pritzker issued an executive order on Wednesday, August 4 requiring that all students, staff and other adults wear masks when inside school buildings. Outdoor sports and activities are not required to mask at this time. This rule is in place for all at our schools. Consequences for not wearing a mask properly at school are being implemented which can include the loss of privileges like parking, participation in sports and extracurricular activities and attendance at events like Homecoming.
What if my child has COVID-19 symptoms?
Your student should NOT attend school with COVID-19 symptoms. If a student is called out of school with COVID-19 symptoms, symptoms must be gone before the student can return to school. The family is asked to test the student prior to returning to school (that can be done at the School Based Health Center from 8 AM – 11 AM or any other testing center). This must be done for vaccinated and unvaccinated students. This guideline is in place for staff as well as students.
Can students or staff get a vaccination for COVID-19 through the district?
Yes, the School Based Health Center located at Maine East (and serves all of our students) has a supply of vaccine. Call the office at 847-825-4059 for details.
What if a student or staff member travel out of state or out of the country?
If an unvaccinated person travels to a higher risk state shown on the map or out of the country, they must quarantine upon return (up to 10 days) while monitoring health for symptoms.
What happens in the event of a contact tracing event at the school?
There are detailed rules from the health department but this graphic shares the basic flow chart of what happens if there is a contact tracing event at a school.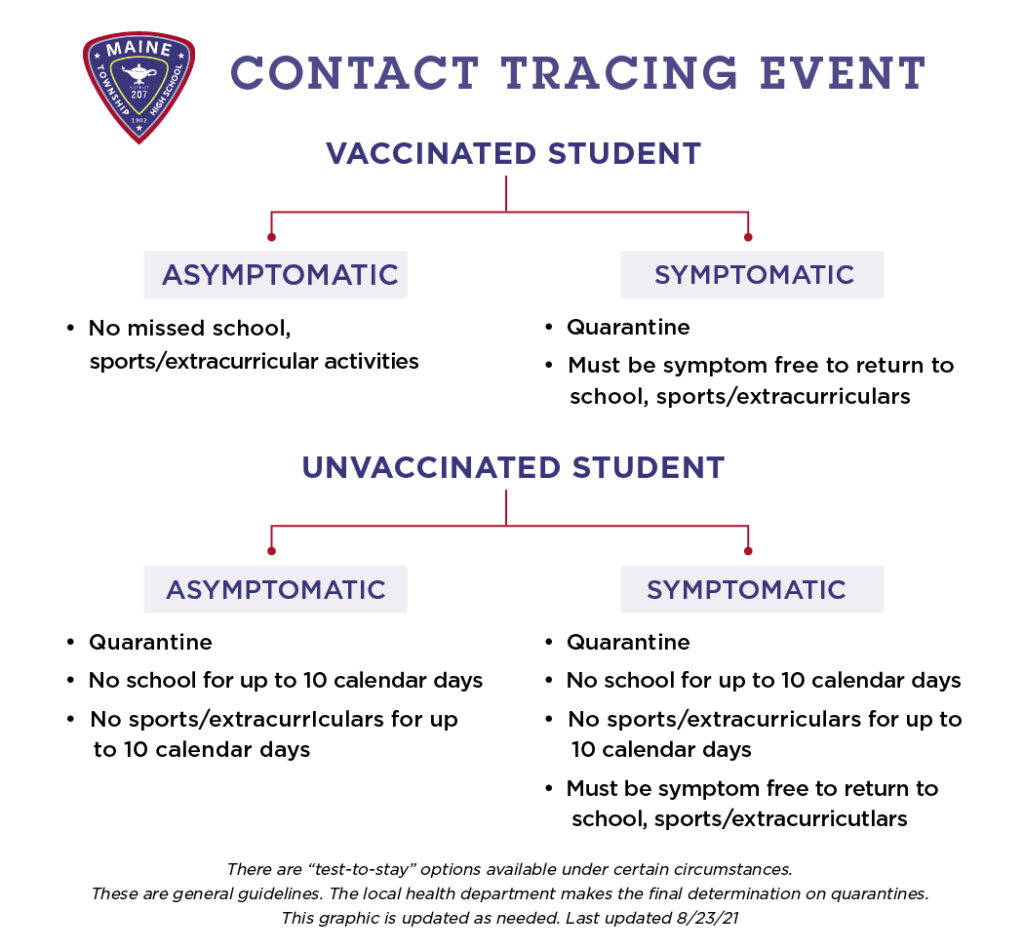 Are staff required to be vaccinated in District 207?
Yes, the district recently implemented a mandate requiring all staff to be vaccinated. However, if someone has a medical or religious exemption, they will be required to submit a weekly negative COVID-19 PCR result.
Does District 207 know which students are vaccinated?
Parents have been asked to share the vaccination status of their child with the district through the following links. Submitted information is being verified through the state's ICARE system.
Maine South and Frost Academy Vaccination Form
Where can I learn about the number of cases in District 207 of COVID-19?
The district provides a dashboard that is updated each week with the most recent information.
If there is a contact tracing event at the school, will all parents be notified?
Parents are ONLY contacted directly if they are part of a contact tracing event at the school. The schools are not sending emails regarding contact tracing events to all parents.
Additional questions are answered as part of the District's Back to School Guide.