Bell Schedule for 2021-22 School Year
En español a continuación
W języku polskim poniżej
باللغة العربية أدناه
As we prepare for the start of the next school year (2021-22) with the expected return of the majority, if not all of our students, to full-time, in-person learning, the lessons we have learned from running our former in-person schedule and our experience in virtual learning have led us to adopt a new bell schedule for next school year.
After much discussion and stakeholder input, we have made the decision to move to a full A/B block schedule for next school year. A draft of that schedule is included with this message.
There are several reasons why we are adopting this schedule that benefit students. Those include:
Maintains a later start time for students
Maintains support time for students
Adds an Advisory to preserve career and college counseling focus for students
Allows an easy pivot to remote learning in the case that we are directed to do so by the state or health officials
Builds lunch into the mid-day block

A student never has to give up a lunch to get a class
Since lunch does not take up a class period for a student, students can take 8 classes a year and therefore can take 4 more classes over the course of their high school career.
This schedule is very similar to the schedule we are running now except that Mondays will be a block day like the rest of the week. This is a very popular model of a block schedule for high schools across the country. We feel this schedule will increase our ability to flexibly meet the individual needs of students.
We are aware that some families may not yet be comfortable returning to in-person instruction in the fall. Therefore, we are planning for virtual options for students as well.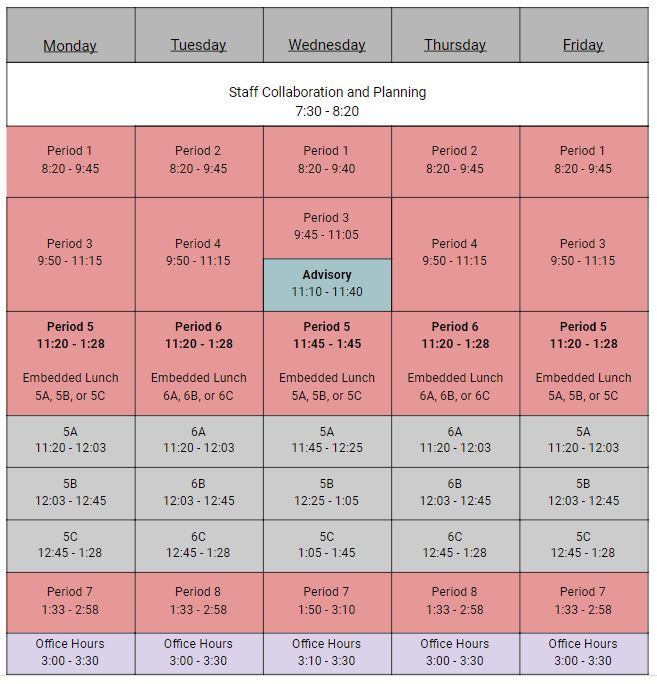 ---
Mientras nos preparamos para el comienzo del próximo año escolar (2021-22) con el regreso esperado de la mayoría, si no todos, de nuestros estudiantes al aprendizaje en persona a tiempo completo, las lecciones que hemos aprendido del funcionamiento de nuestro horario en persona anterior y de nuestra experiencia en el aprendizaje virtual nos han llevado a adoptar un nuevo horario de la campana para el próximo año escolar.
Después de muchos debates y de los aportes de las partes interesadas, hemos tomado la decisión de pasar a un horario completo de bloques A/B para el próximo año escolar. Se incluye una copia preliminar de ese horario con este mensaje.
Existen varias razones por las que adoptamos este horario que beneficia a los estudiantes, las que incluyen:
Mantiene una hora de inicio más tarde para los estudiantes
Mantiene el tiempo de apoyo para los estudiantes
Agrega una Asesoría para preservar el enfoque en la orientación profesional y universitaria para los estudiantes
Permite un fácil giro hacia el aprendizaje remoto en el caso de que el estado o los funcionarios de salud nos lo indiquen
Incorpora el almuerzo en el bloque del mediodía
○ Un estudiante nunca tiene que renunciar al almuerzo para llegar a una clase
○ Dado que el almuerzo no toma un período de clases de un estudiante, ellos pueden tomar 8 clases al año y, por lo tanto, pueden tomar 4 clases más en el transcurso de su estancia en la escuela secundaria
Este horario es muy similar al que tenemos ahora, excepto que los lunes serán un día de bloques como el resto de la semana. Este es un modelo muy popular de horario en bloques para las escuelas secundarias de todo el país. Creemos que este horario aumentará nuestra capacidad para satisfacer de manera flexible las necesidades individuales de los estudiantes.
Estamos conscientes de que es posible de que algunas familias aún no se sientan seguras con regresar a la instrucción en persona en el otoño. Por lo tanto, también estamos planeando opciones virtuales para los estudiantes.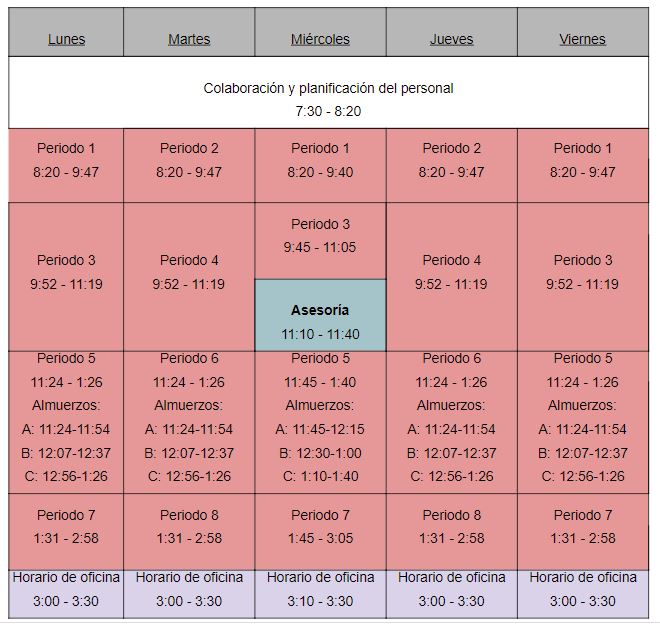 ---
Przygotowując się do rozpoczęcia kolejnego roku szkolnego (2021-22), w którym spodziewamy się, że większość, jeśli nie wszyscy uczniowie powrócą do zajęć w pełnym trybie stacjonarnym, wprowadzamy nowy harmonogram lekcji na następny rok szkolny, stworzony na bazie naszych doświadczeń z poprzedniego harmonogramu zajęć stacjonarnych i nauki wirtualnej.
Po wielu dyskusjach i uwzględniając uwagi przekazane przez zainteresowane strony, podjęliśmy decyzję o przejściu na pełny harmonogram bloków A/B na następny rok szkolny. Wersja robocza tego harmonogramu została dołączona do tej wiadomości.
Istnieje kilka powodów, dla których przyjmujemy ten harmonogram, z korzyścią dla uczniów. Należą do nich:
Zachowanie późniejszego czasu rozpoczęcia lekcji dla uczniów
Utrzymanie czasu wsparcia dla uczniów
Dodanie doradztwa, aby zachować koncentrację na poradnictwie zawodowym i uniwersyteckim dla uczniów
Możliwość łatwego przejścia do zdalnego nauczania w przypadku, gdy będzie to wymagane przez władze stanowe lub służba zdrowia
Wprowadzenie lunchu do bloku w środku dnia
○ Uczeń nigdy nie musi rezygnować z lunchu, aby wziąć udział w zajęciach
○ Ponieważ lunch nie zajmuje uczniowi czasu na zajęcia, uczniowie mogą brać udział w 8 zajęciach rocznie, a zatem mogą brać udział w 4 dodatkowych zajęciach w trakcie swojego pobytu w liceum.
Ten harmonogram jest bardzo podobny do harmonogramu, który obecnie realizujemy, z tym wyjątkiem, że poniedziałki będą dniem blokowym, podobnie jak reszta tygodnia. To bardzo popularny model harmonogramu blokowego dla szkół średnich w całym kraju. Uważamy, że ten harmonogram zwiększy nasze możliwości elastycznego zaspokajania indywidualnych potrzeb uczniów.
Zdajemy sobie sprawę, że jesienią powrót do nauki stacjonarnej dla niektórych rodzin może jeszcze nie być komfortowy. Dlatego planujemy również opcje nauki wirtualnej dla uczniów.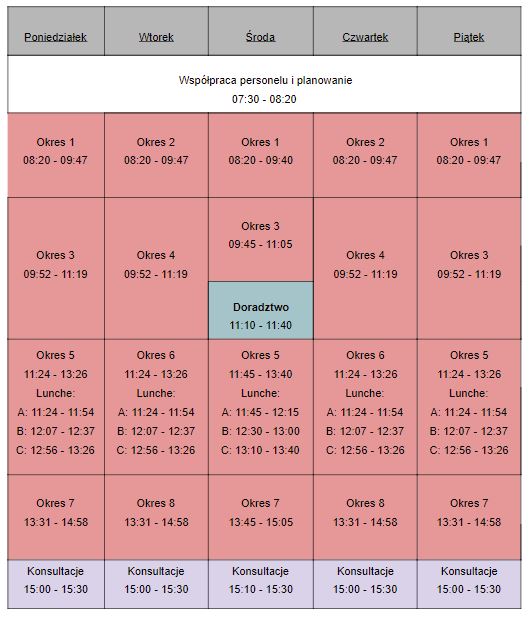 ---
أعزائي الطلاب والعائلات،
في ضوء الاستعداد للعام الدراسي المقبِل (2021-22) مع توقع عودة معظم الطلاب، إن لم يكن كل الطلاب، إلى الدراسة بدوام كامل بالحضور الشخصي، قادتنا الدروس المستفادة التي تعلمناها من تطبيق الجدول السابق للدراسة بالحضور الشخصي وتجربتنا المتعلقة بالدراسة الافتراضية إلى تبني جدول حصص جديد للعام الدراسي المقبِل.
وبعد الكثير من المناقشات والمعلومات المستفادة من الأطراف المعنية، قررنا الانتقال إلى استخدام نظام جدول الحصص المجمع الكامل المتناوب للعام المقبِل. وقد أدرجنا مسودة لهذا الجدول مرفقة بهذه الرسالة.
ويوجد العديد من الأسباب التي دفعتنا إلى تبني هذا الجدول الذي يفيد الطلاب. وتتضمن تلك الأسباب ما يلي:
الحفاظ على إتاحة وقت بدء متأخر للطلاب
الحفاظ على توفير وقت لدعم الطلاب
إضافة وظيفة "الاستشاري" للحفاظ على توفير الاستشارة المتعلقة بالمسار المهني والدراسة الجامعية التي تركز على الطالب
السماح بسهولة الانتقال إلى التعلُّم عن بُعد في حالة صدور توجيهات من مسؤولي الولاية أو الصحة بشأن اتباع هذا الأسلوب
إضافة الغداء وسط اليوم الدراسي ذي الحصص المجمعة
لا يلزم الطالب التخلي عن الغداء على الإطلاق لحضور صف دراسي ما
ولأن الغداء لا يستغرق من الطالب وقت صف دراسي ما، يمكن للطلاب الحصول على 8 صفوف دراسية في العام الواحد، ولذلك يمكنهم الحصول على 4 صفوف دراسية إضافية خلال فترة مسار عمل التعليم العالي.
ويتماثل للغاية هذا الجدول مع الجدول الذي نطبقه الآن باستثناء أن أيام الاثنين ستكون يومًا ذا مواد مجمَّعة متناوبة مثل باقي أيام الأسبوع. وهذا نموذج متشر للغاية من نماذج الجداول المجمَّعة الخاصة بالمدارس الثانوية عبر البلد. ونشعر بأن هذا الجدول سيزيد من قدرتنا على تلبية الاحتياجات الفردية للطلاب بمرونة.
ونحن نعلم أن بعض العائلات قد لا تشعر بعدُ بالراحة بشأن العودة إلى التعليم بالحضور الشخصي في فصل الخريف. ولذلك، نخطط لتوفير الخيارات الافتراضية للطلاب أيضًا.