207s Best for Community Service Honored by Board of Education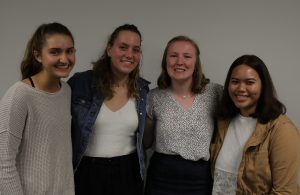 Written by Hannah Pisani, Communications Department Intern
Honorees from left to right: Charlotte Geier, Lacey Argus, Kensey Reeves and Isabella Garcia.
District 207 has recognized four students for their contributions in community service, both in and out of school. The students honored at the October Board of Education meeting were Lacey Argus and Kensey Reeves from Maine West, Isabella Garcia from Maine East, and Charlotte Geier from Maine South.
Ever since middle school, Argus and Reeves have been committed to community service. The Des Plaines Youth Commission and the Des Plaines Community Foundation have provided platforms for them and they have helped people through various events for both organizations. These services have included tutoring, making cards, helping prepare Thanksgiving meals and launching the Youth Empowerment Seminars.
Argus and Reeves are sharing this honor because the staff at Maine West nominated both names and no one could not find a sensible way of choosing between them. Teachers share that Argus and Reeves are a "dynamic duo" and both exemplify leadership. For example, last year Argus and Reeves went to Principal Dr. Eilleen McMahon and proposed a mentoring system to create a more comforting environment for incoming freshman. Being upperclassmen, they reflected back to their freshman year and knew that a change could be made for this transition so they took action.
Maine East's honoree is being recognized for her motivation in volunteering even with rigorous class load including AP, accelerated, and dual-credit courses. Garcia is a member of National Honor Society and has participated and organized a variety of events for the group. "With NHS, Bella has chaired a section of Haunted Hallways, our Halloween Open House for the community" said National Honor Society Sponsor Wendy Reitz. "She added her amazing gratitude to the Fuzzy February Fundraiser by handwriting a personalized thank you card to each staff member who participated. She organized a group of peers to make and serve dinner to the Hephzibah Children's home last year, and just did so again just a few days ago. She regularly helps at Bernie's Book Bank and Maine Township Food Pantry. If there is a place where she can do good for others, Bella steps right up. Her heart is gold. It all comes from a place of genuine caring, not resume building. If I ever have a big philanthropy project for NHS, I know I can put it in her capable hands!"
Geier was chosen for the honor because of her extensive involvement in making an inclusive environment for students and adults with disabilities in addition to volunteering at St. Paul teaching CCD classes. Within the school she is an officer for Hawk Pals and is the co-chair for Special Olympics Youth Activation Committee for Illinois. Her goal is to get more schools to participate in Special Olympics. She is one of the reasons why Maine South was chosen as a National Unified Champion School by the Special Olympics national organization. Outside Maine South, Geier continues her community service by volunteering at Have Dreams, an autism center, and Avenues to Independence, a semi-independent living center for adults with disabilities. During the summer she was a counselor at a camp for special needs students called SOAR.
Geier's counselor, Tim Spiegel recognizes her accomplishments saying, "Charlotte is not merely accomplished because of her impressive work ethic. I believe she's distinctive because of her innate ability to share the personality traits of instinctive politeness, invariable diligence and the extension of warm feelings to those around her. Through our personal conversations, Charlotte has revealed her passions in helping others. It is in her devotion to this where Charlotte finds the greatest of pleasure."
At each of the District 207 schools, the principal asks the faculty and staff to nominate students for the honor and honorees are chosen from that list.
Photo caption: Charlotte Geier, Lacey Argus, Kensey Reeves and Isabella Garcia were all honored by the Board of Education recently.