MAINE EAST HIGH SCHOOL
2020-2021
STUDENT HANDBOOK
All students are required to complete a Handbook Acknowledgement Form to acknowledge receipt of the Behavioral Support Guidelines and Procedures, Extracurricular Code of Conduct and Graduation Requirements and the Remote Learning Guidelines as contained in the 2020-2021 MWHS Student Handbook.
Students are also asked to acknowledge the risks of hazing, bullying (includes cyberbullying), harassment, intimidation and initiation activities and have been informed of the zero tolerance of these behaviors at Maine East High School.

Students are asked to commit to lead by example and not support, condone or participate in any hazing activities throughout involvement in student organizations and athletic teams.
Maine Township High School District 207 – Philosophy
Maine Township District 207 schools offer a comprehensive curriculum with the goals of inspiring students' curiosities and helping each student develop the academic, social, and emotional skills to reach his or her full potential. These ideas are reflected in the District 207 Vision of Learning developed by our community stakeholders.
Based on the idea that student inquiry should drive learning in the classroom in a setting that emphasizes learning together, the foundation of our academic program is inquiry-based and cooperative in its approach. In an effort to meet students where they are as they enter our schools and improve their learning to the greatest extent in the short time we have the privilege to work with them, all of our certified staff have been trained in the Johnson and Johnson model of cooperative learning, assessment literacy practices based on Stiggins, Chappuis, and Arter, the grading practices of Wormeli, O'Connor and Gusky, differentiated instruction based on the work of Tomlinson, and personalized learning strategies based on the work of Horn and Staker.
Maine Township High School District 207 Board of Education
Paula Besler (President), Aurora Austriaco (Vice President), Teri Collins, Linda Coyle, Jin Lee, Carla Owen and Sheila Yousuf-Abramson.
Unless otherwise advised, all meetings will begin at 6:00 p.m., and will be held in the Board Room of the District 207 Administration Center, 1177 South Dee Road, Park Ridge.
Maine Township High School District 207 Administration
Dr. Kenneth Wallace, Superintendent
George Dagres, Director of Human Resources
Gregory Dietz, Assistant Superintendent – General Administration
Dr. Kathleen Di Sanza, Assistant Superintendent for Student Services
Dr. Jill Geocaris, Director of Adult Learning
Mary Kalou, Assistant Superintendent – Business
Shawn Messmer, Assistant Superintendent – Curriculum & Innovation
Dr. Kelly Morrissey, Director of Personal Learning and Student Support
Maine East High School
Administration
Principal – Dr. Michael W. Pressler
Associate Principal for Human Resources & Instructional Operations – Ms. Rebecca Stewart
Associate Principal for Student Experiences – Mr. Joaquin Stephenson
Associate Principal for Student & Family Services – Mr. Michael Wartick
Associate Principal for Teaching & Learning – Ms. Allison Gest
Assistant Principal for Student Support – Ms. Nelly Diaz
Assistant Principal for Student Support – Ms. Alana Laury
Assistant Principal for Student Support – Mr. Michael Bender
Athletic Director – Mr. Kendall Griffin
Department Chairs
Career and Technical Education – Ms. Sabrina Benjamin
Driver's Education – Ms. Allison Gest
English – Ms. Elizabeth Perez
ELL/Bilingual & World Languages – Ms. Sharon Baima
Fine Arts – Mr. Ed Eubank
Mathematics – Ms. Jill Sweetwood
Science – Mr. Mitchell Melton
Social Science – Mr. Carl Brownell
Special Education – Ms. Page Powell
Student and Family Services
Counselor – Ms. Amy Allen
Counselor – Ms. Keleyssa Block
Counselor – Ms. Suzanne Caliendo
Counselor – Ms. Angie Edsey
Counselor – Mr. Alen Ibrahimovic
Counselor – Ms. Nicole Rinaldi
Counselor – Ms. Mieka Yochim
Social Worker – Dr. William Bautista
Social Worker – Ms. Kirsta Cholewa
Psychologist – Mr. Edward Burda
Psychologist – Dr Susana Held
Psychologist – Dr. Ruth Shook-Orr
Career & College Specialist – Mr. Mark Weber
Integrated Career Services Coordinator – Ms. Kylie Mussay
Additional Services
Director of Building & Grounds – Mr. David Sanders
Bookstore Manager – Ms. Maria Lymperopoulos
Maine Pep Song
And when our Maine High Teams begin to fight,
We're gonna' win the games again tonight.
And for the blue and white teams give a cheer,
That can be heard around the world by every ear.
And then we'll fight, fight, fight like Maine Teams do.
And no we won't give up until it's through.
That puts the other team right on the run. (oh, what fun)
Maine High School.
Alma Mater
F.M. and A.M. Harley, 1937
Alma Mater, hail to thee!
Honor, love and loyalty.
Torch of knowledge given to all,
Blue and White, we hear your call.
To my faith may we be true,
As we raise our song to you.
Praises ringing, "Hail to Maine.
Heav'n resounds with her fair name.
Alma Mater then shall be
In our cherished memory.
Our guiding light of purpose true,
Shown by our banner, white and blue.
As we now your praises sing,
May our anthem loudly ring.
Maine, the name we glorify.
Or your fame shall never die.
School Closings in Severe Weather
In the case of extreme cold, snow or heat, or other severe weather conditions, school may be cancelled or the school day altered. Information about the cancellation or alteration of the school day because of severe weather conditions will be provided to local radio and television stations. Notification about weather related school closings will also be provided via email, robocalls, and on Maine East's website.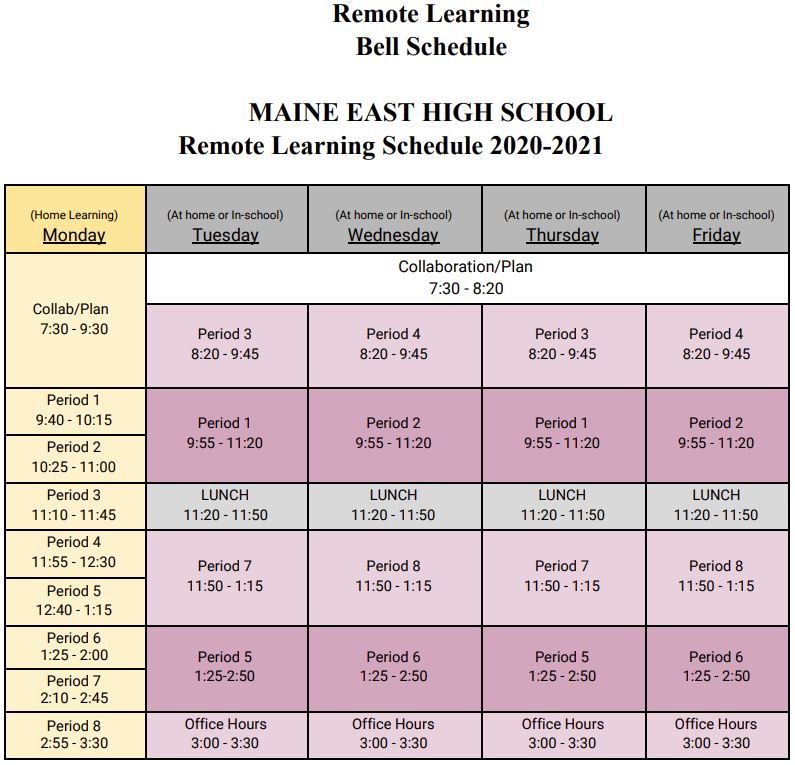 Remote Learning Guidelines
Access to the Building and Campus During Remote Learning
Anyone entering the building must show proof of Self Certification, Spanish Self
Certification, (by displaying the results from their survey on their device) and have their
temperature taken by security.
Monday – Friday 7:00 am – 3:30 pm
Door 1 (Main Entrance)
Monday – Friday 7:30 am – 8:15 am
Door 3 (ABCD Gym/Bus Shelter)
Door 4 (Fieldhouse/South entrance)
Attendance
All students are expected to attend their classes virtually at the assigned times outline in
our Full-Home Learning Schedule. Students will be required to enter a self-attendance
check via the Infinite Campus portal by 12:30 pm each day. This once a day check-in
assures the school personnel that the student has internet connectivity and access to virtual
learning materials, and will mark them as present for all the virtual classes scheduled for
that day. In cases where a student is scheduled for in-person learning, the teacher will enter
attendance as usual for those classes.
Failure to submit a self check-in will result in absences marked for each class that day, and
trigger automated text message reminders. If a student forgets to complete the check in, but
participates in learning activities that day, a parent or guardian should call the school that
evening, or the next morning, to mark the virtual absence as excused.
Parents must call the attendance office to alert the school if a student is unable to
participate in either in-person or virtual learning activities for any reason, (including
illness, doctors' appointment, Covid symptoms, possible Covid exposure, internet
connectivity issues, etc.), in order to excuse their absences. If a student is quarantined,
experiencing mild symptoms, or of other reasons, unable to attend school on a day they are
scheduled for in-person learning, they can, and should, participate virtually if practicable.
However, in this situation, a parent or guardian must still call the attendance office to
excuse the in-person absences, as teachers will have to indicate that they are absent from
in-person in Infinite Campus. This will help families avoid unnecessary automated text or
phone call alerts related to absences.
Students are expected to participate in virtual learning and/or in-person activities each
school day and keep up with activities and assignments. A combination of attendance,
participation, and work completion will be used to determine interventions for students.
Learning From Home Expectations for Students
● Students must log into class by the prescribed time to start class.
● Students are expected to be engaged with work for that class for that day while that class period is in session.
● Students should plan to be engaged in learning during school hours during days when they are learning from home.
● If you are unable to connect, or have questions about these expectations, contact your teacher first; your counselor second.
Daily Schedule
Students will have five (5) days of instruction each week and attend each of their classes
three times a week virtually in a block schedule format. Mondays will be a home-learning
day with eight (8) periods. Additionally, some students may report to school throughout the
week to facilitate in-person experiences as needed. This learning format allows for teachers
and students to safely engage in learning while leveraging technology to differentiate
instruction for students while adhering to the ISBE Guidelines. Students learning from
home will be expected to log into their class via Zoom or Google Meet at the start of each
class period in order to participate in learning synchronously from home for that class
period. Students will follow the Full Home Learning outlined below.
Grading
Unlike in the spring, the State of Illinois directive to hold students' grades harmless is
not in effect; therefore, students will earn grades as they would in a traditional classroom
setting. District 207 will use a grading system of A through F and assign scores to
assignments and assessments as would be typical in a fully in-person model of schooling.
Some basic changes have been made to address the unique circumstances presented by
learning in a blended environment in an effort to support students.
● Students who are not passing at the end of the semester will work independently over winter break and with support during the first two weeks of second semester, if needed, in order to earn a passing grade.
● If a student does not earn a passing grade at the end of six (6) weeks into the second semester, he/she will receive an NG (no grade and no credit given)
● Teachers may still give a student an incomplete ("I") in consultation with Student and Family Services for unique circumstances. Incompletes will need to be completed by the end of the 6th week of second semester.
Visitors
Visitors should only come to school buildings to conduct business that cannot be conducted remotely. Visitors to any building must always wear an appropriate and approved face covering and report directly to the main entrance for a wellness screening, including a temperature check. Visitors will remain in the main office, or other designated area, for the duration of the visit. Students or staff will be asked to meet the visitor to conduct business as needed. Visitors will not have general access to the building in order to maintain physical distancing.
All visitors entering the building must participate in the screening process in addition to the
typical sign in procedures.
Live Streamed and Recorded Lessons
Maine East Security Protocol for Entering the Building
Maine East Building Safety Guidelines
Maine East Health Office Covid-19 Guidance for Parents/Guardians
Student & Family Services
The Student & Family Services Department provides many services to students and families including a four-year developmental counseling program, which ensures that every student in Maine East High School receives the same curriculum. Throughout the school year, our Student & Family Services staff members meet with all students in all grade levels to help educate students on academic, social/emotional, and career related topics in order to best support the students during their time at Maine East.
While our Student & Family Services Department has planned programming each year, many of the supports and services can be initiated by parents students and other Maine East staff. Our Student & Family Services staff members try to anticipate and react to the needs of students and parents; however, in order for our department to be most effective, it is important that there is two-way communication between school and home. Parents/guardians may make an appointment by calling the counselor to whom their student is assigned. A number of specialists, such as nurses, social workers, and school psychologists, are also available to assist students and their families with their needs and may be included in the meeting in order to provide the best support.
Four-Year Developmental Counseling Program
The comprehensive guidance program offered at Maine East High School through the Student & Family Services Department can help students make the crucial decisions they will face during their high school years. A mix of individual and group activities that cover career/college exploration, social/emotional competencies, and academic supports take place throughout
the school year. The Student & Family Services staff can help students gain
direction as they make choices that will take them through high school and
into their post-secondary plans.
Career & College Resource Center
The Career & College Resource Center (CCRC) provides a wealth of information about career exploration and experiences as well as post-secondary options to meet each student's career goals. The Career & College Resource Center is run by our Career & College
Admission Specialist, Mr. Mark Weber and the Maine East Career Coordinator, Ms. Kylie Mussay. During this virtual time, students and families can meet with Ms Mussay
virtually: calendly.com/MsMussay and Mr. Weber virtually: https://calendly.com/maineeastccrc
Health Office
The Health Office is located in Room 127. Health services are available to students, parents, and staff from 8:20 a.m. until 3:19 p.m. In addition to direct care, nursing services include vision and hearing screening health education and counseling, medical referrals and follow-up. Individual student health records, as well as any paperwork or documentation of a medical or health-related nature, are confidentiality -maintained in the school Health Office. Doctor's notes, PE excuses, and medication passes are also handled through the Health Office.
State Health Requirements
Illinois state law requires a complete physical examination within one year prior to the first day of school for all students entering 9th grade for the first time, as well as for all new/transfer students. In addition to the physical exam, new freshman and transfer students must also submit proof of immunization or immunity against the following diseases:
Diphtheria, Poliomyelitis, Hepatitis B, Pertussis, Mumps, Varicella, Tetanus, Measles, Meningococcal, Tdap, Rubella
Students who fail to meet the Illinois health requirements regarding physical examination and/or immunizations will not be allowed to purchase books or attend school until state requirements are met.
Students who participate in school sports are required to have an annual sports physical. Additional health examinations or medical evaluations and school exclusions may also be warranted under special circumstances: for example, a student may be excluded from school for a contagious disease or condition that might pose a health risk to other members of the school community.
Illness/Injured at School
If a student becomes ill/injured at school, he/she should report to the Health Office with a pass from the teacher to be evaluated by the nurse. Before a student who has taken ill or becomes injured in school is sent home, the Health Office will confer with his/her parent, guardian or emergency contacts as designated by parents to arrange for his/her transportation. Parental consent is needed whether or not the student can provide his/her own transportation.
Medications
Students should not take medication during school hours unless it is necessary for a student's health and well-being. When a student's licensed health care provider and parent/guardian believe that it is necessary for a student to take medication during school hours whether it be prescription medication or OTC (over the counter) medications such as Tylenol, an Authorization and Permission for Administration of Medication form must be completed by their physician and signed by a parent/guardian. Medication must be brought to school in a container properly labeled by the pharmacy or OTC medication should be in their original containers and given to the School Nurse to dispense as per the licensed health care provider's written order.
A student may possess an epinephrine auto-injector (EpiPen) and/or asthma inhaler medication for immediate use at the student's discretion, provided that the Authorization and Permission for Administration of Medication form has been completed by their physician and signed by parent/guardian.
All medication brought to school must be in the original container and labeled with the student's name. Written permission for prescribed or non-prescribed (OTC) medications at school must be renewed annually. Questions about specific medication procedures should be directed to the school nurse. The purpose of these procedures is to limit medication use at school, yet assure safe administration of medications for those students who require them.
School-Based Health Center
The Maine Township School-Based Health Center, housed at Maine East High School, is a partnership between Maine Township District 207 and Advocate Medical Group, in affiliation with Advocate Lutheran General Hospital. The goal of the School-Based Health Center is to improve the physical and emotional health of students attending Maine East, Maine West and Maine South High Schools.
Students must have a signed parental/guardian consent form on file before they can receive services at the School-Based Health Center.
The School-Based Health Center is located on the lower level of Maine East High School. Health Center staff includes a full-time nurse practitioner, a full-time mental health worker, a part-time physician and a secretary. The Health Center is open Monday through Friday during the school year and Mondays through Thursdays during the summer months.
During these times of virtual learning the SBHC is offering "virtual visits" through
your phone or computer. Please see link for more information.
Please call (847) 825-4059 for information to set up a virtual visit with a mental health counselor or the nurse practitioner. You may also email [email protected] with any questions or concerns regarding these visits.
Most services provided at the Health Center, except for those noted below, are provided free of charge.
The staff of the School-Based Health Center considers parental involvement important. Every student is encouraged to involve parent(s)/guardian(s) in health care decisions. The services available are basically the same as at any doctor's office.
The services available at the School-Based Health Center will include, but are not limited to, the following:
General Health Assessment

Routine Physicals ($35, if there is not state Medicaid)

Sports and Employment Physicals ($35, if there is no state Medicaid)

Health Screenings

Immunizations

Assessment of stress/emotional problems

Individual and Family Counseling

Assessment of Alcohol and Drug Problems

Infections

Counseling on Emotional, Behavioral and Adjustment Related Issues

Earaches

Sprains, Cuts, Burns

Sore Throats

Throat Cultures
Students can continue to see the school nurse for routine health concerns. Depending
on the severity of the health concern, the nurse may send them to make an
appointment at the School-Based Health Center. If students have concerns that they
would usually see a doctor for, these are the concerns they might take directly to the
School-Based Health Center to make an appointment to take care of.
The cost of operation of the School-Based Health Center comes from several grants, most
notably from the Illinois Department of Human Services, as a result of the state's
settlement with tobacco companies a few years ago. Other grants to continue the center
have been through the office of the local Illinois Representative's Office and the United
Way. No District 207 educational funds are being, or will be, used to support the work of
the School-Based Health Center.
Student Records
Access to Student Records
School student records or information contained in them may be released, transferred, disclosed or otherwise disseminated, to a parent or student or person specifically designated as a representative by a parent.
Records may also be released to an employee or official of the school or school district or the State Board of Education with a current demonstrable educational or administrative interest in the student, in furtherance of such interest.
Records may also be released to the official records custodian of another school in which the student has enrolled or intends to enroll, provided that the parent receives prior written notice of the nature and substance of the information to be transferred and opportunity to inspect, copy and challenge such information. If the address of the parents is unknown, notice may be served upon the records custodian of the requesting school for transmittal to the parents. Such service shall be deemed conclusive, and 10 school days after such service, if the parents make no objection, the records may be transferred to the requesting school.
Records may also be released to any person for the purpose of research, statistical reporting or planning, provided that no student or parent can be identified from the information released and the person(s) requesting the use of such information has signed an affidavit agreeing to comply with all rules and statutes regarding school records.
Records may also be released pursuant to a court order, provided that the parent shall be given prompt written notice upon receipt of such order, of the terms of the order, the nature and substance of the information proposed to be released in compliance with such order, an opportunity to inspect, copy and challenge the contents of the school student records.
Records may also be released to any person as specifically required by state or federal law, provided that the person furnishes the school with appropriate identification and a copy of the statute authorizing such access and that the parent receives prior written notice of the nature and substance of the information to be released and an opportunity to inspect, copy and challenge such information. If the release of information relates to more than 25 students, such prior notice may be given in a local newspaper of general circulation or other publication directed generally to parents.
Records may also be released subject to regulations of the State Board, in connection with an emergency to appropriate persons if the knowledge of such information is necessary to protect the health or safety of the student or other persons, provided that the parents are notified as soon as possible of the information released, the date of release, the person, agency, or organization receiving the information, and the purpose of the release.
Records may also be released to any person with the prior specific dated and written consent of the parent designating the person to whom the records may be released and the designated records or designated portions of the information to be released. The parent has the right to inspect, copy and challenge the records and to limit any such consent to designated records or designated portions of the information contained within the records.
Except for the student and his parents, no person to whom information is released and no person specifically designated as a representative by a parent may permit any other person to have access to such information without the prior consent of the parents.
A record of any release of information must be maintained for the life of the school student records and must be available only to the parents and the official records custodian. The record of release shall include the nature and substance of the information released, the name of the person requesting such information, the capacity in which such a request has been made, the purpose of such request, the date of the release, the name and signature of the official records custodian releasing such information and a copy of any consent to such release.
Challenging Records
If the accuracy, relevancy or propriety of any entry in the school student records, exclusive of grades, is challenged, parents may request a hearing with the school. The request for a hearing must be submitted in writing to the school and contain notice of the specific entry or entries to be challenged and the basis of the challenge. An informal conference will be held within 15 school days of receipt of the request for a hearing. If the challenge is not resolved by the informal conference, a formal hearing shall be initiated.
In case of a formal hearing, a hearing officer, who is not employed in the attendance center in which the student is enrolled, shall be appointed by the school and shall conduct a hearing within a reasonable time but no later than 15 days after the informal conference, unless an extension of time is agreed upon by the parents and school officials. The hearing officer shall notify the parents and school officials of the time and place of the hearing. Each party shall have the right to present evidence and to call witnesses, the right to cross-examine witnesses, and the right to counsel. A record of the hearing shall be made by tape recording or by a court reporter. The decision of the hearing officer shall be rendered no later than 10 school days after the conclusion of the hearing and shall be transmitted to the parents and the school district. The hearing officer's decision shall be based solely on the evidence presented at the hearing and shall order (a) retention of the challenged contents of the student record; or (b) removal of the challenged contents of the student record, or (c) change, clarification or addition to the challenged contents of the student record. The parties shall have the right to appeal the decision of the hearing officer to the Regional Superintendent of Schools.
If there is an appeal, notice of appeal must be presented to the Regional Superintendent of Schools within 20 school days after the decision of the hearing officer. The opposing party shall be notified of the appeal at the same time. Within 10 school days, the school shall forward a transcript of the hearing, a copy of the record entry in question, and any other pertinent materials to the Regional Superintendent of Schools. Upon receipt of such documents, the Regional Superintendent of Schools shall examine the documents and record, make findings and issue a decision to the parents and the school district within 20 school days of receipt of the documents. If the subject of the appeal involves the accuracy, relevance or propriety of any entry in special education records, the Regional Superintendent of Schools should seek advice from appropriate special education personnel who were not authors of the entry. The school shall be responsible for implementing the decision of the Regional Superintendent of Schools. Such decision shall be final, and may be appealed to the Circuit Court of the county in which the school is located.
A complaint regarding compliance with the federal law and regulations on student records may also be filed with the United States Department of Education under Section 99.64 of the department's Family and Educational Rights and Privacy Regulations.
Parents may insert in their student's record a statement of reasonable length setting forth their position on any disputed information contained in that record. The school shall include a copy of such statement in any subsequent dissemination of the information in dispute.
Permanent Records
Permanent records consist of basic identifying information, academic transcript, attendance record, accident reports and health record, record of release of permanent record information, and may also consist of records of awards and participation in school-sponsored activities and college entrance examination scores. No other information will be placed in the student permanent record. Permanent records are maintained for not less than 60 years after the student has transferred, graduated or otherwise permanently withdrawn from the school.
Records for Students with Disabilities
Upon graduation or permanent withdrawal of a disabled student, psychological evaluations, special education files and other information contained in the student temporary record which may be a continued assistance to the student may, after five years, be transferred to the custody of the parent or student if the student has succeeded to the rights of the parents. The school will explain to the student and the parent the future usefulness of psychological evaluations, special education files and other information contained in the student temporary record.
Student temporary records will be destroyed no later than July 1 of the fifth year after the student's permanent withdrawal from educational programs or graduation, whichever occurs first. Records will also be reviewed at the end of twelfth grade or upon a student's change in attendance center, whichever occurs first, to verify entries and to eliminate or correct all out-of-date misleading, inaccurate, unnecessary or irrelevant information.
Release of Student Record Information
Directory information may be released to the general public unless the parent requests that any or all such information not be released. It includes name and address, gender, grade level, birth date and place, parent's name and address, academic awards, degrees and honors, information in relation to school-sponsored activities, organizations and athletics, the student's major field of study, and period of attendance in the school. No person may condition the granting or withholding of any right, privilege or benefit or make as a condition of employment, credit or insurance the securing by any individual of any individual of any information from a student's temporary record which such individual may obtain through the exercise of any right secured under the Illinois School Student Records Act.
Students Who Reach the Age of 18
All rights and privileges accorded a parent under the Illinois School Student Records Act shall become exclusively those of the student upon his or her 18th birthday, graduation from secondary school, marriage or entry into military service, whichever occurs first. Such rights and privileges may also be exercised by the student at any time with respect to the student's permanent school record. Parents of students who are 18 and older should share this information with them.
Temporary Records
Temporary records consist of all information that is of clear relevance to the education of the student, but is not required to be in the student permanent record. It may include family background information, intelligence test scores, aptitude test scores, discipline records, psychological and personality test results, and teacher evaluations of student performance. Special education records are also considered a temporary record. A record of release of temporary record information must be included in the student temporary record. The temporary record will be reviewed for elimination of out-of-date, inaccurate or unnecessary information every four years or upon a student's change in attendance centers, whichever occurs first. Schools by law do not maintain temporary records for longer than five years after the student has transferred, graduated or otherwise permanently withdrawn from the school.
Viewing Records
Parents will be given reasonable prior notice before any school student record is destroyed or information is deleted and have an opportunity to copy the record or information. Parents, or any person specifically designated as a representative by a parent, have the right to inspect and copy all permanent and temporary records within a reasonable time-in no case later than 10 school days after the date of receipt of such request by the official records custodian. Students also have the right to inspect and copy their school student permanent records as well as their temporary records. The cost of copying school student permanent records and/or temporary records must not exceed 35 cents per page.
At the option of either the parent or the school, a qualified professional, who may be a psychologist, counselor, or other advisor, and who may be an employee of the school or employed by the parent, may be present to interpret the information contained in the student temporary record. The school secures and pays for the cost of the services of any district-employed professional whether the professional is there at the request of the parent or the school. Students and parents may obtain copies of their records by requesting them in writing.
Programming
The educational program is offered at many levels of instruction tailored to the
varied abilities of the student body. Students are selected for these programs on the
basis of their placement test scores, teacher recommendations, and past
achievement.
Programs for the Gifted and Talented
Gifted students are offered a wide range of courses in accelerated and advanced placement programs. Enrichment programs offered through the Maine East's Gifted Lyceum program are open to top ranked students who are admitted to Lyceum based on outstanding academic performance and on qualifying test scores.
Gifted Lyceum
Maine East High School is committed to the education of its most academically talented students and strives to provide appropriate methodology and services that are steeped in sound research. The Gifted Lyceum Curriculum is an intensive High School Program designed for the academically gifted individual. It is a four year program that challenges students to reach their academic potential. Students generally rank in the top 5% of the class and qualify through testing measures and teacher recommendations. While the course of study is rigorous, the Gifted Lyceum challenges to improve not only the academic, but the affective component of its students.
Advanced Placement (AP) Courses
The advanced placement program is designed for students who have completed a sequence of accelerated classes. Advanced placement classes provide able and ambitious students with an opportunity to study college level courses during their junior and senior year. By taking special examinations, these students may gain advanced standing and/or credit in college. Students taking advanced placement courses are expected to take the advanced placement exams.
Dual Credit Courses
Dual credit courses allow students to be enrolled through Maine East High School and our partnering colleges and universities. Dual credit courses are taught by Maine East High School teachers, and students receive both high school credit and credit through the partnering college and university. Students grades in a dual credit course will reflect on both their high school and college transcript.
Independent Study
Independent Study is intended for the able student who shows interest in an area of study or who wishes to pursue a discipline in greater depth than possible through the regular curriculum. Independent Study is not intended to be used as a means of making up credits for graduation by students who have failed courses because of poor attendance, lack of ability, discipline problems, etc. Independent Study is an extension of the curriculum that affords the student an opportunity to go above and beyond the curriculum. Offering a letter grade, it counts toward the 23.25 credit graduation requirement. A contract between the student and the teacher defines the responsibilities of the student and the teacher and specifies standards for the successful completion of the project. A calendar of deadlines is part of that contract. Independent Study is exercised only at the discretion of the teacher and is voluntary.
Both student and teacher must initiate the request for Independent Study that is forwarded to the department chairperson and approved by the Executive Committee. All requests must be submitted to the Executive Committee by the third week of the semester. No requests after that date will be honored.
Program Changes
Students are scheduled into courses only after thoughtful deliberation regarding their abilities, interests, needs, and goals. Students are permitted to enroll in any course which meets their needs and for which they have successfully demonstrated prerequisite knowledge. Enrollment in any course also requires prior parent and counselor approval. Once programs have been approved and submitted for scheduling, changes will be made only for administrative purposes. All other requests for program changes are discouraged. However, a student or parent who desires a program change may petition for the change in writing following the individual school procedure.
Special Education Program
A Continuum of Special Education services is available at Maine East to students with disabilities. Programs and services are determined through multidisciplinary-staffings after the full case study process is completed and eligibility for Special Education is determined. Students with disabilities who do not qualify for an individualized education program, as required by the federal Individuals with Disabilities Education Act and implementing provisions of the School Code, may qualify for services under Section 504 of the federal Rehabilitation Act of 1973 if the child (i) has a physical or mental impairment that substantially limits one or more major life activities, (ii) has a record of a physical or mental impairment, or (iii) is regarded as having a physical or mental impairment.
Transitional Program
The transitional program is designed for students in Maine Township who have difficulty in the areas of English, Mathematics, Science, and Social Science. These classes provide these students with the extra help they need to equip them with the skills to pursue course work at the regular level.
GRADUATION REQUIREMENTS
Credit
Maine East High School has courses that are one quarter, one semester and two semesters in length. One quarter credit in all one quarter courses and one-half credit in all one-semester courses, with the exception of physical education, is granted upon successful completion of the course. Most courses are two semesters in duration. One credit is granted upon the successful completion of both semesters. It is recommended that students be enrolled in six (6) courses and physical education for each semester of attendance.
Grade Point Averages (GPA)
Grade point averages are used by the school to select students as Maine Scholars, members of National Honor Society, and for other distinctions of educational achievement. The information is also used on official transcripts to colleges and universities and is intended to assist in the evaluation of educational achievement of Maine graduates.
Students weighted and non-weighted grade point averages are listed on transcripts. The non-weighted GPA would give the exact same value to every course. Selection of Maine Scholars and Honor Roll designees will be based on the weighted GPA.
Grading System
Grades earned for each semester are entered on the permanent record and are cumulative. They represent the quality and quantity of work completed and the degree of mastery of the subject and are expressed in letters.
A – A grade indicating that the student has done work of exceptional quality.
B – A grade indicating that the student has done above average work.
C – A grade indicating that the student has done satisfactory work.
D – A grade indicating that the student has done below average work.
F – A grade that carries no credit indicating that the student has not met the minimum requirement of the course.
EX – A grade that carries no credit indicating that the student has been excused from a requirement by the Assistant Principal for Student Services.
X – A grade that carries no credit indicating that the student has an opportunity to secure a passing grade by doing satisfactory work during the subsequent ten-week period. Used sparingly, it is intended for students who enter too late to complete enough work to receive a grade. Conditional grades may be given at the end of the first, second or third quarters of two semester classes or at the end of the first quarter of one semester classes.
IN – A grade that carries no credit indicating that the student has not completed the work because of illness. An "IN" (incomplete) at the end of a semester must be made up within the first six weeks of the following semester or a failure is automatically recorded.
NG – A grade that carries no credit and may be used in situations where a student is auditing a class that has been approved in advance by the Assistant Principal, Student Services or the Executive Committee.
PA – A grade that indicates a student is passing a course that is being taken pass/fail.
The Executive Committee will respond to all requests to withdraw from courses. A course that is dropped during any quarter will either not appear on the student's permanent record or will be recorded as a failure "F" based upon the following guidelines:
Any course that is dropped because of a scheduling error or to balance class size will not appear on the student's permanent record.

Any course that is dropped with the approval of the Executive Committee while the student is passing will not appear on the student's permanent record.

Any course that is dropped while the student is failing will be recorded as failure, "F".

Any request to drop a course after the ninth week of school will be denied unless extenuating circumstances can be demonstrated.
Graduation Ceremony
Maine Township High School East, South and West each have one graduation ceremony. Graduating seniors receive standard diplomas. Diplomas from the three Maine Township high schools differ from another only in the identification of the school. No diploma refers to the course of study pursued by the graduate nor to the graduate's academic record.
How the Honor Roll Is Determined
Students making a 4.0 or above grade average, with no grades below a B, will be named to the High Honor Roll. Students making a 3.0 or above average, with no grades below a C, will be named to the Honor Roll. All courses except for physical education and driver education are considered. Failures, D's, or an incomplete in any one-half or full credit course disqualify a student for the honor roll. A student must carry a minimum of five solids to be eligible for the honor roll. Enrollment in a pass/fail course does not disqualify a student for either honor roll unless the student receives a grade of "F" in the pass/fail course.
IHSA and NCAA Eligibility
The Illinois High School Athletic Association (IHSA) and the National Collegiate Athletic Association (NCAA) both have rules and regulations regarding eligibility. Students who participate in athletics in high school and/or wish to participate in athletics at the college level should be aware of the requirements of both associations.
NCAA eligibility rules may be found at www.ncaa.org (eligibility center) or students may see their counselor or the Athletic Director for more information.
No Pass/No Play Policy: Academic Eligibility Standards
The Board of Education will prohibit any student who does not meet an academic eligibility standard from participating in an extracurricular team/organization that represents a Maine Township school in competition against another school. The academic eligibility standard is defined as:
Student must be passing twenty (25) credit hours of high school work per week. In District 207, this translates to five (5) full credit courses, including Physical Education and excluding Driver Education.

Student must have passed and received credit toward graduation for twenty (25) credit hours of high school work for the entire previous semester in order to be eligible at all during the ensuing semester. In District 207 this again translates to five (5) full credit courses, including Physical Education and excluding Driver Education.

Quarter credit classes (Oral Communications and Consumer Education) must be taken in the same semester to count as one full credit course for semester and weekly eligibility.
A Student must meet these standards to be eligible. Once meeting the initial eligibility standard based on the previous semester's credit, the student must continue to maintain eligibility on a week-by week basis. The superintendent shall establish administrative procedures to implement the policy.
Pass/Fail Procedure
The pass/fail procedure was developed to give students new opportunities for learning without the pressure of grades. Passing grades received under the pass/fail system are designated on grade reports and official transcripts as satisfactory (PA). The Passing grade (PA) does not affect a student's grade point average. However, a failing grade received under the pass/fail system is designated on grade reports and official transcripts as an "F." A failing (F) grade will be computed in a student's total grade point average. Students may take any one-half credit or one credit course during the regular school year, as well as summer school, pass/fail according to the following guidelines:
Students may petition to take courses pass/fail only if they are registered for more than four full credit courses. If a student who is taking a fifth course pass/fail decides to drop a course that is being taken for a letter grade, the pass/fail course must be taken for a letter grade.

Students must meet all prerequisites for admission to any class they wish to take pass/fail.

Accelerated classes and Advanced Placement may not be taken pass/fail.

Courses required for graduation may not be taken pass/fail except for courses taken to complete the two-year graduation requirement in applied arts and technology, fine arts, or foreign language.
Social Promotion
The Board of Education will promote students based on students meeting the goals and standards of District 207 as embodied in the curriculum of courses of study offered by the district or in courses of study demonstrated to be comparable to that of the district. In order to be promoted from 9th to 10th grade, a student must pass five units of credit. In order to be promoted from 10th to 11th grade, a student must pass eleven units of credit. In order to be promoted from 11th to 12th grade, a student must pass seventeen units of credit.
Student Progress
Progress reports are issued at three intervals (4 week, 8 week and 12 week) each semester. A semester report card is issued at the conclusion of each semester. In addition to the grades, report cards and progress reports also show the total number of days absent as recorded by the attendance office for each grading period and the number of absences for each class as recorded by each teacher.
Parents and students are able to view course progress via the Parent Portal on the school website. Teachers will keep parents informed when a student's progress falls below the minimum level at which a passing grade can be given. Parents are encouraged to communicate with teachers as necessary.
Transfer Students
Most credits of students transferring into Maine East High School are accepted, providing the school from which they transfer is accredited by its regional accrediting agency. If the school is not accredited, the student may receive credit upon successful completion of examinations and further investigation of the curriculum.
Assignment of credit from the transfer school will be determined by the high school administration.
Transfer Student Graduation
To make the diploma earned by each graduating senior from Maine East High School more meaningful, the Board of Education encourages students who transfer into or from Maine East during the last semester of the senior year to obtain a diploma from the school where they received the majority of their education.
Students who transfer into Maine East High School during the last semester of their senior year may complete their high school education with the understanding that the Maine principal will try to reach an agreement with the principal of the student's former school to issue a diploma. If such an agreement is not reached, the Maine principal will reevaluate the student's academic record. If the student has met the state and district requirements for graduation, the principal will prepare and issue a diploma.
With prior approval, students who transfer from Maine East High School during the last semester of their senior year may receive a diploma from Maine East. Students must present evidence that course work for a diploma from Maine East has been satisfactorily completed at another approved secondary institution. Responsibility for initiating the granting of a diploma under this policy rests with the student or principal at the school to which the student transferred.
Repeat Course Policy
When a student repeats any course, the transcript will reflect all courses and all grades. The calculation of the grade point average (GPA), however, will include only the highest grade for the repeated course.
Requirements for Graduation
In order to graduate from the Maine Township high schools, students must earn a minimum of 23.25 units of credit including:
Four units of English.

Three units* of mathematics. Computer courses and business mathematics do not meet the three unit

requirements in mathematics.
Three units* in courses offered by the social science department, including one unit in U.S. history and

one-half (1/2) unit in government.
Three units* of a laboratory science.

Satisfactory completion of one-fourth (1/4) unit, or exemption from, physical education during each semester of high school enrollment with the exception of one semester during the sophomore year when all students are required to enroll in health. The grade point average does not include physical education.

Satisfactory completion of one-half (1/2) unit of health. The grade point average does include the health grade.

Satisfactory completion of one-quarter (1/4) unit of consumer education. Successful completion of a course in introduction to business, independent living or economics exempts students from the 1/4 unit

requirement of consumer education. The cumulative grade point average includes the consumer education grade.
Thirty (30) hours of instruction in safety education (driver education classroom instruction). The driver education course grants one-half (1/2) unit of credit if taken in one of the Maine Township high schools; the district may waive this requirement upon presentation of successful completion of a driver education course from a private agency. The grade point average does not include driver education.

Two units of credit from any of the following: fine arts (art, music, speech and drama), foreign language or career and technical education (family and consumer sciences, business and applied technology).

One-quarter (1/4) unit of oral communication. Participation in the speech team does not fulfill the oral communication requirement. The cumulative grade point average includes the oral communication grade.

Pass an examination on the Declaration of Independence, the flag of the United States, the Constitution of the United States and the Constitution of the State of Illinois.

A minimum of 5 units of elective credit.
In addition to fulfilling the above requirements, in order to obtain a district diploma, students must take the required state examination. Exceptions to this requirement will be permitted if: (i) the student's individualized education program (IEP) developed pursuant to Article 14 of the Illinois School Code and the Individuals with Disabilities Education Act identifies the state examination as inappropriate for the student; (ii) the student qualifies for exemption from the state examination pursuant to Section 2-3.64(a) of the Illinois School Code due to the student's lack of English language proficiency.
*Unless there are otherwise compelling reasons, the expectation of District 207 is that all students will take the increased core curriculum classes in math, social science and laboratory science. Parents may file an appeal for variance with the principal's representative in each school between June 30 following a student's freshman year and June 30 following a student's junior year.
ALTERNATIVE CREDIT LEARNING OPPORTUNITIES
Alliance for Lifelong Learning (Evening High School)
Maine East High School may accept credit earned by a student through Alliance for Lifelong Learning (ALL) evening high school and transferred credit from other high schools.
On-line Courses
However, students may earn up to six credits (with no more than two to satisfy graduation requirements in the four core areas (English, Math, Science, Social Science) through approved correspondence, internet-based courses or post-secondary courses. The Superintendent of Schools may make exceptions.
Summer School
Maine East High School provides a comprehensive summer program in both academic and non-academic areas, as well as those courses that meet special interests. Summer session courses taken for credit are acceptable toward graduation. Students may use summer school to take courses they are otherwise unable to schedule into their programs or to make up credit that they missed during the regular school year. All summer school courses meet the time requirements of accrediting agencies.
POST HIGH SCHOOL PLANNING
Accreditation
Maine East High School is accredited by the North Central Association of Colleges and Secondary Schools and the Illinois State Board of Education.
Career Resource Center
The Career-College Resource Center (CCRC) located across from the Student Cafeteria provides a wealth of information about career and college options. The CCRC is open 8:20 am to 3:19 pm daily. During our virtual learning environment you may contact Mr. Weber at
https://calendly.com/maineeastccrc. The Maine East Career Coordinator is run by Ms. Kylie Mussay and during this virtual time, students and families can meet with Ms Mussay
virtually at calendly.com/MsMussay
How To Prepare for College and the Working World
As students prepare for the working world, they need to consider their interests, abilities, personality and values among other factors to allow them to make educated career choices. In order to help our students accomplish this goal, the counseling staff works with each student on developing an Individual Career Plan (ICP) that contains the results of surveys used to identify career pathways that the student has shown an interest. Additionally, elective courses and clubs and activities at Maine East have been aligned to career pathways to help students choose those courses and activities that may help them with further career exploration. We encourage our students to also sign up for other important career opportunities such as internships. Our Career Coordinator can help students secure internships and other meaningful career experiences. The Career Coordinator is available to help students throughout the school year and summer. The Career Coordinator's office is also located in the CCRC.
Some careers will require a four-year degree. For those that do, a minimum of four years of English, three years of social science, two years of the same foreign language, three years of laboratory science, and three years of college prep mathematics including algebra, geometry, and algebra II are required.
Highly selective schools or specific areas of study such as engineering may have additional requirements. College options do exist for students who do not meet some of these requirements. It is strongly recommended that all students enroll in the most rigorous academic program available to them.
Many midwestern colleges and universities require twelve units of college preparatory work, class rank in the upper half, and satisfactory scores on either the ACT (American College Test) or SAT (Scholastic Aptitude Test). Students usually take these tests in the spring of their junior year in high school. Students are urged to discuss their plans with their counselor and the Career College Admission Specialist.
Students may also consult the resources in the CCRC to do further investigation of specific entrance and graduation requirements at schools as well as research about financial aid and careers. In addition, we recommend the following free websites:
www.petersons.com
www.isac.org
www.collegeboard.org
www.fastweb.com
State Universities In Illinois
The minimum college admission requirements for a baccalaureate degree program in Illinois vary somewhat among the ten institutions. Students and parents should check with individual Illinois public colleges and universities to verify the high school courses required for admission.
Work Permits
Students wishing to obtain a work permit should go to the Student Services Office. Students must have secured a job before a work permit can be issued.
NATIONAL HONOR SOCIETY REQUIREMENTS
NHS is a national honors organization for secondary school students. Students with Junior or Senior standing who hold a cumulative weighted GPA of 3.5 or higher at the end of the first semester of junior year will be invited to submit additional information for the Faculty to consider.
Invitation for membership is based on four criteria: Character, Scholarship, Leadership, and Service. Membership invitations are sent after the application deadlines by a Faculty Advisory Council based on examination of transcripts, student-submitted materials, and other relevant school records.
NHS members are inducted in March of each year and are expected to maintain high levels of academic achievement, school and community leadership and volunteer service, including a minimum of twelve hours of service every six months.
NETWORK/INTERNET USE
All students must agree to abide by the Maine 207 Technology Acceptable Use Policy and all applicable laws while using Maine 207 Technology resources.
STANDARDIZED TESTS
The Student Services Department is Maine East's primary coordinating agency for standardized testing.
2020-2021 Test Dates
October 14, 2020 SAT testing (Seniors only)
October 29, 2020 PSAT-NMSQT (optional for juniors)
April 13, 2021 SAT (required for all juniors) & PSAT-9 (required for all freshman)
April 14, 2021 PSAT-10 (required for all sophomores)
Attendance Procedures (In Person)
Punctuality and regular attendance are expected of every student. Participation in after school activities requires attendance during the school day – arrival no later than 12:00 p.m. and departure no earlier than the end of the student's daily class schedule.
Authorized absences from school:
Absences that are unexpected (e.g. illness) may be authorized if a parent calls the Attendance Office (any time of the day or night at 847/ 692-8321) before 1:00 p.m. on the day following the absence. Not calling means that the absence is unauthorized, that the student may not make up missed work.
· Pre-excused absence from school:
Absences that are expected (e.g. dental appointments) may be authorized if a parent calls the Attendance Office two days before the absence and if the student submits appropriate follow-up documentation by 1:00 p.m. on the day following the absence.
· Health Office regulations:
The Health Office must be notified if a student has a communicable disease (such as strep throat or chicken pox), has a chronic disease, or is hospitalized. For absences to be authorized after a student has missed more than five (5) consecutive days or more than seven (7) days in a semester, the Health Office may require a written explanation from a doctor.
· Feeling ill:
Students must report to class for attendance first if an illness is not an emergency and obtain a pass to the Health Office. Students are not admitted to the Health Office between classes except in emergencies.
· Permission to go to parking lot: Students must have a Security escort
· Permission to leave campus: After a parent calls the Attendance Office, the student will obtain a pass from that office and sign out. When returning to school, the student must report to the attendance office with official verification of appointment kept or obligations met.
Automobiles and Bicycles
1. Subject to available parking space, juniors and seniors who have drivers' licenses will be considered to purchase a school parking sticker. Any special case involving other students must be considered by the Executive Committee.
2. Students are permitted to drive on school parking facilities if they have valid drivers' licenses, provide proof of car insurance, obey Illinois "Rules of the Road" and display their pre-purchased school parking stickers on their vehicles.
3. A student driver must fill out a registration form and purchase a parking sticker through the deans' office. The sticker must be affixed permanently to the windshield on the
passenger side of the car to be driven to school.
4. If a student, who has purchased a parking sticker, must drive a different vehicle to school, they must notify the dean's office prior to the start of school in order to receive permission to park the vehicle temporarily.
5. Students must park within the parking lines and should pull up to the center line. Parking backwards in a space is prohibited.
6. Students are to use parking lots other than the ones reserved for faculty, staff, and visitors. Parking in front of the school is prohibited.
7. Cars without parking stickers or cars improperly parked may be ticketed by the Park Ridge Police or towed from the school grounds at the owner's expense.
8. Bicycles should be parked and locked at the racks near the east bus shelter or Auditorium doors.
Awards and Honors
The school recognizes students' achievements and contributions in various ways:
· Maine Scholar awards to seniors in the top 1% of their class academically.
· Good -Will Awards to seniors who best embody the ideals of service,
cooperation, and friendship.
· Departmental Awards to the most outstanding seniors in each field of study.
· Student-of-the-Month Awards to students who are determined worthy by their
teacher.
· Gold Cards, representing special privileges, awarded to senior students,
by application, who have demonstrated R-Code traits of being Responsible,
Respectful and Ready throughout their high school career.
Buses
The Maine Township High Schools are served by regular PACE buses (public transportation). Students will receive bus schedules at the beginning of the school year. Ventra passes can be purchased at the school bookstore. Students riding PACE buses to or from school are subject to the discipline policy of the school.
Cafeteria
To enter the cafeteria during a lunch period, all students must present their own current Maine East I.D. cards. Once in the Cafeteria, students must behave appropriately. Everyone at a table is responsible for seeing that all trays are returned and that all garbage and recyclable materials are placed in the receptacles provided. At the end of each lunch period, students must sit at their table and wait until the supervising staff member dismisses them. Maine Township participates in the National School Lunch Program. Please see National School Lunch Program for more information.
Complaints & Grievances
Students may express concerns to various members of the faculty and administration. The subject of the concern will determine which staff member might most appropriately help.
Students who need assistance in identifying the most appropriate staff member should contact Ms. Rebecca Stewart, the Associate Principal for HR & IO at [email protected]
Dances
· Tickets must be purchased in advance; they are not sold at the door.
· All Maine East students must bring their I.D.
· Guests of Maine East students must be registered by name when their ticket is purchased and must bring picture IDs when they attend.
· Guests of Maine East students must be at least a high school freshman and must be under 21 years of age
· Dances must start by 7 p.m. and must end by 10 pm.
· All those attending must arrive no later than 8:00 p.m.
· Once a person has left a dance, that person may not return.
· All school rules, including those related to alcohol and other drugs, are in effect.
Election of Leaders
A student holding one of the offices listed below is NOT eligible to hold any other office at the same time or succeed himself in the same office or, for class presidents, to hold a presidency two years in a row.
· President of Student Council
· Vice-President of Student Council
· Secretary of Student Council
· Treasurer of Student Council
· Class Presidents
Exceptions:
Providing that there are no conflicts in meeting or in the execution of official duties, officers in clubs having exclusive membership (e.g. Tri-M, National Honor Society) are not subject to the
eligibility restrictions cited above. Neither are captains of athletic teams, cheerleading squads, or the Demon Squad; and neither are Student Council representatives.
Field Trip Procedures
To participate in a Maine East field trip, during the school day or during non-school hours, a student must complete a field trip permission form. The student must fill in information about the trip, obtain the signature of the trip sponsor, obtain the signatures and comments of teachers whose classes will be missed, obtain a signature from a parent/guardian, and return the completed form to the trip sponsor at least three school days before the trip. If the form is processed late, the student may not participate in the field trip.
Financial Assistance with Books and Fees
Parents of students with low family income may apply for the loan instructional materials and the waiving of fees. Applications and instructions are available from the principal's office. Proof of income is required. Please contact Ms. Rebecca Stewart [email protected]
Financial Assistance with Meals
Parents of students with low family income may apply for free or reduced-rate meals, served in the school cafeteria. Applications and instructions are available from the principal's office. Proof of income is required.
Fundraising
At school and school activities, students may raise funds only in school-approved
fundraising projects. Fundraising may not disrupt the educational process. Example: Students may not sell candy or other products in the classrooms during the school day.
Library
Please visit Maine East's Library website for more information. In addition to vast print resources, the library also has electronic databases and a digital library composed of e-books and audiobooks that are available for student and staff checkout. Librarians are available to help students and staff with their research needs and finding books for enjoyment.
For questions please contact Rumannah Aasi [email protected] or Colleen Cochran [email protected]
Lockers
Each student will be provided a locker, subject to the following provisions:
1. Students must use only the lockers individually assigned to them.
2. Only approved Maine East locks may be used on lockers.
3. For the safety and welfare of the student, ownership of the locker is maintained by the school district, and the student is granted a limited use of the locker solely in accordance with this policy. Each student must have on file with the proper school authority the lock
combination.
4. The only items that may be placed in lockers are articles of clothing, school books or supplies relating to school use, lunches, and personal items which the students need for school activities.
5. The school district reserves the right to have its officials inspect the contents of any locker at any time when the safety and/or welfare of the school or the student body are in question.
This statement should be considered "Prior Notice" of locker search procedure.
R-Code
R-Code is Maine East's character education program. Consider joining this effort to promote readiness, responsibility, respect, courtesy, encouragement, honesty, helpfulness, and patience. Help to move students closer to the goal of using appropriate language, accepting cultural and personal differences, supporting the efforts of others, and demonstrating school pride.
Restrictions for Student Organizations
1. No student shall join or engage in the activities of any secret society or public school fraternity or sorority. Hazing is not permitted.
2. Use of emblems, insignia, colors, crests or other symbols of membership or office in any recognized school club or organization must have the approval of the superintendent.
3. No club or other student organization shall organize or operate unless it has the approval of the Principal, the Executive Committee, and the Board of Education.
4. School groups are not permitted to use the school name in public demonstrations or other activities outside the school unless prior permission has been granted by the designated school official.
5. Neither student organization nor individual students may solicit, acquire, disburse, or encumber funds with the prior approval of the principal. Students and sponsors should participate in the decisions about funds.
Supervision
Students are not to be in the building or on the school grounds unless under the direct supervision of an authorized staff member. All curfew laws will be observed in the establishment of hours for the above. All after-school activities will cease before 7:00 p.m. on school nights unless prior permission has been granted by the principal.
Visitors
Visitors, including parents and alumni, must begin their visits to the school grounds or the school building by providing personal identification, signing in, identifying their vehicles, and obtaining visitors' passes at the main entrance. No Visitors' passes will be issued to school-age persons. Current students may not bring guests to school.
Lost and Found Office
Whenever a student loses an item or finds an item, the student should go to the Assistant Principal for Student Support's Office Section 504 Information Students with disabilities, who do not qualify for an individualized education program, as required by the federal Individuals with Disabilities Education Act and implementing provisions of the School Code, may qualify for services under Section 504 of the Federal Rehabilitation Act of 1973 if the child (i) has a physical or mental impairment that substantially limits one or more major life activities, (ii) has a record of a physical or mental impairment, or (iii) is regarded as having a physical or mental impairment. 105 ILCS 5/14-6.01
Equity in District 207
Policies and Practices
Title IX – Gender-Based Discrimination Policy
Contents of the Student/Parent Handbook are subject to change. For the most current information, please go to: http://east.maine207.org
CO-CURRICULAR CLUBS AND ACTIVITIES
ATHLETICS AND EXTRACURRICULAR ACTIVITIES
DISTRICT 207 EXTRACURRICULAR ACADEMIC ELIGIBILITY POLICY
Any student who is a member of an extracurricular team/organization that represents a Maine Township school in competition against another school must meet an academic eligibility standard. Participants in clubs or organizations that are not involved in the competition are not subject to this eligibility requirement.
The student must meet two academic standards:
● earned five full semester credits of high school work (exclusive of Drivers Ed) for the previous semester, and
● be currently passing at least five-semester credit high school courses (exclusive of Driver's Ed) each week.
The student must meet both these standards. Once meeting the initial eligibility the student
must maintain eligibility on a week-by-week basis.
A student not meeting the initial requirement is ineligible for the entire subsequent
semester and may not join the team or practice with the team for that entire semester. If a
student is already on a team when the semester ends and does not pass the five-semester
credit courses, he/she becomes immediately ineligible for the remainder of the semester.
A student who does not meet initial eligibility may not practice with the team. A student
who becomes ineligible on a week-by-week basis may practice. The decision regarding
practice is made after the coach/sponsor confers with the student and they discuss how the
student will remedy the academic problem. Note: IHSA by-laws (3.141) prohibit an
ineligible student to be in uniform on the team bench at a contest.
Passing work is defined as work of such a grade that if on that given date the course would
be completed, a passing grade would be earned by the student. It is the student's
cumulative grade in the course up to that given date.
Credit earned during summer school may be used to supplement the spring semester credit
in order to meet the initial eligibility requirement.
Academic status is monitored through the District #207 Data Processing System using the DAI and DAL screens. Teachers input academic information weekly through the period-by-period attendance system. Only students whose names are entered into this data system may participate in competitive interscholastic extracurricular activities and appear on team rosters. The responsibility for determining eligibility after interpreting students' pass/fail status rests with the department sponsoring the activity. That department will communicate all eligibility information to the appropriate sponsor/coach and the student's counselor.
ONLINE RESOURCES – ATHLETICS
Updated schedules and information can be found on the Maine East Athletics website
Illinois High School Association (IHSA) www.ihsa.org
The IHSA web page is the most valuable source for high school athletics. On this page
you can access information on the IHSA state series in each of the 31 interscholastic sports.
This includes pairings, times and locations for all Regionals, Sectionals and State
tournaments. In addition, in football, you can find the schedules and conferences for every
football school in the state. Scorezone will give you the most immediate results and scores
of all state series contests. The IHSA site also has a section on state records in which you
can find individual and team records for virtually every sport in the state. You are also
able to access the IHSA Handbook that contains the IHSA by-laws. These by-laws
regulate every phase of high school sports in Illinois.
Perhaps the most valuable part of the site is the School Directory. Here you can find the
address and phone number of every high school in the state. More importantly, you can
link to a map that will guide you from your home directly to the school to which you want
to travel!
National Collegiate Athletic Association (NCAA) www.ncaa.org
The NCAA regulates all Division I, II and III college athletics. If you are considering
participating in competitive athletics beyond high school there are a number of issues and
items you must address and of which you should be aware. The most important of these is
academic eligibility for college athletics and the NCAA Clearinghouse. Information on
these can be found at the NCAA's website.
2020-2021 SPORTS
Before any student can participate in a practice or tryout for a sport, the student's
parent/guardian must register the student online using 8 to 18 Registration and turn in a
physical, signed by the physician, to the Maine East Athletic Office. The website to
register for sports is: http://maineeast.8to18/com. If you plan to participate in a fall sport,
it is best to have both parts completed by August 1st.
CLUBS AND ACTIVITES
For club and activities information, pleas visit: https://east.maine207.org/maine-east-activities-2/
REQUIRED NOTIFICATIONS
SCHOOL BUS SAFETY RULES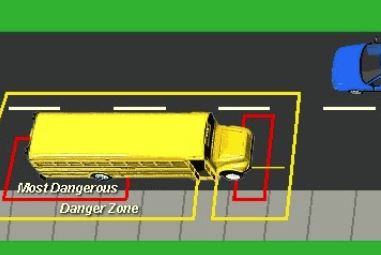 The Building Principal shall distribute the following rules to all students. Those students not qualifying for school bus transportation to and from school should receive a copy because they may from time-to-time be transported to school activities by school bus.
Dress properly for the weather. Make sure all drawstrings, ties, straps, etc. on all clothing, backpacks and other items, are shortened or removed to lessen the likelihood of them getting caught in bus doors, railings or aisles.

Arrive on time at the bus stop, and stay away from the street while waiting for the bus.

Stay away from the bus until it stops completely and the driver signals you to board. Enter in a single file without pushing. Always use the handrail.

Take a seat right away and remain seated facing forward. Keep your hands, arms, and head inside the bus.

Talk quietly on the bus. No shouting or creating loud noises that may distract the driver. Tablets, iPods®, iPads®, smart phones, and other electronic devices must be silenced on the bus unless a student uses headphones.

Help keep the bus neat and clean. Keep belongings out of the aisle and away from emergency exits. Eating and drinking are not allowed on the bus.

Always listen to the driver's instructions. Be courteous to the driver and other students. Sit with your hands to yourself and avoid making noises that would distract the driver or bother other passengers. Remain seated, keeping your hands, arms, and head inside the bus at all times.

Wait until the bus pulls to a complete stop before standing up. Use the handrail when exiting the bus.

Stay out of the danger zone next to the bus where the driver may have difficulty seeing you. Take five giant steps away from the bus and out of the danger zone, until you can see the driver and the driver sees you. Never crawl under a bus.

If you must cross the street after you get off the bus, wait for the driver's signal and then cross in front of the bus. Cross the street only after checking both ways for traffic.

Never run back to the bus, even if you dropped or forgot something.
Additional resources:
National Highway Traffic Safety Administration Traffic Safety Toolkit: one.nhtsa.gov/Driving-Safety/Community-Traffic-Safety/Community-Traffic-Safety-Toolkit
National Safety Council School Bus Safety Rules: www.nsc.org/news_resources/Resources/Documents/School_Bus_Safety_Rules.pdf
Illinois State Police School Bus Safety: www.isp.state.il.us/docs/schoolbussafety5542.pdf
ISBE School Bus Safety What Parents Should Know: www.isbe.net/Documents/bus_safety_parents.pdf
ISBE Instructions To School Bus Riders (pg. 102): www.isbe.net/Documents/bus_ride_instruct.pdf
ILSOS Parent information flyer, games etc.: www.cyberdriveillinois.com/departments/drivers/traffic_safety/school_bus_safety/home.html
Offender Community Notification Laws
State law requires schools to notify parents/guardians during school registration or parent-teacher conferences that information about sex offenders and violent offenders against youth is available to the public on the Illinois State Police's website. The Illinois State Police website contains the following:
Illinois Sex Offender Registry: www.isp.state.il.us/sor/
Illinois Murderer and Violent Offender Against Youth Registry: www.isp.state.il.us/cmvo/
Frequently Asked Questions Concerning Sex Offenders: www.isp.state.il.us/sor/faq.cfm
Student Safety Information
Student safety is the district's top priority. The district has developed a Comprehensive
Safety and Security Plan. In addition to physical safety, the district is concerned with
students' emotional well-being and will help students cope with an emergency or disaster
and its aftermath. The following outlines our emergency and disaster response plans.
School Emergency Operations Plan (EOP)
The District has plans for all four phases of emergency and disaster management:
1. Prevention – the capabilities needed to avoid, deter, or stop an incident.
2. Preparation – the capabilities needed to: (a) protect students, teachers, staff, visitors,
networks and property against threats or hazards, and (b) mitigate the likelihood of an
incident or to reduce the impact of one.
3. Response – the capabilities needed to stabilize an incident, save lives, establish a safe
and secure environment, and facilitate the transition to recovery.
4. Recovery – the capabilities needed to restore the learning environment.
These phases are covered in each school Emergency Operations Plan. In addition, the
District has a District Director of Facilities and each school has a Safety Team. State law
requires the District to annually review its plans.
Communications to Stakeholders
The District monitors the Homeland Security Office and other emergency preparedness
resources. The District will share emergency information via its website, email, phone
and/or the media.
Emergency Responses
Emergency responses will depend on the circumstances and may include evacuation or
lockdown depending upon the threat and available information. The school and district will
make decisions that are in the best interest of students and staff. For evacuation purposes,
each school has at least one off-campus site. In the event the school is evacuated, the
school will attempt to notify parents as soon as possible at the home and/or emergency
telephone numbers on file. It is important that you maintain updated contact information
with the school. The pick up location and instructions will be provided in the event of an
evacuation, including alternative methods to return your child home.
Cooperation and Assistance Request
During any emergency or potential disaster and for the safety of all students and staff, we
request that you follow the instructions of the school principal and other school/district
personnel. Those instructions will be widely disseminated.
Underage Drinking Information
A child's wellbeing in and out of school is important to the schools and district. One area
of concern for parents/guardians and educators across the country is underage drinking.
Alcohol use can cause destructive behavior that has long-lasting consequences for a child's
health, behavior and school performance regardless of when and where consumption takes
place. It can also lead to increases in risky behavior.
According to national statistics, in cases of alcohol-involved drivers, the rate of fatal
crashes for drivers between 16 and 20 years old is more than twice that for drivers older
than 20. Studies have shown that regular alcohol consumption by minors also corresponds
to increased rates of suicide, sexual assault, high-risk sex, fighting, crime and alcohol
dependence. No one fully understands the lifetime consequences of alcohol consumption
on the developing brain, but studies have shown weakened memory, and worsening of
school performance due to increased truancy and learning impairments.
It is illegal for any person under 21 years of age to acquire, possess, or consume alcoholic
beverages. Board policies prohibit alcohol use by students. Board policies also prohibit
children from (a) alcohol use, possession, distribution, purchase, or sale at school or school
functions, and (b) attending school or school functions under the influence of alcohol. In
addition, there are many state laws that carry heavy penalties for both students and parents
around the use of alcohol.
● State law indicates that any person under the age of 21 who has consumed alcohol
and operated or been in actual physical control of a motor vehicle may be requested
to submit to tests to determine alcohol content. If that person refuses the test or has
an alcohol concentration greater than .00, his or her driver's license will be
suspended for 3 months to one year (625 ILCS 5/11-501.1(c).
● Consumption of alcohol by a minor is a Class C misdemeanor. Minors convicted of
alcohol possession in a public space face up to six months in jail and a $500 fine,
plus court costs and court-ordered evaluations and counseling. If a person under the
age of 21 pleads guilty to, or is found guilty of, consuming alcohol while under the
age of 21, he or she will lose his or her driving privileges for at least 3 months, even
if the person was not driving, and even if he or she gets court supervision (a
non-conviction sentence) (235 ILCS 5/10-1(e) and 625 ILCS 5/6-206(a)(43).
● Conviction for using a fake ID to obtain alcohol is a Class A misdemeanor.
Punishment carries a fine of not less than $500 and requires at least 25 hours of
community service. It may also affect driving privileges. If possible, any
community service must be performed for an alcohol abuse prevention program
(235 ILCS 5/6-16(a)(i) and 625 ILCS 5/6-206(a).
● Any parent/guardian or other adult who furnishes alcohol to a minor, or who allows
his or her residence to be used for the unlawful possession or consumption of
alcohol by minors, may be charged with a Class A misdemeanor punishable by a
fine and/or jail for up to 1 year. Where a violation directly or indirectly results in
great bodily harm or death to any person, the crime is a class 4 felony, punishable
by 1 to 3 years in prison and up to a $25,000 fine (235 ILCS 5/6-16(a-1).
● Any parent/guardian or other adult who provides alcohol (such as at a home party)
may be liable in a civil action for monetary damages totaling up to $100,000. The
action may be sought by someone who suffers personal injury, loss of support, or
property loss through the actions of an intoxicated minor whose intoxication
resulted from a parent/guardian or another adult giving the minor alcohol (235
ILCS 5/6-21).
● Driving while under the influence of alcohol is a Class A misdemeanor punishable
by fine and/or jail for up to one year. By driving a motor vehicle anywhere in
Illinois, a person gives implied consent to a test to determine the alcoholic/drug
content of his/her blood. If a person refuses to submit to the test, his/her license will
automatically be suspended (625 ILCS 5/11-501).
● It is unlawful for any person to transport, carry, possess, or have any alcoholic
liquor within the passenger area of any motor vehicle except in the original
container and with the seal unbroken (625 ILCS 5/11-502).
In conclusion, the District encourages all parents and students to discuss alcohol use and
the consequences in order to prevent underage drinking by our students. Studies have
shown that parents have the most influence on students with relation to not drinking
alcohol. The schools and district are a partner in this effort and supports efforts to prevent
underage drinking. For more information on underage drinking and how to talk to your
child about it, please see the following links:
pubs.niaaa.nih.gov/publications/MakeADiff_HTML/makediff.htm
www.centurycouncil.org/underage-drinking/parents
www.samhsa.gov/underagedrinking/
Disruptive Social Media Apps; Dangers
Staying on top of social media trends is important for parents/guardians. The district wants
you to be aware that the following social media apps have the potential to disrupt the
school environment by becoming a platform for bullying, unlawful behaviors, and other
dangers:
● Hyperlocal social media apps, e.g., YikYak, present safety and security concerns
for students. Hyperlocal apps use GPS on cell phones to target groups in specific
areas.
● Temporary social media apps, e.g., ask.fm, Snapchat, Burn Note, Whisper, and
Secret, often present a false belief of anonymity. Temporary apps allow people to
send messages and images that self-delete after a set window of time.
Students need to understand that their online choices are important. Content never truly
goes away and no one online is anonymous. Law enforcement agencies have the ability to
pinpoint users and content creators, and they do investigate crimes involving the internet
and social media app usage.
The district encourages you to review the resources below and talk with your children. The
district and schools serve as a partner to help children understand how their digital
footprints affect their and others' futures. As you discuss this topic with your child, please
remind him or her how to report his or her concerns:
1. Tell your child to take a screenshot when appropriate or does not include illegal
content such as child pornography or video (when screen shot not possible), of the
content and show you or another trusted adult. Always encourage open
conversations about what is happening online. When age-appropriate, discuss that
possession and forwarding of sexted images violates federal and state child
pornography laws.
2. Use the reporting mechanisms within the social media apps.
3. When a situation begins to disrupt your child's education, report it to your child's
school.
Resources about Social Media Apps and Protecting Your Child Online
www.commonsensemedia.org – this site discusses apps, movies, and more by just typing in
the app you want to learn more about through summary information.
https://www.stopbullying.gov/cyberbullying/digital-awareness-for-parents/index.html – this
site share information about preventing cyberbullying and what to do if your child is a
victim of cyberbulling.
https://www.justice.gov/criminal-ceos/children-internet-safety – this site provides
information about internet safety.
Preventing and Reducing Incidences of Sexting
Many parents are unfamiliar with sexting. It is generally defined as sending, sharing,
viewing, receiving or possessing indecent visual depictions of oneself or another person
using a cell phone. A student will be disciplined for sexting at school.
Discussing sexting and its legal and social consequences with your children may prevent
and reduce incidences of it at school and elsewhere. A recent survey revealed that about 20
percent of teen boys and girls have sent sext messages. It can cause enormous emotional
pain for the students involved and often results in legal implications. The following talking
points from the American Academy of Pediatrics may help start the discussion between
parents and students.
● Introduce the issue as soon as a child is old enough to have a cell phone. Even if the
issue hasn't directly impacted your school building's community, ask "have you
heard of sexting?" "Tell me what you think it is." Learn what your child's
understanding is and add an age appropriate explanation. For more information
about starting age appropriate discussions, see these websites:
https://www.healthychildren.org/English/family-life/Media/Pages/The-New-Proble
m-of-Sexting.aspx
www.education.com/magazine/article/child-sexting-parents
● Make sure students understand that the district's student discipline policy prohibits
sexting at school, and that it is further punishable in Illinois through the Juvenile
Court Act and The Criminal Code of 2012.
● Collect cell phones at gatherings of tweens and teens. Experts have noted that peer
pressure can play a major role in sexting, with attendance at parties being a major
contributing factor.
● Monitor the media for stories about sexting that illustrate the consequences for both
senders and receivers of these images. Ask "Have you seen this story?" "What did
you think about it?" "What would you do if you were this child?"
● Rehearse ways your child can respond if asked to participate in sexting.
CPR and AED Video
State law requires the Illinois High School Association to post a hands-only
cardiopulmonary resuscitation and automated external defibrillators training video on its
website. The law also requires the District to notify staff members and parents/guardians
about the video. You are encouraged to view the video, which will take less than 15
minutes of your time, at:
www.ihsa.org/Resources/SportsMedicine/CPRTraining.aspx.
Targeted School Violence Prevention Program
Student safety is our District's top priority. To maximize safety, the District must have a
process to identify threats and prevent targeted school violence. This process is part of the
Targeted School Violence Prevention Program (Program). The Program is a portion of the
preparedness and response phases of the District's Safety Plan for emergency operations
plans and disaster management.
The District wishes to create a climate that encourages sharing any information about a
safety concern with a trusted adult who can help. Sharing information about threats and
safety concerns is everyone's responsibility: students, parents, staff, and community
members. The question and answer section below is designed to help students, staff and
parents understand when school officials want individuals to share information about a
safety concern with the Building Principal.
What Is a Threat?
A threat expresses intent to harm someone or something. It may be spoken, written, or
expressed in another way. Threats may be direct ("I'm going to beat you up" or "I'm
going to blow this place up!") or indirect ("Come and watch what I am going to do to
him/her."). A threat can be vague ("I'm going to hurt him.") or implied ("You better watch
out."). Any possession of a weapon or mention of one is a possible threat. Sometimes
students make threats that may seem funny or "just kidding," but sometimes a threat is very
serious and/or criminal. When you are in doubt as to whether the statement is kidding or
serious, the responsible thing to do is to tell a trusted adult who can help.
What Is Targeted School Violence?
Targeted School Violence includes school shootings and other school-based attacks where
the school was deliberately selected as the location for the attack and was not simply a
random site of opportunity.
What Is the Connection Between Targeted School Violence and Bullying?
The Il. State Board of Education's School Bullying Prevention Taskforce report identifies
bullying and targeted school violence as "part and parcel of the same issue: interpersonal
aggression." In all its forms, interpersonal aggression negatively impacts students, school
personnel, and communities and should be reported, investigated, and responded to with
appropriate interventions.
What Can Staff and Parents Do?
Educate students about what a threat is, encourage students not to make threats or "just
kidding" statements in the first place, and reiterate that seeking help to prevent someone
from getting hurt or hurting another is appropriate.