September 13, 2018
Share this Story
September News & Events
Please see the Maine East School Calendar for information regarding all activities and events.
October Testing and Parent/Teacher Conference Information
Please open the October Testing and Conference Information flyer for dates and details regarding fall testing and parent/teacher conferences. A mailing with parent/teacher conference information, instructions for registering for conferences, and a calendar of events will be mailed the week of September 17th and will be available on the school website under Parent Communications.
Maine East Fundraisers
This year Maine East Cares, our school-wide charitable fundraising group will be partnering with the School Based Health Center (SBHC) to provide health care to students in all Maine Township High Schools. Help our students raise $15,000 to provide health care to the students in our district at Chipotle on Saturday, September 29th from 5-9 pm and at Portillo's before or after Parent Teacher Conferences on October 9th for 5-8 pm. Just show the cashier the attached flyer and a percentage of your sale will be sent to the SBHC to serve our kids. Thank you for your support!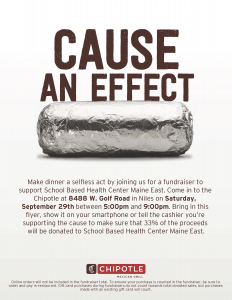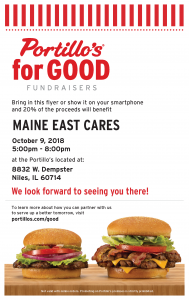 Career Pathways
Algebra 2 and Manufacturing is in it's first year at Maine East! Currently the students are working on print reading and measurement. They have learned about line types and symbols that are used to communicate within a "shop print". Which is typically found in a manufacturing job setting. Students are beginning to learn how to read a ruler an then will move on to dial caliper and eventually a micrometer. On the Math side the class is working with the the Cartesian coordinates system and how it relates to manufactured parts as well as how measurements seen on prints are represented in decimal form. Finally, students are learning the "machinist speak" when it comes to calling out Thousands and Ten Thousands of an inch. Often times the lingo or vocabulary heard on a job site is different from the words used in a classroom.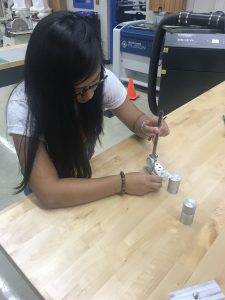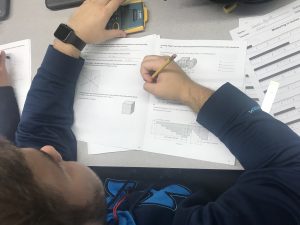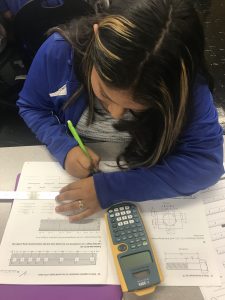 (Students pictured are: Luann Bonilla, Daniel Zywek, Giselle Garcia)
Welcome to Krysti – Maine East's New Therapy Dog
As many of you may be aware, our school district has opened the doors to having the presence of therapy dogs to help serve our community. Sadly, Cris Villalobos and Luke have moved to Maine South. In response to this change, student services will be hosting a new Therapy Dog, named Krysti.
Krysti, a four-year old white shepherd, with a gentle disposition and trained as a Therapy Dog. She will be primarily be handled with one handler, counselor Amy Allen, to ensure her presence and interaction with others is always appropriate and helpful.
Students who have sensitivity to dog allergies should notify Amy Allen or Michael Wartick so they can plan accordingly to your needs.

R-Code Car Wash
On September 7th, R-Code Student Leaders sponsored a fund-raising car wash. Donations from the car wash will help to support the Maine Township School Based Health Center, and future R-Code incentives for Maine East students. Thanks to all family, friends and community members who stopped by! The event was a great success!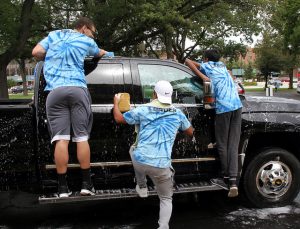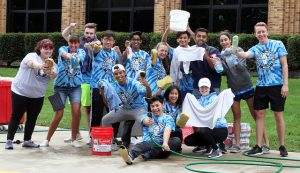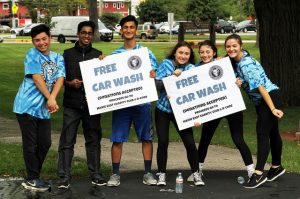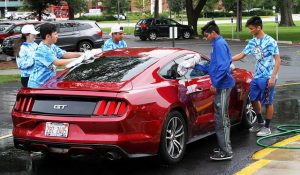 A very special thank you to the following R-Code student leaders for organizing and participating in this event: Victoria Alba, Christian Andrews-Stewart, Jayti Arora, Afroditi Baltsas, Gisselle Garcia, Alana Harris-Tucker, Sam Hwang, Angela Ilic, Eleni Kontoravdis, Chrisavgi Kotsifas, Roshni Lotwala, Nick Maczuga, Divya Mani, Jordan Oslowski, Manav Patel, Neelesh Patel, Prapti Patel, Yash Patel, Joelle Rihani, Abigail Roman, Kunj Shah, Parth Shah, Richa Shah, Angela Skoufos, Aneta Stasiek, Emily Swoboda, Oliver Taluker, and Danny Tenezaca.
If you would like more information about our R-Code program, or would like to be a community sponsor, please contact Sue Clifford at [email protected]
Homecoming 2018
Homecoming 2018 can be "Out of this World" with your participation. Please plan on participating in the Spirit Days Events: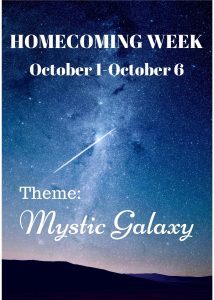 Monday – Pajama Days (wear your favorite pajamas)
Tuesday – Class Color Day (Freshman/Red, Sophomores/Purple, Juniors/Green, Seniors/Black, Staff/White)
Wednesday – Wacky Wednesday (dress in wacky mismatched attire)
Thursday – Mystic Galaxy Days (Star Wars, Star Trek, Guardians of the Galaxy and the list goes on…)
Friday – Spirit Day (dress in Maine East spirit wear), Assembly (weather permitting-outside), and football game
Saturday – Homecoming Dance