November 7, 2018
Share this Story
November News & Events
District 207's Best for Community Service
District 207's Best is a student-recognition program instituted by the District 207 Board of Education. Each month one senior at Maine East, Maine South, and Maine West is recognized in a given area by the Board of Education at its regular meeting. At the November board meeting we recognized senior Nicole L. in the area of Community Service.
The opportunities that Nicole has decided to focus on at Maine East have been centered on community service. The aspect of her work that sets her apart from others is the breadth and depth of her community service accomplishments. As a result of her dedication and plethora of contributions, she has risen to leadership positions in multiple, highly respected Maine East student organizations. Since her freshman year, Nicole has been involved and has made major contributions to almost every major community service initiative at Maine East. Those of us who are familiar with Nicole's work have little doubt that she will be successful in college and ultimately in whatever career she decides to pursue. On behalf of Maine East, we are happy to celebrate her service and dedication by naming her "207's Best"!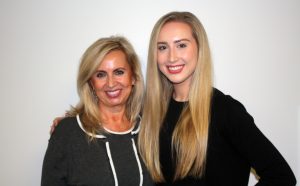 On Thursday, October 25, Maine East hosted a number of distinguished guest presenters who worked with students throughout the day; please see detailed information and photos below.
Social Science Alumni Event
On Thursday, Oct. 25 four Maine East Alums returned to the school to talk about their public service careers to senior Civics and Government, AP Government, AP Economics and Economics students. Melissa Bean (Class of 1979) spoke of her three terms in Congress where she was proud of working with both Democrats and Republicans to craft legislation on issues like equal pay for women. David Hiller (Class of 1971) spoke of his work clerking for Supreme Court Justice Potter Stewart, his long career at the Chicago Tribune, and his current position leading the McCormick Foundation, which promotes civics education. He supported students being critical thinkers about their sources of news and information, especially from social media. Agostino Filippone (Class of 2003) spoke of his legal career focused on immigrant rights and advocated for students to get involved in local issues with patience and commitment. Finally, Keith Sokolowski (Class of 2014) spoke of his efforts to advocate for a skate park in Niles as an East student which led to his work on political campaigns. All speakers encouraged students to register to vote, learn about the issues that matter to them and which candidates are supportive of the position they want on those issues.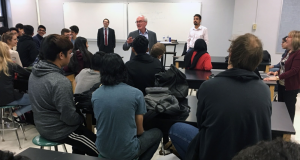 Media Career Day
Broadcasting students from all three schools came together in the Maine East Auditorium Thursday for Media Career Day. The event featured media industry professionals, most of whom are Maine alumni. There were two panel sessions – morning and afternoon – with four different guests on each discussing their career path and the future of the media industry. Students prepared questions in advance which faculty from each building posed to the presenters, followed by a more free-form Q&A and chances for students to meet one on one with the presenters.
Session 1 Agenda (9am to 11am):
Gary Novak – Department Chair for School of Cinematic Arts – DePaul University (Maine South alum)
Alexander Pissios – President and founder of CineSpace Film Studios, Chicago (Maine East alum)
Adam Delevitt – Programming Director – ESPN Radio 1000 WMVP Chicago (Maine East alum)
Jenny Lizak – Special Events Coordinator, Chicago Public Library/Announcer at CHIRP Radio 107.1fm
Session 2 Agenda (1pm to 3pm):
Roz Varon – Traffic/Transportation Anchor – ABC7 Chicago (Maine East alum)
Eric Ferguson – Radio Announcer/Host for "Eric in the Morning with Melissa and Whip," on 101.9 the Mix (Maine East alum)
Rhyan Lamarr – Screenwriter, producer and film director. Founder of Red Guerilla Productions (Maine East alum)
Andy Masur – Radio Announcer and host of Chicago White Sox Pre and Post-Game Show on WGN Radio 720 AM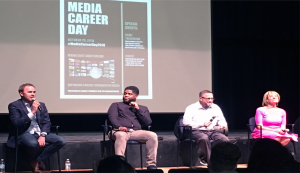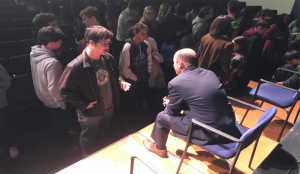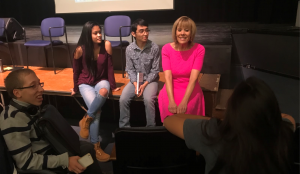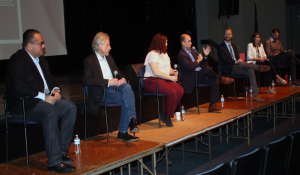 Marine Band Musicians
At the start of the day on October 25th, we welcomed 8 members of the "President's Own" United States Marine Band to Maine East. The band is on it's annual fall tour, this year in the Midwest and performed Wednesday night at Symphony Center in Chicago. They performed and discussed their careers with our band members.

Marine Clarinet Trio led by SSgt. Alex Bullard, Marine Jazz Quartet led by MSgt. Dan Orban and a Percussion clinic led by SSgt. David Constantine.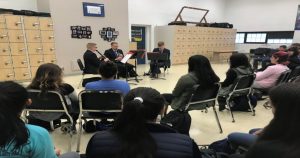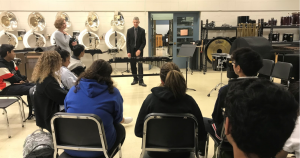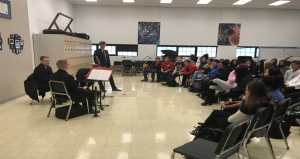 World Languages Peer Learning Assistants Program is OPEN!
Here at Maine East, we are fortunate to have students that are willing to give their time to assist in, and further, the learning of their peers. For two years now, upper-level students in French, German, Italian and Spanish have offered to be Peer Learning Assistants in our program. These students provide tutoring on a drop-in basis during various periods during the week. Whatever the need is… help studying for a test, reviewing vocabulary, help with homework, or just some practice… our Peer Learning Assistants are ready to assist! The program has a great location in the LRC-you can't miss them-students are at the round table just inside the library by the reference desk! Grazie to all our tutors!!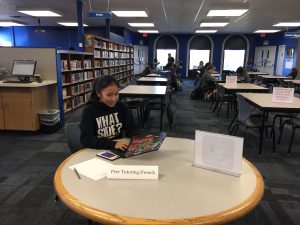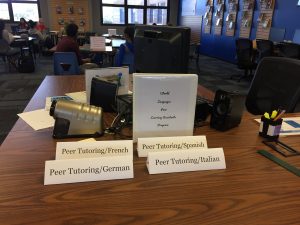 Italian 4 Accelerated student is published!
When Paul Basile, Editor-in-Chief of the Italian-American magazine, "Fra Noi", contacted Italian teacher Mrs. Campisciano Ungaro about a student contribution, she knew exactly who would be ready for this undertaking! Christian A. submitted a piece on a staple activity in the Italian 2-3-4 classroom, student-led class discussions! In his article, he explains why these discussions are so important to him and the purpose they serve in our classroom. So proud of you, Christian! Congratulazioni!
Here is a link to Christian's article!!
-Mrs. Campisciano Ungaro, Italian and Spanish Instructor and Departmental Instructional Coach, Maine East High School