December 20, 2018
Share this Story
News and Events – December 19 Post
District 207's Best – Fine Arts
As a fine arts educator for many years of my career, I have often said that in-depth involvement in fine arts is a lifestyle: a way of looking at – and interacting with – the world. Josh P. has clearly demonstrated that the fine arts lifestyle resonates with who he is as a human being. He is a thoughtful, reflective artist who is generous in sharing his time and talents, all seemingly without much of an ego – a rare and admirable quality in a gifted artist/performer. Josh has clearly made an impact on the teachers and his peers at Maine East – on behalf of the faculty and staff of Maine East High School, I am pleased to recognize Josh P. as one of District 207's Best!

German Club
Maine East students enjoyed going to the German Christmas market in Chicago, "Christkindlmarkt." This field trip ties in with the many aspects and elements of the German culture that are covered in class, such as the diverse traditions and goods that are celebrated and produced throughout Germany; no German state or region is the same, but rather unique. Students enjoyed diverse German food, sweets, handcrafts, took pictures with Krampus, a German mythical creature that comes after naughty kids, as well as some shopping for goods brought straight from Germany. It was great for the Maine East students to see so many of these cultural elements they have studied, live!

Preschool Happenings
On November 2nd, the preschool students hosted a Community Helpers Day. Park Ridge policemen and firemen visited the students to discuss safety, as well as their role in the community.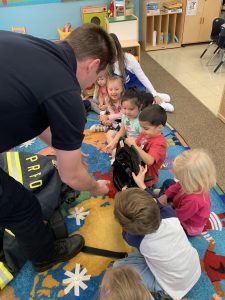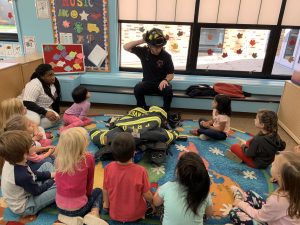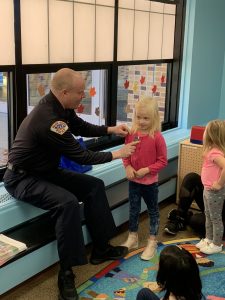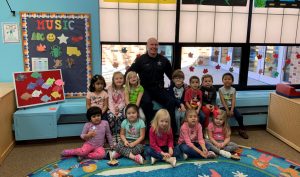 …and the cuteness overload continues at the preschool Family Holiday Party on December 13th. The students enjoyed some holiday treats, crafts, music and a visit from Santa!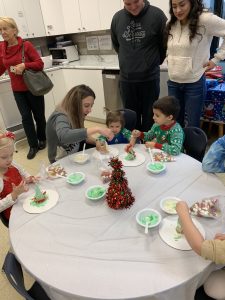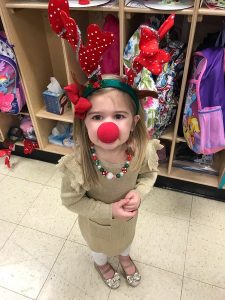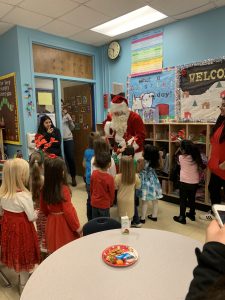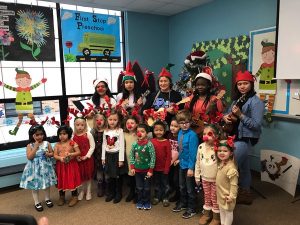 The Maine East Spirit of Giving
Maine East Kids Closet
At the start of November the Maine East's Kids Closet sponsored the Free Footwear Frenzy. This event offered an opportunity for students to choose free shoes from the several hundred pair put on display. Both men's and women's shoes were available in all sizes, including athletic shoes, dress shoes, casual shoes, and boots. The free footwear was a combined donation effort by Maine East staff, community residents, and the Park Ridge Community Church. All students were invited to participate and for those that did, there were nearly 100 pair of shoes that were given away. A special thanks to the PE Junior Leader program that volunteered hours to assist with both the organizing of shoes as well as helping to host the event. If you missed the opportunity for new shoes at the Free Footwear Frenzy, be sure to visit the Kids Closet on Monday's after school from 3:30-4:30 pm. Shoes will still be available in addition to free clothes, coats, backpacks, and more.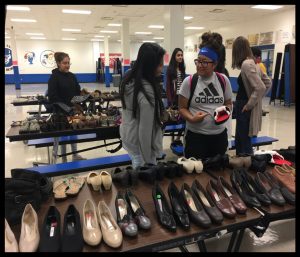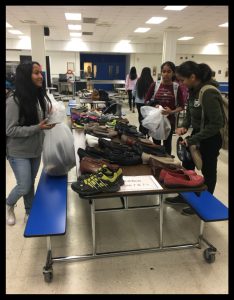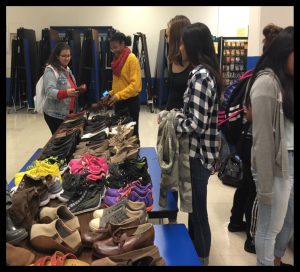 Rotary Interact WGN Toy Drive
Maine East High School Rotary Interact and its 200 members were so excited to be part of the WGN Toy Drive for the sixth year in a row! Our members fundraising efforts along with support of Target, the Park Ridge Rotary , and Maine East's CTE Department, allowed us to purchase over $10,000 worth of toys for the less fortunate children served by the WGN Toy Drive and the Chicago Park District. Our students applied the concepts of financial literacy and professionalism learned in the classroom, with the meaning of giving back to the community to make this event a huge success!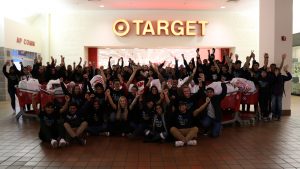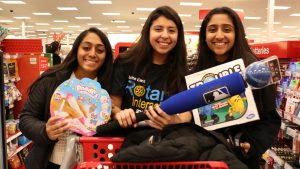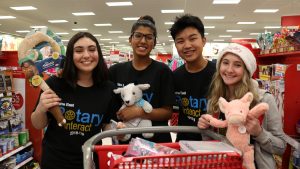 Maine East Cares
In an effort to teach our students about community, charity, and gratitude, Maine East High School has started ME CARES, (Charitable Action Recognizing and Empowering Support) a club dedicated to researching, publicizing, and supporting an annual charitable cause as a school. This year we have been chosen to partner with the Maine Township School Based Health Center (SBHC). Working with Advocate Lutheran General Hospital in Park Ridge, the SBHC offers comprehensive health care to the students of all Maine Township High Schools.
Once again, ME Cares sponsored a silent auction in which Maine East students, staff, and community members and businesses donated items such as a wooden reindeer, student-created artwork, art donated by our own local artists, a variety of knit works, gift certificates, a prom package, Maine East gear, and primo parking in the Principal's spot. Although they were a little shy of their $3,000.00 goal, they raised an impressive $2930.60 for the SBHC!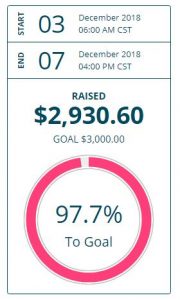 Alumni Spotlight
Maine East Alumni Barbara Skrzypek (Class of 2013) graduated from Loyola University with a BS in physics, and is currently in her first year of grad school at Harvard studying high-energy physics. While at Loyola, Barbara earned a coveted internship at the CERN laboratory in Geneva, Switzerland. She recently reached out to her former AP Physics teacher, David Schultz, to share some exciting news regarding her innovative research in theoretical physics. Please see the following document for Barbara's summary of the publication, as well as a link to her article. You can also read about her internship experience in a featured article about Loyola Alumni.