March 9, 2020
Share this Story
March 2020 Post
District 207's Best for March – Career Exploration
On behalf of the faculty and staff of Maine East High School, I am pleased to name Brianna Risby as "District 207's Best" in recognition of her journey in Career Exploration.
Over the past four years, Brianna – or Bri as her teachers and friends call her – has taken Child Development & Parenting, Anatomy & Physiology, School Age Child, Medical Terminology, Personality & Relationships, Certified Nursing Assistant Program, and Preschool Practicum in addition to her work in core academic areas and two years of choir. She came to Maine East before her freshman year with a dream to work as a neonatal nurse and stayed true in her work toward that goal, until she discovered a slightly divergent path this past year. I had the opportunity to observe Brianna a few days ago as a member of a student panel at Maine East that met and presented for State Superintendent of Education, Dr. Carmen Ayala; I saw and heard how animated and passionate she is about her plans to attend school next year on her journey to become a teacher. When you have a chance to talk with Bri, you'll find that she is a personable, warm, funny, thoughtful young woman with a quick smile and approachable manner. One only needs to mention her name to elicit a big smile from the teachers and students who work closely with her!
We are proud of Bri's growth and achievement over her four years at Maine East and wish her great success in the future – she is one of District 207's Best!
Video Tour of the Improvements at Maine East
The improvements approved by the community at Maine East High School will start during spring break. The referendum funds, approved in the fall of 2018, will mean improved learning conditions for students. In this video (el video en español está debajo de la versión en inglés), Principal Dr. Michael Pressler provides an inside look at the plans for the next three years of construction.
Important News from the CCRC
There is a new college fair coming to our area and it is HUGE! Over 300 colleges and universities from all over the country will be coming to the Donald E. Stephens Convention Center in Rosemont on Saturday, March 14, 2020. The fair is free for anyone to attend. Click here to see colleges that will be attending.
This fair will be a great chance to help students and families start the college search process. You'll have the chance to learn about a wide variety of college options, both near and far. It is also very useful for students to meet the admission counselors at specific colleges because that admission counselor attending the fair is often the same one that will be reviewing applications and ultimately accepting or denying the student.
For more information please click the following link: https://www.iacac.org/ncf

FCCLA Sectionals
On Friday February 21st, 30 of our students competed in FCCLA (Family, Career, and Community Leaders of America) sectional competition at Harper College. Students competed in various Culinary, Fashion, and ChildCare events, and many qualified for the state level competition which will be held in April. Congratulations to Haya B. who received a perfect score and a Most Outstanding nomination on her prom dress entry, Keiko M. for receiving a perfect score on her Children's Literature presentation, and the team of Viviana M. and Yazmin M. who received a Most Outstanding nomination for their Children's Literature presentation.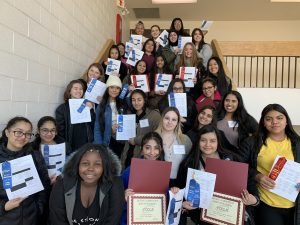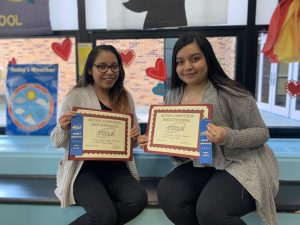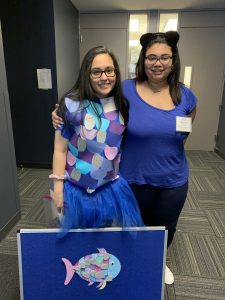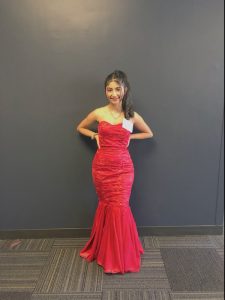 Debate Team
Maine East Debate students Nicole & Isabella Piekut have been awarded the National Speech & Debate Association's Academic All American Award. From more than 141,000 members of the National Speech & Debate Association, fewer than 1% of students earn the Academic All American award every year. This is a tremendous accomplishment! Congratulations Nicole & Isabella!
Preschool Happenings
The preschool children welcomed a visit from Krysti (Maine East's therapy dog) and Ms. Allen (her owner) where the children learned the difference between service dogs and therapy dogs, along with how to safely approach an animal before you ask to pet it. The children all took turns asking if they could pet Krysti and she kindly received their requests, and even snuck in a few kisses (licks on their hand).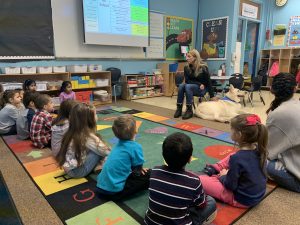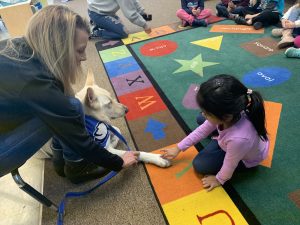 Cherry Pie Festival
Maine Historical Society held its annual Cherry Pie Festival on Friday, February 21, 2020. Two hundred students and faculty members attended the festival and enjoyed a slice of freshly baked cherry pie and vanilla ice cream. It is a tradition that started during the Great Depression in efforts to help Maine Township families in need. The focus of this year's presentation by Mr. Keith Sokolowski was to encourage civic participation and action among Maine East students.
Mr. Sokolowski began organizing in the community when he was 14 years old and he hasn't stopped since. He and his friends advocated for a new skate park in Niles, while Mr. Sokolowski was a student at Maine East, and they were successful. His experience since then has included working, successfully, on campaigns for state and local offices, addressing problems in the community, and holding a position in local government. His concerns have ranged from impact of the opioid crisis in Des Plaines to getting answers for families whose homes have been repeatedly flooded. A 2014 graduate of Maine East, and currently a political consultant, he hopes to continue his work on mental health and adoption rights issues.
Mr. Sokolowski's message to students was: "Your voice matters and therefore, make it count!" By all accounts, it was well received as many students inquired from Mr. Sokolowski about getting involved in the Illinois Primary on March 17 and in the General Election on November 3.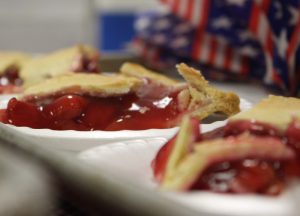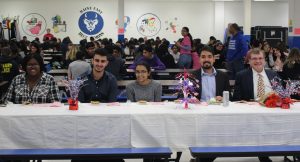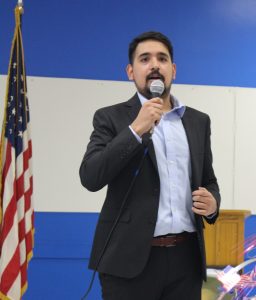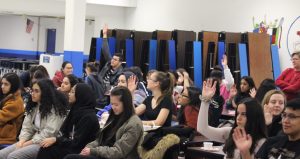 World Languages
The National German Exam is administered each year to nearly 25,000 high school students of German. The exam, now in its 60th year, provides individual diagnostic feedback, rewards students through an extensive regional and national prize program, and creates a sense of accomplishment. This year, Aulona Lamaj took the level 3 German exam, receiving the High Achievement award, and Joaquin Soriano took the level 2 German exam, receiving the High Achievement award. Additionally, Daniel Pietrzak took the level 2 German exam, and based on his high score, he received the bronze award – which means he scored above the 70 percentile out of all the exam participants in the Northern Illinois AATG (American Association of Teachers of German) chapter. Congratulations to these year 2 and 3 German students here at Maine East!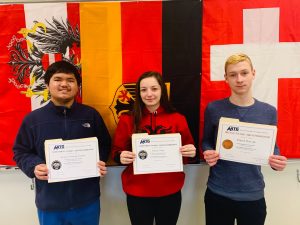 Math Team
The Maine East Math Team participated in the North Suburban Math League Conference Meet at Glenbrook South High School on Thursday, March 5th, and they came away with some pretty impressive wins. The Freshman Team took first place, the Sophomore Team took 2nd place, and Hadi Rihawi took first place as Oralist. The Math Team took 2nd place overall and also won a Most Improved award. Additionally, both the Freshman Team and Hadi qualified for State Finals at the University of Illinois in May at the Regional Contest for ICTM (Illinois Council of Teachers of Mathematics)! Congratulations!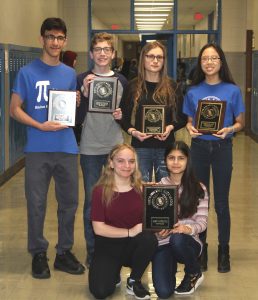 Pictured (left to right) Hadi Rihawi and Freshman Team members: Noah Trivedi, Natalia Barna, Sarah Phan, Talia Lasky and Krisna Vasnani.