March 19, 2019
Share this Story
March 19 Post
District 207's Best for March – Elective Area of Achievement
On behalf of the faculty and staff of Maine East High School, we are pleased to name Suzan G. as "District 207's Best" in recognition of Elective Area of Achievement. In terms of both academics and leadership, Suzan is a model student. She works hard every day, and she is, according to her teachers and coaches, her own biggest critic. She approaches projects with enthusiasm and a high level of critical thinking and inquiry, and she never settles for "good enough." Suzan leads by example in class and on the playing field, and she enthusiastically takes on additional responsibilities. She truly exemplifies Maine East's R Code in the way she is consistently Respectful of self and others, Responsible for her actions, and Ready for whatever opportunity comes her way. She is truly one of "District 207's Best" and we are a better school for her investment of time, talent, and energy over these past four years.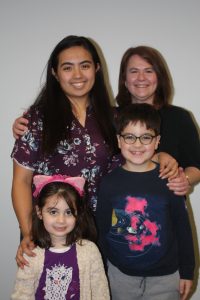 Golden Apple Award
On Monday, March 18, 2019, Maine East Science and Gifted Lyceum teacher, Judy Tyler, was named as one of the 2019 Golden Apple Award winners for Excellence in Teaching during a surprise ceremony. The Golden Apple Awards for Excellence in Teaching recognize and honor outstanding teachers for their role in building a stronger, better-educated society. The 2019 award recipients were selected from a record pool of more than 555 nominations and represent high school teachers from throughout Illinois.
When asked about her student-focused teaching philosophy, Mrs. Tyler replied, "If you don't get to know your students on the deepest possible level, you won't know what holds them back. Getting to know them, really knowing each one, allows you to help them move past just being really good-to help them push to be great."
As part of her Golden Apple Award, Mrs. Tyler will receive a tuition-free spring quarter sabbatical to study at Northwestern University and a $5,000 cash award. Award recipients become Fellows of the Golden Apple Academy of Educators, giving them a stronger voice and a larger stage from which to make a difference in education. All recipients will be featured this spring on a WTTW one-hour TV program and live-stream marketed to local school communities.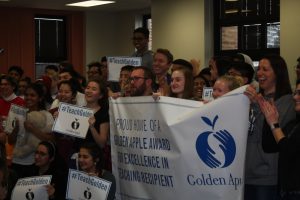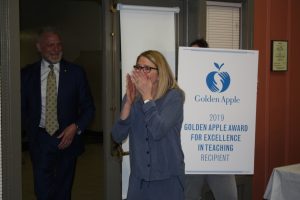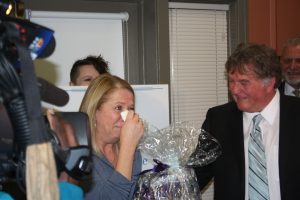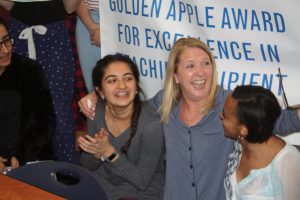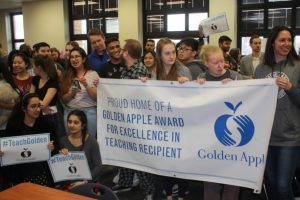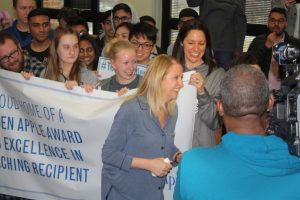 World Languages
On February 11th, Mr. Lewis of the World Languages Department spoke to Ms. Cipolletta's two World Cultures classes about a Fulbright trip he recently participated in to South America. He spent five weeks in Bolivia and Peru in the summer of 2015 studying the indigenous cultures of the area. Part of the presentation included typical clothing from the Andes. He also spoke about traditional foods and music from the area.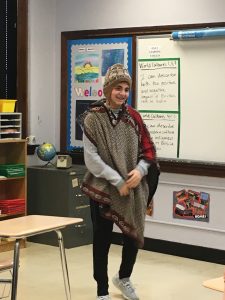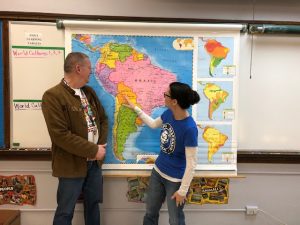 Preschool
Mrs. Bruzan and the Ukulele Club visited the preschool students and staff recently and performed some Valentine's Day songs for them. The preschool students had a lot of fun singing and dancing, and really enjoyed the visit!