January 21, 2020
Share this Story
January 2020 Post
District 207's Best for January – Academic Achievement
On behalf of the faculty and staff of Maine East High School, I am pleased to name Anami P as one of "District 207's Best" for her outstanding academic achievement.
Consistently a strong student during her three-and-a-half years at East, Anami has one of the highest GPAs in the class. She has consistently taken a challenging course load during her time at Maine East. Currently, she is enrolled in AP English Literature and Composition, AP Macro/Micro Economics, AP Biology, AP Spanish Language, AP Psychology, and she is a Senior PE Leader. Prior course enrollments include AP Computer Science A, AP Physics 1, AP Statistics, AP U.S. History, AP English Language and Composition, AP Calculus BC, and AP European History in addition to multiple accelerated courses. Anami is also an active member of the Gifted Lyceum Program and earned distinction as a National Merit Commended Scholar. Other achievements include being designated an AP Scholar with Distinction, a National Spanish Exam Silver Medalist, earning high honors in multiple science and social science classes, and being named a Student of the Month eight times by various teachers.
Anami belongs to Mu Alpha Theta Math Honor Society, National Honor Society, Spanish National Honor Society, ME Cares (Charity Club), Rotary Interact, Maine Historical Society, and she is a Tech Genius. She is also a three-year member of East's Student Council and a four-year member of Class Council. As vice-president for the school's NOVUS Club for the past three years, Anami mentored members, planned and executed operations, and won awards for her team two years running. The first year, she helped her team win first place $300 seed investment prize.
By all accounts, Anami is hard-working, dedicated, highly intelligent, and socially aware. There seems to be strong consensus among those who know her well that, whatever her life's path ends up being, she is sure to be leading for the betterment of others. On behalf of the faculty and staff at East, we wish Anami all the best in her future endeavors – truly, she is one of 207's Best!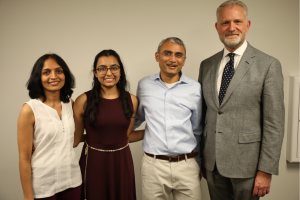 Summer School
The summer program at Maine Township High School District 207 offers students opportunities to gain academic credit, receive enrichment or remediation and explore new interests. Summer school will be offered at all three schools this summer.
Summer School Dates are:
Session 1: June 15 – July 2
Session 2: July 6 – July 23
Please use this Summer School Offerings link for complete course listings and more detailed information about summer school.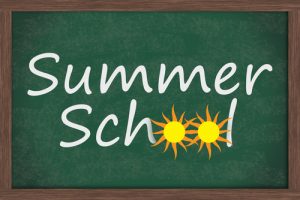 Preschool Students take a trip to the Library
Maine East Librarian, Colleen Cochran, recently invited the preschool children to come and tour the Maine East library. The children listened to Ms. Cochran read winter stories, and then participated in a snowflake book extension activity provided. Preschool teacher, Michelle Meyer, said "It was great to change things up a bit, but to also show the student teachers and the preschool children another side to our library. The books the children checked out are being used for the student teachers to create their own book extension activities for the preschool children to take home next month."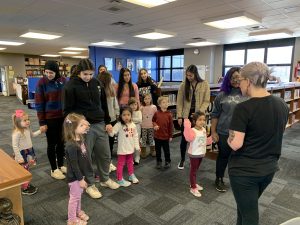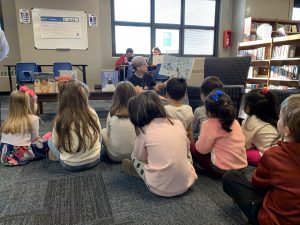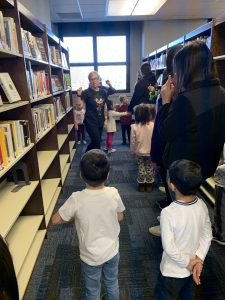 New Attendance/Tardy Procedures
During this past fall semester, we saw a dramatic increase in the number of unexcused absences and tardies by students that had a negative impact on student achievement. Research overwhelmingly shows that when students miss all or part of class, grades decrease, failures increase, and behavior issues start to rise. Accordingly, we will be instituting some changes in attendance procedures for the spring semester. Please read the following Attendance Letter to Parents which outlines the changes to the procedures, as well as other important information.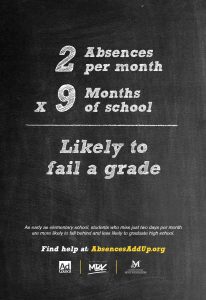 Maine East Musical
"A fabulously fun award-winning musical based on the adored movie, Legally Blonde The Musical, follows the transformation of Elle Woods as she tackles stereotypes and scandal in pursuit of her dreams. Action-packed and exploding with memorable songs and dynamic dances – this musical is so much fun, it should be illegal!"
February 21-22 7:30 PM – 9:30 PM
February 28-29 7:30 PM – 9:30 PM
Our Online ticket site goes live on Wednesday, January 15th! – maineeast.seatyourself.biz. Please access it for your ticket purchases and share with family and friends via email and social media.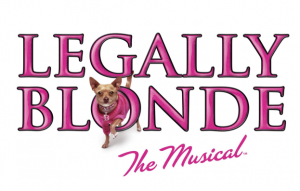 Physical Education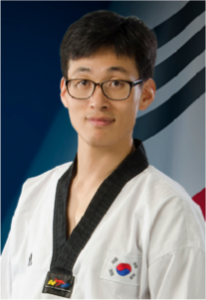 Seyun Jeong – 6th Degree Black Belt Founder and Chief Master Instructor at Max Martial Arts in Niles and Lisle.
Master Jeong brought his talents to Maine East working with the Junior Leader Program to highlight Taekwondo self-defense. January 14, 2020 marked his third annual retreat that led students through a practice of discipline, focus and perseverance. Training included a system of blocks, kicks, punches, open-handed strikes, various take-downs or sweeps, throws, and joint locks.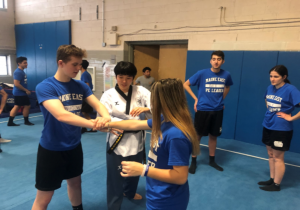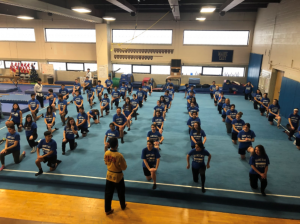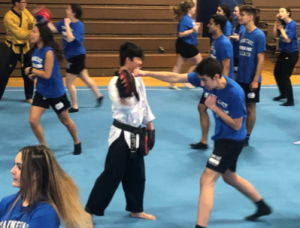 Athletics
Congratulations to Freshman Diver Sean Urban- who took 1st place in the meet vs Niles North!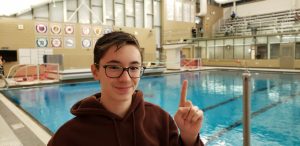 Congratulations to our Wrestlers who swept Maine West on all levels last Thursday. The freshman finished 5-0 in conference! The girls also defeated Morton in their dual. Over the weekend the freshman team also finished 2nd (by 1 point!) at the Freshman Invite at Hoffman Estates. Meanwhile, in their division, the girls had three champs and two runner ups.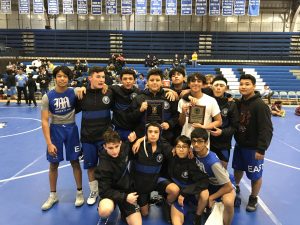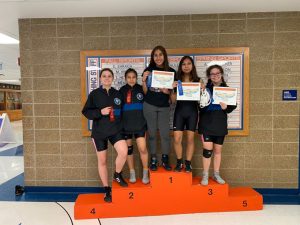 Congratulations to our Gymnastics Team on placing 3rd (out of 13 teams) at the NIles North "Winter Wonderland" Meet. Two of the teams they defeated were Maine West and Maine South!