February 14, 2020
Share this Story
February 2020 Post
District 207's Best for February – Technology Leader/Innovator
On behalf of the faculty and staff of Maine East High School, I am pleased to name Zarak T. as "District 207's Best" for his achievement as a Technology Leader/Innovator in our school.
Zarak is a passionate student and learns through exploration. He started his freshman year taking an engineering class and computer programming. He quickly engaged himself in learning the basics and found his niche with robotics and programming. Zarak has continued his quest to learn and apply his knowledge gaining skill by testing and validating a wide range of technologies as well as researching technology solutions. CTE teacher Wil Greenwald, says that Zarak has been a leader in his classroom and outside since he was a freshman: "In all my classes he has been willing to take on any issue and work to find a solution that works for all his classmates. Every year during his free time he comes to me and asks how he can help. He has helped us develop projects for Augmented Reality (AR), Virtual Reality (VR), Robotics, and our Cyber/Linux classes. He is truly an educational asset inside and outside of our classes." Zarak worked with Mr. Greenwald to learn Unity, a program used to create Virtual Reality games, with open source tutorials. With Zarak's help teachers were able to modify the instructions for other students to follow and better align them to the standards covered in the class. Zarak has also helped test AR and VR programs for other courses outside of CTE.
Zarak is a quiet, unassuming student that comes in each day with his headphones on and a smile, but if you walk into his Engineering Capstone class you see he's created a workshop with a hand-drawn image of a robot on one wall and equations on another wall. Robotics equipment is spread generously over the table and Zarak is in the middle debating, cheering, coaching, and laughing as he works to create a solution to a problem using technology. Zarak's eagerness to absorb and learn new knowledge as well as his critical thinking to solve problems using technology allows him to be a leader through his innovative spirit. Congratulations on this well deserved recognition – we are honored to recognize Zarak as 207's Best!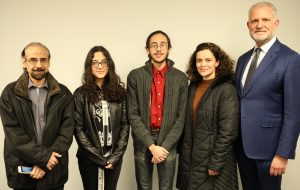 Preschool and Fashion
Students from Mrs. Ristow's Advanced Fashion course interviewed and measured the preschool children to begin work on their Client Fashion Design Project. When the projects are done next month, the preschool children will get to take home and wear their very own tailored outfit designed with their preferences in mind.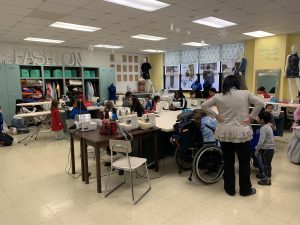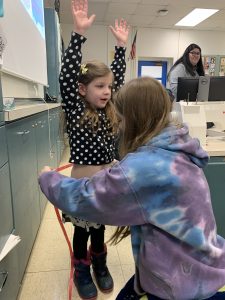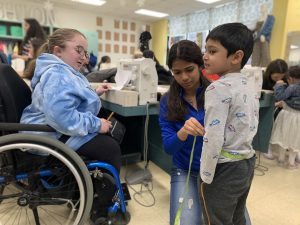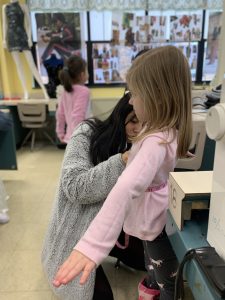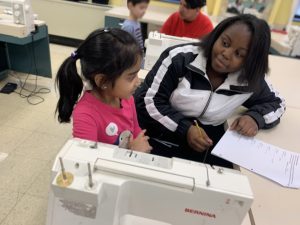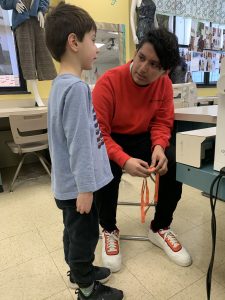 Scholastic Bowl
Congratulations to the Maine East Scholastic Bowl Team! Maine East took first place out of a field of 14 teams at the Winnebago Tournament. The team finished undefeated with a record of 9-0. Kelly T. had an outstanding performance, and was named the tournament MVP. Kelly was also the top scorer, earning the #1 ranking out of a field of 83 competitors. Kevin J. and Krishi R. also had very strong performances. Kevin finished 16th and Krishi was 20th.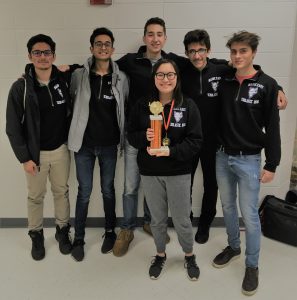 Athletics
CONGRATULATIONS to the following Maine East Gymnasts on their successes at the CSL Meet last week:
Caitlin Urban- 6th place on Floor Exercise
Afroditi Baltsas- All Around Champion (3rd Year in a Row!), 1st Place on Uneven Bars and Balance Beam, 3rd Place on Vault and Floor Exercise