December 9, 2019
Share this Story
December 2019 Post
District 207's Best for December – Elective Area of Achievement
On behalf of the faculty and staff of Maine East High School, I am pleased to name Nicole L. as "District 207's Best" in recognition of Elective Area of Achievement, specifically in World Languages. Nicole is truly one of "District 207's Best" and we are a better school for her investment of time, talent, and energy over these past four years.
While all of her accomplishments are laudable, it is specifically for her achievement in French Language and Culture that we are recognizing Nicole for. Her French teacher for the past four years, Bernie Lewis, shared the following insights:
Nicole Lobont has done phenomenal work in French, and she is definitely worthy of this recognition. Besides doing superior work in all the French classes she has taken here at East, she was my TA for two years and she has been a French Club officer for two years. She even did a summer of intensive French study at Middlebury College in Vermont and, as a result of her hard work at Middlebury, she was able to skip a year of French at East (passing from French 3 Accelerated to French 4 Accelerated at the start of her junior year). Nicole is a very motivated student, consistently participating in class by offering her ideas and opinions where appropriate concerning the topics we discuss. She always completes her assignments, viewing them as challenges; whenever she does not understand a concept, she asks for assistance. In short, she is capable of accomplishing nearly any task set before her.
Special Education
The Maine East High School Special Olympics Basketball team had their first tournament on November 26, 2019. The athletes competed in 5 games at Hersey High School. The team had a huge crowd at Hersey HS to cheer them on! Our next game was on Tuesday, December 3, 2019 at Hawthorn Middle North in Vernon Hills at 4:30pm, playing the Vernon Hills Special Olympics Basketball team. Thank you to all of the staff and students who came to Hersey High School to show your support!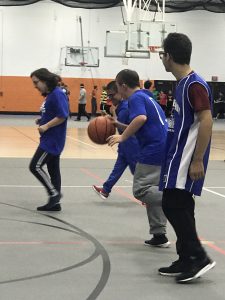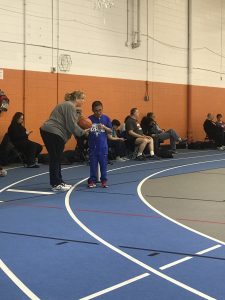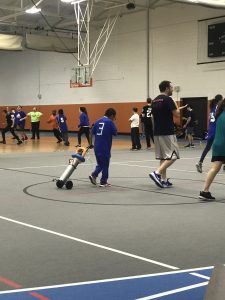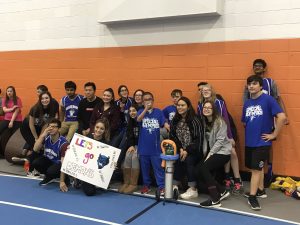 News from the LRC
The LRC is happy to present Learning Express PrepSTEP for our Maine East community. This program will help the students to be better prepared for their futures. Students can score higher on exams like the AP exams, ACT/SAT, search for colleges, explore careers or service in the military, prepare for admissions tests, and more with PrepSTEP for High Schools. The practice tests, tutorials, e-books and other tools are all online, so students can fit them into their schedule, 24/7. Students can also be able to print out materials too. Be better prepared for FREE. Stop by the LRC to learn more!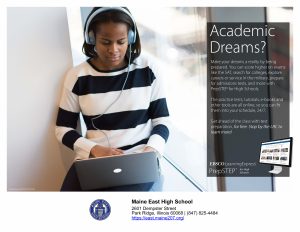 Social Science
Four Maine East Civics and Government teachers, Gary Zielinski, Snjezana Salamon, Jennifer Conlon, and Teresa Cipolletta (pictured below L-R), presented at the National Conference for Social Studies (NCSS) in Austin Texas on November 23rd. They presented Mission Possible: Getting from Real News to Real Action; which takes their work on News Literacy and builds on it providing three activities for civic engagement. The team began working on a 5 day sequence of instruction on news literacy several years ago in conjunction with the Center for News Literacy out of Stony Brook University in New York. Last year, they shared that sequence including slide decks, daily worksheets, and assessments in a presentation at the annual NCSS conference in Chicago. This year, they returned reprising that instruction and sharing materials, but adding an important component, linking research to informed civic action. The team provided three examples, complete with supporting materials — writing letters to a public official (including differentiated examples) on researched topics, using surveys to collect and analyze data, and making slide decks to inform middle school students about the reliability (or not) of social media.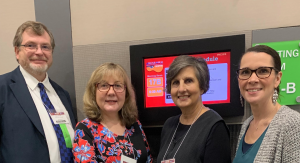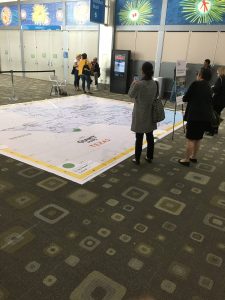 Fine Arts
Please see the following article by Brett Clark, Director of Communications, about the Maine East students who participate in an Art Therapy Internship program in conjunction with Lutheran General Hospital.
Maine East Student Participate in Art Therapy
Several Maine East students participated in an internship this semester through a partnership with Advocate Lutheran General Hospital's Expressions program that assists individuals diagnosed with early stage memory loss.
Students interested in careers in art participated in the internship where they focused on different aspects of memory enhancement and socialization with patients. The program provides a safe, positive, strength-based environment that encourages participants to develop skills and engage in cognitive and physical fitness through the creative arts. The program is in its third year and a new group of interns will participate in the program during the spring semester.
Art therapy is an integrative mental health profession in which a licensed art therapist uses the creative process to assist individuals and groups in processing feelings and emotions, building self-esteem, and encouraging self-expression. The process of art making is more important than the final art piece though occasionally exhibition is embraced, sometimes as a way for individuals to share their stories. All aspects of art making (choosing a directive, the process of accomplishing the task, the end product and what is done with the final piece) are intentional. Art therapy is also used to strengthen support networks and build community.
When working with adults with memory loss, the stage of memory loss will dictate the goals of the therapy. For people who are in earlier stages of memory loss, art therapy is used to assist participants to refine their motor skills, socialize with others, process their diagnosis, challenge their minds, and offer support and skills as symptoms progress. Students encouraged participants to express themselves, created alongside participants, assist participants by working together on projects and assist in providing and replenishing supplies during art making.
"In my art therapy internship, I learned patience and most importantly, created special bonds that will never be forgotten," says Arianna Romano. "Saying it was a life changing experience can seem exaggerated, but it really was for me. I am beyond grateful that my school gave me this opportunity. No matter how difficult my week was, I always looked forward to the internship. This experience has influenced where I want to go to further my education, and what I want to do in my future. I look forward to furthering my education about art therapy and why it is so important."
"The art therapy internship has been one of the most rewarding things I have done in my high school career," says student Akshaya Biju. "Working with all these different people helped me realize more about myself as a person. I realized that going out of my comfort zone is not as hard as I thought it would be for me."
"The internship has been the perfect introduction into what art therapy is and how it benefits people," student Amanda Schaefges says. "Throughout the eight weeks, it has been so cool to see the improvement in the people who went to the Expressions program."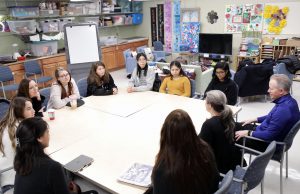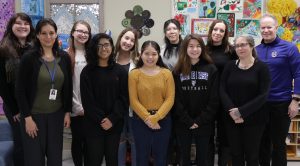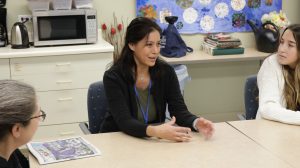 Athletics
GIVING BACK: Shout out to our Blue Demon Cheer team on participating in Gina's Operation Santa; which provides Christmas presents for less fortunate children who otherwise may not receive any gifts. They were given two pre-k students, and bought them each a coat, a hat, and gloves to match. In addition, they purchased each of them a present off of their lists to Santa. Well done Cheer!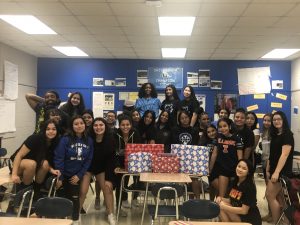 World Languages
German teacher Antonio Illescas Amador, recently took his class on a field trip to the Dank Haus German Cultural Museum and the Christkindlmarkt in Chicago. These field trips play an important role in helping students connect to the language they are studying, by immersing them in their culture, history, food and music. Student Ona L described this transformative experience in the attached letter she has written.
Yesterday I attended a field trip to the Dank Haus, a German cultural museum, in the city. Learning about German culture is always interesting in class given a very enthusiastic class; however, there was something quite different about being in a small cozy room with artifacts laid out. Looking at the old letters and the baby strollers was like being put in the past, and it helped me feel the culture I have been learning about. There was a room with a massive gilded frame and the German Kaiser that led WW1 held in the portrait. Walking into each room was like I was immersing myself in the culture; and rather than just learning it and thinking "oh that's fun and cool," it actually felt real. Foreign cultures cannot be truly felt unless the student is immersed; otherwise, it would just be like any other history class.
Our trip was then followed by a trip to the Christkindlmarkt. Aside from just shopping around looking at authentic German craftsmanship and indulging in German cuisine, I was also exposed to the language more directly. From chatting with vendors about the work put into carving wood, or listening to a very interesting advertisement about the many uses of Pook socks, it all made me feel like I was absorbing a piece of Germany.
Later in the day I finally cracked and decided to purchase a bratwurst and potato pancakes. This was a less popular stand and the lady who ran it with her son didn't speak much English; probably just enough to get orders. I picked up on this and changed my approach by ordering in German. She was so happy to see that people were studying German abroad and we continued to chat for a few minutes before I went off to purchase more goods. This may seem like such a minor thing, but it was the first experience I've had with actually having to communicate in German more than just for a summative grade. This wasn't for a grade. This was to build interactions and proceed with my day. This is what a student would experience everyday in another country, and this bit of exposure and minor immersion is effective in giving a language a purpose-more than a graduation/college requirement or grade. The time I spent on this trip was truly important to my understanding and valuing of German and the culture.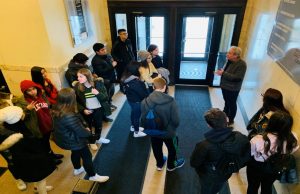 AP Testing – Financial Support
Students who enrolled in AP courses have the opportunity to potentially earn college credit by taking AP subject area tests near the end of the school year at an additional cost to families. A student who qualifies for free or reduced lunch is charged a reduced fee to take an AP test. In addition, Maine Township High School District 207 acknowledges AP tests can represent a financial burden to families who do not qualify for a fee waiver.
By submitting this form you are requesting to be considered for a reduction in the cost of AP tests due to financial hardship. Please be aware that personal financial information such as tax returns, pay stubs or other documents may be requested to verify financial need. This form is to be completed by a parent or guardian. The deadline to complete the form is December 20. Only one request is needed per household per year.
https://docs.google.com/forms/d/e/1FAIpQLSci4zB3ByMtGmxe-kVQ-xeJv404HmR7XmZX3L_not_HtdmDFg/viewform