April 12, 2019
Share this Story
April 12 Post
District 207's Best for April – Technology Leader/Innovator
Several of Mansoor's past and current teachers were consistent in their descriptions of him as upbeat, positive, diligent, and capable – a terrific student, tech genius, and human being who possesses a work ethic that is truly admirable. Social Science teacher Jen Conlon encapsulated it in this statement: "Mansoor is understated. He's the guy who can fix the LCD projector or the glitches in the classroom computer, and with a smile, as easily as he can make a meaningful contribution in an AP Comparative Government and Politics class." Everyone commented that Mansoor is their personal "IT guy" prompting me to wonder how we'll get along next year when he's no longer here! The breadth of Mansoor's technology, academic, and community service accomplishments is impressive. We are proud of his accomplishments and the outstanding manner in which he represents himself, his family, and our entire school. We are honored to recognize Mansoor Syed as 207's Best!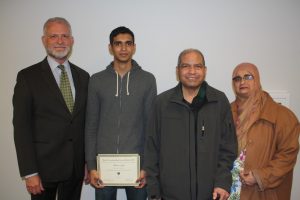 Maine East Investment Club
The Maine East Investments Club (Foundations Club) team won the Northern Illinois University Investment Association Valuation Challenge on Saturday, April 6. The team comprised of sophomores Merlin Josin, Inara Matani, Michael Abregana and James Gold earned the overall title by scoring the highest point total ever at the competition with their presentation of a hypothetical merger between two healthcare corporations. The competition consisted of Chicagoland high schools in addition to community college teams. Each of the first place winners won $200.
The second place prize went to the other Maine East group that included sophomore Abaan Ansari, freshman Prem Shah and freshman Alex Tomy. Each of the second place winners won $100.
This was the first time ever that one school earned the top two spots in any competition. The competition is billed as a way for students to learn skills relevant to all professions and educational tracks; develop teamwork, leadership and communication skills; learn about risk, diversification, company analysis, industry analysis and investing; develop and apply critical thinking and reading skills; and enhance college and scholarship applications
Maine East alum Jinal Shah used his industry expertise to help the students prepare a professional paper and presentation that earned the teams first and second place at the competition.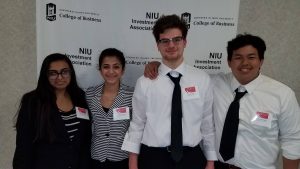 FCCLA Students Shine at State Competition
The Family Career and Community Leaders of America club attended the State Competition in Springfield over the weekend. 14 students from the Family and Consumer Sciences department participated in the areas of Fashion Apparel, Culinary Arts, and Child Care. We would like to congratulate the following students on all their hard work who proudly represented Maine East.
Abby Flood, Angelica Torres, Stephanie Rodriguez, Darmaris Tellez, competed in Fashion Apparel Construction.
Eelini Omiriadis competed in Fashion Apparel Display.
Anela Poturovic competed in Decorated Cookie.
Murti Patel competed in Professional Child Care Portfolio.
Itahi Ramirez, Jennifer Zia, Jada Vachachira, Malorie Ishi, Stephanie Poggas, Jill Patel, and Josephine Vachacira competed in Children's Literature Presentation.
The following students received the top scores in their individual categories: Itahi Ramirez, Jennifer Zia, Murti Patel, and Abby Flood.
Congrats! Your teachers Jillian Ristow, Sabrina Benjamin, Tess Buchberger, and Michelle Meyer are all so proud of you!
FCCLA is a national student organization that helps young men and women become better leaders in their families, careers and communities. Students learn skills for life: planning, goal setting, problem solving, decision making and interpersonal communication. FCCLA is the only student organization with the family as its the central focus.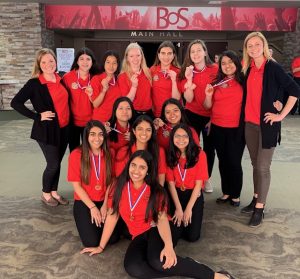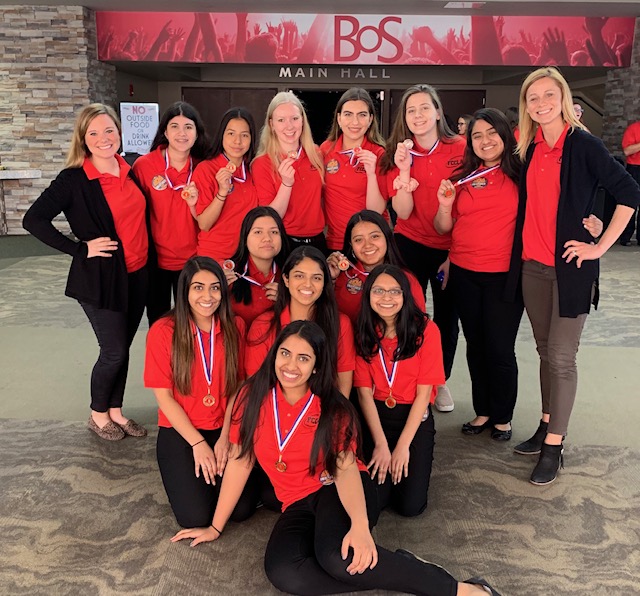 Fashion and Preschool
Ms. Ristow's advanced Fashion students received valuable hands-on experience by working with some very demanding, and awfully cute clients…preschool students.
This year's students in advanced Fashion classes were assigned a client for which to design a custom clothing design. This design needed to meet the client's needs and preferences. Each of the Fashion students interviewed their preschooler and asked them what they would like included in their design. For example, one student wanted a pink princess dress while another wanted anything with unicorns on it 🙂
The students and their clients had their first fitting last Friday, and the designs are looking very cute so far! The preschoolers will be modeling the completed designs in this year's Fashion Runway show on April 26th during periods 2 and 3 in the Junior/Senior Commons!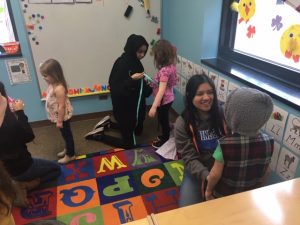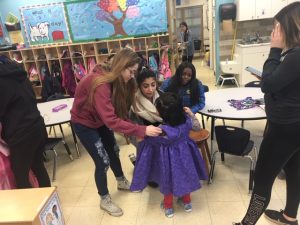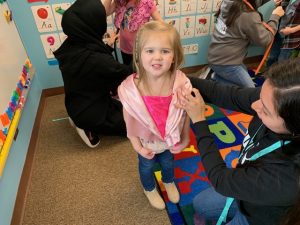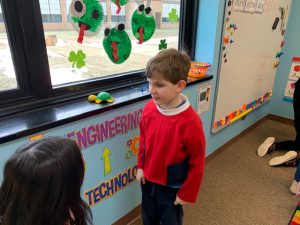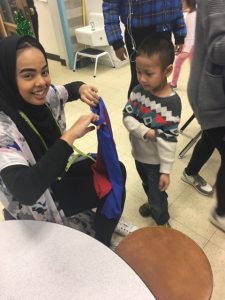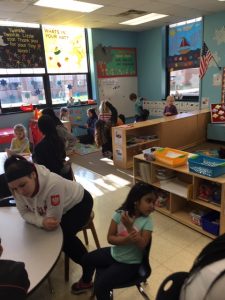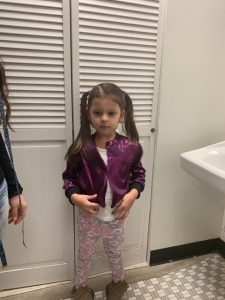 Intruder Training for Students
Maine Township High School District 207 is taking a proactive approach to school safety in several ways, including by providing violent incident training for all students. This training is consistent with current research and best practices concerning how to respond and react in the event of an active shooter crisis. Student training will align with training recently provided to all staff members. The training of students is similar to what is being used by other area school districts.
Student training is being provided in two stages. Earlier this year, the schools introduced students to ALICE (Alert, Lockdown, Inform, Counter, Evacuate) concepts through a presentation that was shown in classrooms. In addition to this introduction, all students will watch a training video and participate in an intruder drill on April 26. Local law enforcement officials will assist in the drills as they did when staff participated in similar drills this past fall.
The intruder training is not school-specific but, instead, geared toward training people to respond to an intruder in any setting – in or outside of school. During both stages of this training, deans, social workers, psychologists and counselors will be available to address any questions or concerns from students. Any parents with questions or concerns can direct those to the assistant principal for student activities at your child's school.
While we hope to never have to put this training to use in a real situation, our goal is to keep our students as safe as possible and to be prepared in the event of an intruder in a school. Please direct any specific questions about the training to Director of Communications Brett Clark at [email protected] or 847-692-6158.
Thank you for your cooperation and support in our school safety efforts.