Latest Message/Announcement from Dr. Pressler
District 207's Best for March – Career Exploration On behalf of the faculty and staff of Maine East High School, I am pleased to name Brianna Risby as "District 207's Best" in recognition of her journey in Career Exploration. Over the past four years, Brianna – or Bri as her teachers and friends call her – has taken Child Development & Parenting, Anatomy & Physiology, School Age Child, Medical Terminology, Personality & Relationships, Certified Nursing Assistant Program, and Preschool Practicum in addition to her work in core academic areas and two years of choir. She came to Maine East before her freshman year with a dream to work as a neonatal nurse and stayed true in her work toward that goal, until she discovered a slightly divergent path this past year. I had the opportunity to observe Brianna a few days ago as a member of a student panel at...
Read More
Read More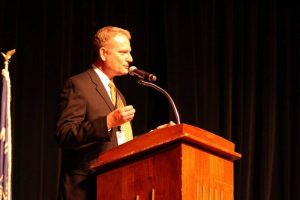 About Dr. Mike Pressler
Principal of Maine East High School
Dr. Pressler is dedicated to a strengths-focused approach to teaching and learning that honors each student's individual assets and proclivities as the basis for creating relevant and engaging learning experiences. Helping students identify interests and passions and then weaving those into learning experiences at school is central to his personal educational mission.
Dr. Pressler has been a District 207 administrator for 25 years: he has been Principal at Maine East since 2010, following five years as Assistant Principal for Instruction. He earlier served as Fine Arts Department Chair and Director of Bands at Maine South, during which time the department received state and national recognition for exemplary arts education programs. Before coming to Maine 207, he taught at Lyons Township High School, Wichita East High School (KS), and in downstate Carlinville, Illinois. Pressler holds a Doctor of Education in Educational Leadership from National-Louis University, a Master of Science in Music Education from the University of Illinois at Urbana-Champaign, and he graduated magna cum laude with a Bachelor of Music from Fort Hays State University in Hays, Kansas. Additionally he has completed advanced degree course work in public school administration at the University of Illinois at Urbana-Champaign.